'The Crab' at Chaaya Tranz
By Sanath Weerasuriya
View(s):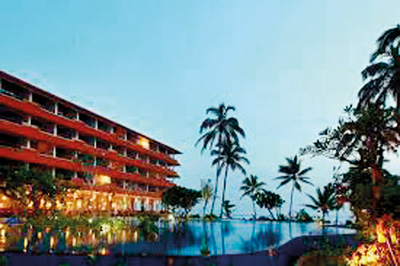 The latest 'Crab Restaurant' at Chaaya Tranz Hikkaduwa is a pleasant hideaway that serves wide range sea food varieties. Tucked away in vibrant Hikkaduwa, Chaaya Tranz offers a most sought-after sea food restaurant in the happening Hikka area. Keeping to the theme, 'The Crab' is a cosy hole-in-one part of the hotel that is plush in its decoration, yet giving out a warm and comforting ambience to diners.
The menu of 'The Crab' offers nearly 35 different dishes of sea food, which includes Jaffna crab curry, lobster curry, Sri Lankan spiced crab and chef's signature preparation 'Crab Tranz' and lagoon chilli crabs, to name a few. The Crab restaurant has become quite popular in the area. The sea food lovers as far from Galle and Bentota are now visiting Hikkaduwa to taste the difference' Executive Chef Julinda Pushpakumara said.
'We have repeat customers and we believe we are creating a trend for fine dining in the area' he added. Bringing years of experience to the table, Pushpakumara, along with his team, is devoted to creating dishes that would suit an international palate, while giving guests a truly Sri Lankan experience.  'There are international dishes that have been included, along with some of the famous Sri Lankan seafood items. We blend in both and use fresh seafood from the area to create an experience that is unforgettable' he said.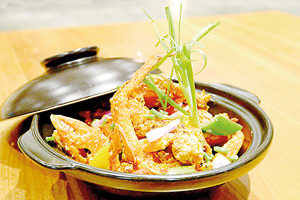 Unsurprisingly, the fastest-moving dishes are those with Sri Lankan spices, while crab cakes and Singaporean crab are also on the fast-moving list.To start a meal, the soup kettle at The Crab includes four of the trending flavours in the world – seafood miso soup, crab bisque, prawn laksa and seafood broth. Thai style pan fried crab cake, prawns, lobsters or even local oysters are some of the popular appetizers on the menu. There is also a delectable seafood sushi and sashimi platter for those who love a wasabi kick before picking up their cutlery to dig into the beautifully-prepared seafood dishes.
The main course covers an extensive range of seafood cuisine, featuring the fresh seafood of the area tempered with herbs and spices. Also crab with black pepper, baked crab, prawn tempura, grilled prawns, lobster curry, grilled lobster, lobster hollandaise, salmon, king fish, red snapper, yellow fin tuna, cuttlefish– hot buttered, salt and pepper, batter fried are part of the popuilar menu.
'The Singaporean chilli crab at Tranz is a favourite we have many repeaters looking for the particular dish' Pushpakumar said.
The restaurant is open for lunch and dinner and can seat 30 persons at any given time.
For more details, call 'The Crab' at Chaaya Tranz Hikkaduwa on (0) 91 227 7023.