Passion for the pedal
Lalanthi Rajapakse talks to the Mirror Magazine about 'Pedal Pushers' a group she started together with friend Dharshi Ariyaratne for the love of cycling
View(s):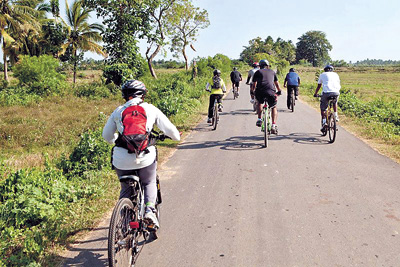 Lalanthi Rajapakse loves cycling on mud – but only when it's not up her nose. Pedal Pushers, the group she founded together with her friend Dharshi Ariyaratne gives her plenty of opportunities to enjoy the former (and unfortunately, the latter as well sometimes.) "Cycling is an awesome way of experiencing the bustling and teeming life around you of sight, smell and sound in a most pleasurable and unique way," Lalanthi tells the Mirror Magazine, adding "we love any kind of terrain." The group have cycled through rubber and tea estates, climbed hills and then slid down the other side to rain forest and river crossings, cycling over paddy fields and under foliage brushing the tops of their helmet covered heads. They're also city cyclists, setting off on a new adventure every Wednesday from Independence Square. 
'Pedal pushers' began in 2011, a year after Lalanthi went cycling with a few friends. "We recognised the need to share this wonderful experience, of a healthy life style, a positive attitude, creating awareness, that in our own way we can help the environment by taking up an eco-friendly sport." She and Dharshi also saw it as a chance to meet and make friends with like-minded people and the group has been growing, while their levels of fitness and skill have been evolving with practice.
No payment is required to become a member, you only need to cycle with them.
They ride regularly three times a week. Aside from the midweek ride starting at Independence Square, they stage Saturday and Sunday morning off-road rides from Malabe and Madhiwala and will frequently go out on Poya days and other holidays. Each ride is 20km to 30km long. Within the group, they organize interesting rides out of town and have so far been to Ranna, Kitulgala, Bentota,Kalutara, Galle,Gasnewa, Badureliya, Ingiriya and "are always looking to add more experiences."
With the aim of promoting cycling in Sri Lanka, they began some of the first 'carnival style' mass cycle rides in Colombo and were behind the very popular 'Colombo Cycle Fun Ride' in both 2012 and 2013. Happy to see people from all walks of life participate, they're also pleased their group has continued to expand. They think Colombo could be a city geared for cycling but say that there's a huge need for cycle lanes, safe parking bays for cycles and a change in the attitude of motorists and drivers toward cyclists on the road.
Safety is a priority for the group says Lalanthi, who asks that everyone follows road rules and wears helmets. Reflective lights for the bike are a must, especially at night and bright clothing is often a good idea too. "When you do fall, and everyone experiences it at least once, you just pick up and ride on with the support and confidence of your cycling buddy," she says.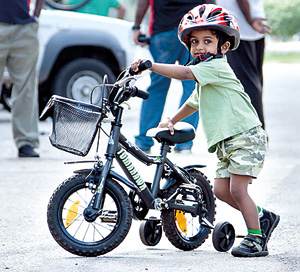 Determined to do their bit, they partner with, participate in and organise charity rides. They have been involved in a number of events including, among others, the Unilever 'hearts for hearts' cycle ride in 2013 for the Karapitiya Cancer Hospital, the 'Ride for Smiles for under privileged children' in Kelaniya and Madiwala and a 13 day ride of 100+ a day around Sri Lanka to promote the help line 1333.
In 2014, they will return with their 3rd annual 'Colombo Cycle Fun Ride' on June 8 at the CR&FC club. It will involve a 3km ride for kids, and a 20km ride for 15 years and over. Cycle games, a raffle draw of entry level bikes and other prizes will be given away and the party will go on with a popular band and a BBQ. Displays will be staged by well-known cycle shops and there will be beverage and food stalls. "Everyone is invited," says Lalanthi. Other upcoming events include the Bikeathon – 1333 km 13 day charity event organized by the CCC foundation – of which 'Pedal Pushers' is a partner.
It's clear that Lalanthi sees cycling as a life-changing, empowering sport to pick up. "The joy of cycling is the sense of accomplishment you feel when you've done a particularly challenging and technical ride, the feeling of contentment after a leisurely ride…the positive energy that flows through your whole system when you feel fit, and good about yourself."
Find Pedal Pushers Cyclists online at: https://www.facebook.com/PedalPushersCyclists