Muted tones in motion
By Vinusha Paulraj
View(s):
Anyone who watched Amilani Perera's Collection float down the ramps of Colombo Fashion Week 2014 a few months ago would recall that it was inspired by the traditional Sri Lankan motif of the entwined swans- Hansa Puttuwa. 
Caught-up in quite a few projects since then, Amilani whose dream it has been since the inception of this collection to see it in the retail market happily notes that she is pleased with how everything from the CFW show to the photo shoot of her retail line turned out because it was just like she pictured it.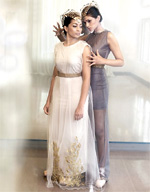 "It goes hand in hand," she explains "whenever I design a garment I think of how I can sell it." Taking no time at all to streamline ramp worthy glamour into something less conceptual and more practical she shares that bringing together ballet and her Hansa Puttuwa pieces for the photo shoot came naturally. The art student who was also a ballet dancer admits that those elements "somehow come out in my work."
For Amilani it has always been about authentic details, which is why her CFW collection moved from darker hues into pinks and whites and her retail collection is modelled by ballerinas Shonaka Ranatunga and Roshalie Fernando. "It's about a story of a black swan which fell in love, and became white." Keeping it simple and letting the clothes speak for themselves make-up artist Dil Sapukotanage and photographer Anushika Fernando helped create something that as Amilani puts it, she can "hang up in my studio and feel proud of at any time."
In contrast to her luxurious Hansa Puttuwa pieces which Amilani describes as "occasion wear" verging on bridal, she is ready to launch her summer 2014 collection- Black Summer. A sharp contrast from her CFW collection, Black Summer is in her words "more muted" and includes versatile work wear.
August 2014 will mark another mile stone in Amilani's career when Melache- the label her designs are produced under will forge into the retail market in the UK.
Since CFW she has devoted her time to study the trends of both local and British markets and has tweaked her creations in terms of colour and textiles to strike a balance between the two. It's a crucial step forward, she knows.