'Charitha Atak' A Stress free evening
View(s):

The maestro of comedies Wilson Gunaratne has updated his latest creation 'Charitha Atak', a political satire to give the viewers a stress free evening. The critics are of the opinion that the above humorous comedy has the power to keep the audience in fits of laughter from the beginning to the end of the play.
The latest show eill come alive at the Bishop's College Auditorium on Sunday, 25th May.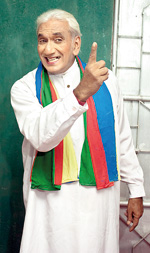 Our internationally acclaimed actor, senior lecture (visiting) Sri Lanka Foundation (T.H.M.U) Wilson Gunaratne, highlighted some of the benefits of laughter. Laughter is a powerful antidote for stress, pain and conflict. Nothing works faster andmore dependably to bring your mind and body back into balance than a good laugh. Humor lightens your burdens, inspires hopes, be connects you to others, and help you be grounded, focused and alert.
With so much power to heal and renew, the ability to laugh easily and frequently is a tremendous resource for surrounding problems enhancing your relationships, and supporting both physical and emotional health.  Those who wish to have a stress free evening, make it a point to be at the Bishops College Auditorium on the 25th May at 6:30pm, to see a unique political comedy-'Charitha Atak'.  The internationally acclaimed actor will portray eight different characters with his versatile team.
Tickets would be available at the Bishops Auditorium office. Children under 15 accompanied with parent, entrance would be free of charge.
For information- 0722-251865, 2392165, E-mail-charitha7media@gmail.com