Registrations open for SLMUN
View(s):

The seventh session of the Sri Lanka Model United Nations will be held from September 8 -10, 2014 at the Water's Edge, Battaramulla. Registration is now open for all institutions including local and international schools and will be in effect till July 1, 2014.

The Sri Lanka Model United Nations (SLMUN) is a platform for young adults from across the country to engage in discussion and debate about the world's most pressing issues. It was initially the SAARC conference in 2005, from which the idea for such a simulation was conceptualised by R.L.Ellawala, currently the Director for the National Youth Awards programme at the National Youth Services Council.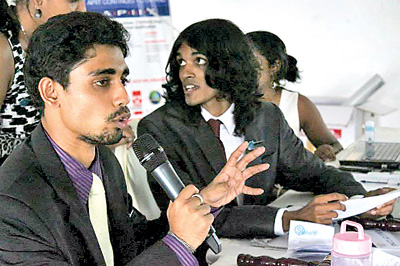 Mr. Ellawala, also a teacher at Ananda College, Colombo, recognised the need for an alternative to the standard debating platforms on offer for school students to polish up their speaking and educational skills. Inspired by the concept of Colombo Operated Model UN, a simulation SAARC was set up and in 2008 it expanded to become a Model United Nations (MUN) conference.
Whilst debating, many significant issues over the days of the conference, SLMUN affords its young delegates an insight into the inner workings of the United Nations and several of its partner organizations. This year, in addition to the standard General Assembly committees and the Security Council, SLMUN will simulate the United Nations Environmental Programme (UNEP), the International Court of Justice, ECOSOC, UNHRC and a special crisis committee, while introducing the United Nations Committee on the Peaceful Uses of outer space.
Registrations for posts in the Office of the Secretariat (a limited number of administrative staff to be engaged in pre-conference organization along with the Executive Committee)are now open. For more information please visit www.slmun.org