The Galle Fort
View(s):

Galle, the beautiful capital of the Southern Province, boasts of a long history stretching  back centuries, even before the Portuguese, Dutch and British colonial days.
The Galle Fort is the best preserved and most intact fortified city built by the former European colonial powers in Asia. It was declared an archeological reserve by the UN since 1969.
It is also a UNESCO World Heritage Site.  The narrow streets of Galle are lined with Dutch merchant villas, pillared verandahs, carved doors and windows. It is a living heritage city with residents walking the old ramparts at sunset.
---
The Main Gate to Galle Fort was built by the British in 1973 to handle heavier traffic into the old city. This part of the wall, mostly heavily fortified with massive ramparts facing the landside was originally built by the Portuguese with moat and drawbridge and was enlarged by the Dutch, who in 1667 split it into separate Star, Moon and Sun Bastions.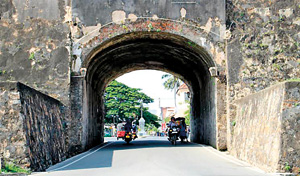 ---
The Old Gate is on Queen's Street. The arch on the Fort side of the gate is inscribed with the coat of arms of the Dutch VOC (Vereenigde Oostindische Compagnie,), showing two lions holding a crest topped by the inevitable cockerel, while the arch on the exterior, port facing side is decorated with the British crest, dated 1669.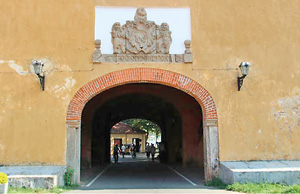 ---
All Saints Church on Church Street is Gothic in style. Its construction was begun in 1868 and was consecrated in 1871, the church stands out as one of the most beautiful Anglican churches in Sri Lanka.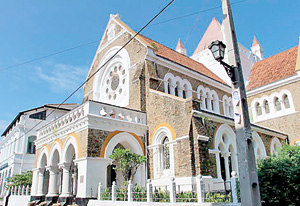 ---
The old Dutch Reformed Church (Groote Kerk), with its gabled roofs,  dates back to 1640, though the present structure is said to have been constructed between 1752 – 1755. This has the tombs of Dutch officials within and carved memorial tablets on the walls.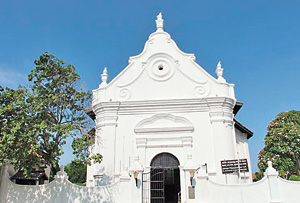 ---
The Governor's House is now the  luxurious 'Amangalla' Hotel.  A magnificent colonial mansion, built in 1684 to house the Dutch Governor and his staff, was converted into the New Oriental Hotel in 1856.  It became Amangalla in 2006.
---
The jumpers of the Galle Fort are another  important part of a tour of Galle.  At sunset you can see the  jumpers in action off the ramparts into the churning waters.