Kids World
View(s):

My mother
My mother is very friendly and loving. She loves me and my brother very much. She is a good housewife. She cooks delicious food. My mother
prepares my favourite food, pizza. She takes care of all our needs.

My mother keeps our house clean and neat. We too help her in whatever we can. She helps me in my studies. She is a good teacher for us. She is behind us in everything we do.
Sometimes my mum gets angry and shouts at us when we are naughty. But she loves us and we too love her a lot.

Umair Shirazi (Grade 4)
Lyceum Int. School, Nugegoda
---
My favourite game
My favourite game is Chess.
It is a game about a battle between two groups. Everyday I play chess with my father. There are 32 pieces in my chess board and each team has 16 pieces. There are 64 squares on the chess board. Each side has 32 squares. There are three kinds of games we can play on the chessboard. They are backgammon, checkers and chess.
Chess is one of the most famous games in the world. Chess can refresh our mind and brain. Russians are the best chess players. There are eight pawns, two rooks, two knights,  two bishops, one king and one queen. The king is the most important piece on the board. The most powerful pieces are the rook and the queen. The king is a very important object to win the game. When the pawn reaches the last row it can change into four pieces. The knight is the only piece that can skip over the other pieces.
I have two chess boards. One is a magnetic board and the other one is a normal one. Sometimes in chess I can beat the computer. And also my father. I like to play chess very much.
Fazle Jiffry (8 years)
Horizon College Int., Malabe
---
My mother
My mother is Geetha.
She is very tall. She is fair and beautiful.
My mother has long and curly hair. She likes to eat rice. She cooks very tasty food for us and I like to eat her food.
My mother is very kind and good. She helps me in my school work and tells me nice stories. I like to play with her. I love her very much and she loves me too.
Shenalie Mendis
(8 years)
Musaeus College
---
My favourite subject
My favourite subject is History. History is a very interesting subject. It teaches us about the past, like the Romans and how they invaded and
conquered other lands. I like to  imagine that I am in the past and  pretend that I am a Roman or  Anglo-Saxon warrior and fight other enemy tribes. I also think that they are much more civilized than us, but  I may be wrong.
There were many kings and queens in many of the countries. One famous king was King Tutankhamen, an Egyptian king. In Egypt, you can see many buildings and monuments like the pyramids. They are very famous.
I must admit that remembering all those kings' and queens' names are hard. I wish that one day I can go to Egypt and Rome and see all the ancient buildings and monuments.
Vitesh Alles (10 years)
Asian Int. School
---
Are our roads safe?
Whilst watching the news or when travelling,  we occasionally hear about road accidents. Some are fatal with people dying or paralysed for life.
There are instances where the victims escape with bruises or fractures. Most of these accidents are  preventable.
Following road rules and being concerned about  the personal safety of oneself and others would most  probably help to prevent accidents. Drivers should always drive under the particular speed limit.
Slow drivers should give way for another vehicle to overtake. Fast drivers should slow down at times and not overtake in a hurry. When road rules are not followed, it can cause traffic congestion. This makes many drivers stressed, impatient and irritated. When they drive in such a mood, there is a high possibility of an accident waiting to happen.
On most roads we see pedestrian crossings. Occasionally there are pedestrians waiting patiently to cross the road. I have noticed that most of the time,
drivers ignore the pedestrians and drive away. It makes me wonder whether they are blind. In European  countries, drivers always pause before a pedestrian crossing whether or not there is a pedestrian waiting to cross. It's a part of their road rules. I think that rule must apply to every driver irrespective of country or nationality.
Drivers and pedestrians should remember that  everyone on the road needs to get somewhere, be it school, work or home. They should always be mindful about the number of lives that could be endangered if they ignore the road rules. So, let's make sure that our roads are safe to use!
Muqaddasa Wahid (Grade 9)
Buddhist Ladies' College
---
Flowers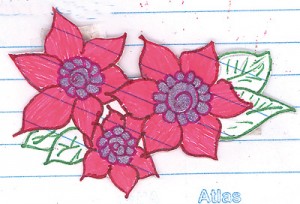 In all the world there are many kinds of flowers some of which we know. But some are strange. Rafflessia is the biggest flower in the world. Some have many colours but some have one colour. Flowers show diversity in colour, shape and size.
Some flowers bloom  as a bunch but some bloom as a single. The main organ that helps the reproduction of a plant is the flower. Some flowers bloom in water. Some bloom on land. Flowers like Sepalika, Kadupul and Night Queen bloom at night.
Amaani Anwer (Grade 6)
Benhill College, Gampola
---
The morning
The morning calm and cool,
We leave home for school
The sun shines like gold,
Birds come out,
With pretty songs and shout,
When birds twitter,
Dew drops glitter,
Flowers bloom
And vanish the gloom,
Now the sun is going up,
And children are having fun.
Hemalsha Aththalapitiya (Grade 6)
Dharmaraja College, Kandy
---
Dunhinda Waterfall
Dunhinda waterfall is one of the most beautiful waterfalls in  Sri Lanka. It is situated eight km from Badulla. Dunhinda Falls is
58m high.
The waterfall is named Dunhinda because of the water vapour from the waterfall. I have gone to Dunhinda Falls. There are two types of Dunhinda Falls. One is Kuda Dunhinda and the other is Dunhinda.
When we go there we should walk carefully. There are deep slopes and sharp rocks. Some rocks can be  slippery too. I went down slowly but my sister was scared. Somehow, she too got down. The water was cold as ice.
I washed my face. Soon I felt fresh.
I wish I could go there again and bathe there. You too should go to see these waterfalls as it is one of  Sri Lanka's wonderful nature creations.
Dhanushi Piyaratne (Grade 6)
Lyceum Int. School, Wattala
---
A tree speaks
Hello friends!
I'm a jak tree and
I help you in many ways.
They are, giving shade for you all, providing fruits and medicines and also I help you when I am dead, as firewood too.
I feel very happy when the birds are sitting on me and having a sweet song.
I bear yummy fruits which you people love to eat. But some people hurt me before I am dead. They break my arms and make me cry. Somehow I treat people with love, giving oxygen and providing shade.
Shesni Hilmy (Grade 4)
Royal Int. School, Kegalle
---
Arigatho Rupavahini!
When I was small, I watched Rupavahini cartoons, which were dubbed by Tai Mama. Among them my favourite one was 'Apple Adipada Thuma.' Later I watched Oshin, Suzuran Yi, Holy Pearl, The Great Merchant and Horse Doctor.
Now they have started to show the Japanese Drama 'Carnation', which is a story about a young fashion designer, Ohara Itoko. This is a family drama which has 151 episodes and was telecasted in NHK from 26. 09. 2011 to 31.03.2012.
All those dramas influenced me to live, to think wisely and to face challenges. The characters became close to me, as they seem to be my friends. They gave me new hope, encouraged and helped to flow in this, in bitter – sad – harsh life.
Arigatho Rupavahini! Love you Japan!
Avishi Perera (16 years)
Vishaka B.M.M.V., Bandarawela
---
Organic vs Conventional
When you shop for fruits and  vegetables, do you choose organic or conventional produce? Most people don't seem to mind but many others do. They are concerned about their health and choose organic.
Organic products are grown  naturally without chemicals.
They are safer to eat than conventional produce. However, organic produce isn't available throughout the year, don't look as
big and cost twice as much!
Conventional produce use  pesticides and weedicides to keep off insects and weeds. They are  available year round and are always ripe when you buy them because of the chemicals. But they are harmful for the environment and our health. If we eat too much conventional  produce, we might get ill! Scientists believe that the chemicals could cause cancer and other dangerous  illnesses.
But is it worth to spend a lot on organic produce? That's up to you to decide, whether to go green or choose
organic.
Faadhilah Hamid (12 years)
Al Nahda N.S. (Girls),
Abu Dhabi
---
My country
My country is  Sri Lanka. It is a beautiful country.
The capital of Sri Lanka is Sri Jayawardenapura Kotte. There are beautiful places in Sri Lanka. There are four communities in Sri Lanka. They are Buddhists, Hindus, Muslims, and Burghers.
Sri Lanka is famous for tea, rubber and coconut. Jungle Fowl is the national bird in Sri Lanka. The President of Sri Lanka is Mahinda Rajapaksa. I love my country.
Taqy Ahamed (Grade 2)
Lyceum Int. School, Panadura