This is not a toy track but the future of train travel
View(s):

Magnetic levitation trains, or maglev for short, have been a big hit in Asia thanks to their incredible speed and capacity.
But a new development called super-maglev could be set to push the limits even higher.

China's first manned megathermal superconducting maglev loop has been tested successfully by the Applied Superconductivity Laboratory of Southwest Jiaotong University.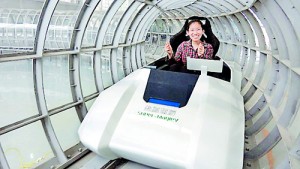 The lead on the project is Dr Deng Zigang, who has been developing the technology for a number of years.
In March 2013 they completed the first high-temperature superconducting maglev ring test.
But now the new 'loop line' could be set to usher in a new wave of faster trains than ever before.
Maglev was first proposed as a method to propel trains as far back as the mid 20th century.
The first commercial maglev train to come into operation was a relatively low-speed shuttle at Birmingham International Airport in 1984.
This travelled at a rather mundane 26 miles (42 kilometres) per hour.
The world's fastest passenger-carrying train is currently the Shanghai Maglev Train, launched in April 2004, which can reach 268 miles (431 kilometres) per hour.
Super-maglev, however, could allow for even higher speeds.