Graphic posters raise women's issues
By Tharooshie Mahahewage
View(s):
Women's rights and violence against women are subjects that constantly make the news. Agenda 14 along with the Delegation of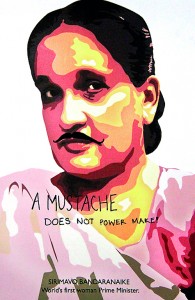 European Union in Sri Lanka and the Maldives along with the embassy of Switzerland felt the need to highlight these pressing concerns through the WOMAN poster competition and exhibition.
The exhibition which is on at the Public library Colombo 7 until May 13 was opened on Wednesday, May 7, by veteran author and artist Sybil Wettasinghe.
The competition was held in two categories- the open category and the children's category and contestants were encouraged to examine the different roles women play in the political, economic and social context as well as the challenges they face. The posters revolved around four main themes- women's participation in public life, women's economic empowerment, women's rights and gender-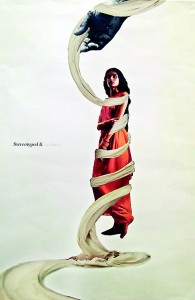 based violence.
Entries were drawn from around the island and interestingly the 49 finalists were mostly men.
The catchy posters have attention-grabbing slogans such as "A Moustache doesn't power make", "Give woman her freedom", "Let me speak" etc and also embodied remarkable art and photography. Images of men adorned in women's attire and jewellery and women dressed as men in a man's role- reading the newspaper while the husband sweeps the house provided food for thought. One even showed a detailed 'must- have' tools in a woman's everyday life which included a knife, mini music player, umbrella, pepper spray along with make-up.
The first place in the children's category was won by Sivanathan Mathavi from Maskeliya, second place by R Supun Dulshan from Gandara and third place by H M Prabhathini Jayanada from Dikwella. The open category's winners were Natalie Anne Soysa and Shanika Myriam Perera from Colombo in first place, Chandana Samarakoon from Gampola in second place and Mohamed Maanih from Colombo in third place. Twelve entries from both segments received merit awards while the rest of the finalists received certificates.