Isipathana in great escape
By M. Shamil Amit
View(s):
Wesley's second half burst was too late as Isipathana managed to escape by a three point margin with scores reading 25-22 in their Singer U20 Division 1 Group 2A Rugby league encounter played at Longden Place yesterday.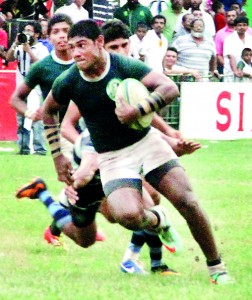 Isipathana having taken a confident 15-3 at the breather was given some anxious moments in the second half by the spirited Wesley side who restricted them to ten points while adding 15 points.
Isipathana made up their points through five tries to the two goals, two tries and a penalty scored by Wesley.
Wesley flanker Sheshan Hamidon was in the thick of all the happenings as he planted three tries within a space of five minutes, midway in the second half which had the Isipathana players and supporters guessing.
The double blue boys had the green shirts struggling for survival with some robust brand of rugby as their forwards spearheaded by Hamidon almost turned tables with Isipathana's run of wins being almost at stake.
The kickable penalties fluffed by the Wesleyites too proved to be futile and crucial even though skipper and fly half booted over two of the conversions. Isipathana too lacked a place kicker as they fluffed all the conversions which almost cost the game for them.
In the second half till the 23rd Isipathana was on top of the game with a healthy score of 25-3 before the change took place with a hat-trick of tries by flanker Hamidon.
In the first half Wesley's center Ishara Madushan booted over a penalty five minutes into the game before Isipathana scored a triple of unconverted tries by center Sudam Sooriyarachchi and No 8 Umalka Gunaratne going over for two.
On resumption back to back tries in the fourth and eighth minute by second row Ganidu Dissanayake and flanker Kushal Indunil saw them increased their lead to 25-3.
That was all that Isipathana was able to score and thereafter tries by Wesley in the 23rd, 25th and 28th minute coming from Hamidon came too late as Isipathana ended the game with a win by three points which also saw them maintain their unbeaten record securing five wins out of five to lead Group 2A.
Referee – D. Nimal