The Rodrigos celebrate 175 years of helping the needy
By Ara Rasool
View(s):
Paththini Hennadige Warna Deepthya Kurukulasuriyage Johannes Rodrigo was a man with an extraordinary vision who lived in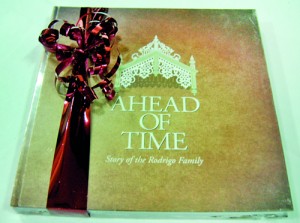 Rodrigo Villa in the village of Nalluruwa in Panadura. He established a charity organisation in 1838 with 20 men of his family. The charitable work he started has been continued for 175 years and the Rodrigo Family proudly celebrated their 175 years of service to the needy last week.
The celebrations and public meeting hosted by the Rodrigo Family Friend-in Need Society Ltd was held on May 3 at the Town Hall, Panadura.
A significant event that day was the launch of the book 'Ahead of Time' – a history of the Rodrigo Family but also of the Rodrigo Family Friend-in Need Society. Former Chief Justice Sarath N Silva PC, was the chief guest at the event. The welcome address was made by the President of the Rodrigo Family Society, Swarnamali Rodrigo. Guest of Honour, Prof. Hiran Dias addressed the guests on Poverty and Opportunity. The students of Sri Sumangala Balika Maha Vidyalaya performed a dance recital thereafter.
The Chief Guest also launched the official website of the Rodrigo Family. A power point projector was installed in the Town Hall and handed over to the Chairman, Urban Council, Panadura.
A garden party was held thereafter.
The society and its members have been helping the needy for the past 175 years. Their services included offering scholarships to needy students and assisting homes for the aged and hospitals.
The mission of the Rodrigo Family Friend-in Need Society is to foster a spirit of fellowship and a sense of mutual interdependence and respect for each other and to provide financial and other support to less privileged members of the larger Rodrigo family and other members of society.