People and Events
View(s):

Jawatte Gardens' children join together for charity sale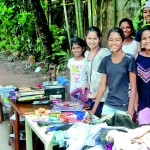 The families that live down Jawatte Gardens, Colombo 5, are all good friends and neighbours. The road is a cul-de-sac, so it's safe for kids to play there. Recently, these children held a one-day sale at the top of their road, offering people both new and old items.
They took turns leading the sale, which by the end of the day had generated Rs.40,000. Afterwards they donated the money to the Cancer Hospital in Maharagama. This was not a one-off event – they do this from time to time to raise funds for worthy causes.
"What an uplifting episode to carry back from Sri Lanka. With all its problems, there are some things being done right," said a visitor from Australia who was moved by the children's concern for those less fortunate than them.
Vesak Day events
The following programme of events on Vesak Day will be held at the All Ceylon Women's Buddhist Congress (ACWBC),400 Bauddhaloka Mawatha, Colombo 7.
-6.15 – 6. 45 a .m.: Administering precepts and Atavisi Buddha Puja by Ven. Kadawedduwe Pemaratana of Kalyani Dharmashrama
- 6. 45 – 7. 30 a.m.: Offering of Heel Dana by Padma Wijesinghe, Anoma Fernando, Indrani Wijesinghe (ACWBC Suramya Nivasaya)
- 7. 45 – 8.45 a.m.: Dhamma sermon by Ven. Valane Sumana of Mettarama, sponsor: Jeewani Sugunadasa, (President ACWBC)
- 9. 00 – 10.00 a.m.: Dhamma sermon by Ven. Randombe Suneetha of Kolonnawa Raja Maha Vihara, sponsor: Prema Perera (Australia)
- – 10. 15 a.m.: Offering of Gilanpasa
- 10. 15 – 11.15 a.m.: Dhamma Sermon by Ven. Piyadassi of Pothgul Vihara, Cotta Road, sponsor: Nancy Dunasinghe (ACWBC Suramya Nivasaya)
- 11.15 – 11.30 a.m.: Buddha Puja
- 11.30 – 12. 15 a.m.: Midday Dana, sponsors: Savithri Peiris, Manel A. Perera, Chandrani Gunawardena
- 12.30 – 1.00 p.m.: Pirith chanting
- 1.00 – 1.45 p.m.: Dhamma discussion by Darshana Ranmuthuge
- 2.00 – 3.00 p.m.: Dhamma sermon by Ven. Kadawedduwe Pemaratana of Kalyani Dharmashrama, sponsor: Sirima Herath
- 3.00 – 3.30 p.m. Offering of Gilanpasa
- 3.30 – 4. 30 p.m. Dhamma sermon by Ven. Welimada Dhammarama of Kalyani Dharmashrama, sponsor: Dilini Gunasekera
Kidney patient seeks urgent help 
Charith Pelpola (41) is suffering from kidney failure and is in urgent need of a kidney transplant as recommended by his Nephrologist.
Any B+ or O+ donor willing to donate a kidney is kindly requested to contact 077368 0108 or 0773219740 to enable him to have this life-saving operation..
Medical miracle: Vijaya Corea relates life experience
On the 30th anniversary of his healing from cancer, when the oncologist in London gave him only three months to live in April 1984 but where he received miraculous healing without recourse to chemotherapy, radiotherapy or any other medication, former Director General of the Sri Lanka Broadcasting Corporation and popular showbiz personality, Vijaya Corea, will narrate his true life experience of a medically attested miracle.
Vijaya Corea will share his experiences at the Cathedral of Christ the Living Saviour, Bauddhaloka Mawatha (adjoining the BMICH) Colombo 7 at 10.30 a.m. today, May 11th. Entrance is free to all.
Help renovate St. Anne's Church Wattala
St. Anne's Church, Wattala, built in 1948 is badly in need of renovation. The first stage of the repairs and renovations are estimated to cost Rs. 21 million and the steering committee has already raised Rs. 7.4 million through various fund raisers and are now appealing for public contributions. The renovation work began on April 24.
All contributions sent will be acknowledged. For more details, please contact the treasurer of the committee Susantha Perera on 071-2791844 or secretary Christopher on 077-763774.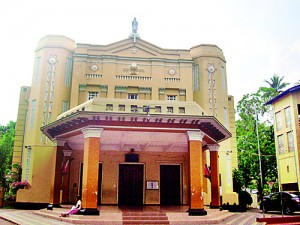 Lanka's first luxury houseboat on the waterways
A trailblazing joint venture between Jetwing Hotels and MMBL Leisure Holdings (Pvt.) Ltd. Yathra by Jetwing offers a new dimension of relaxation through floating leisure; another milestone in sustainable eco-tourism.
Inspired by the Kettuvallam, a wooden-hulled and thatch-roofed houseboat, used to advantage for tourism in the backwaters of India's Kerala state, Yathra by Jetwing is the first of five luxury houseboats in a joint venture between Jetwing Hotels, Sri Lanka's premier hospitality brand, and MMBL Leisure Holding (Pvt.) Ltd – the leisure arm of MMBL-Pathfinder Group of Sri Lanka.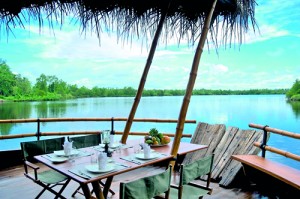 The concept of this venture is reminiscent of ancient Ceylon's padda boats – the flat-bottomed, punt-shaped barge that once helped transport heavy goods and family members of boatmen to and fro on the waterways.
Yathra by Jetwing, the first locally built houseboat since the padda, seeks to revive the boating culture of the past, with elegance and luxury. Crafted from bamboo with classic teakwood floors in the upper and lower decks, the houseboat's thatched roof shelters two plush air-conditioned cabins, with private balconies and attached bathrooms.
Two and a half years in the making, Yathra was envisioned and designed by Sunela Jayewardene, a leading environmental designer, and built by experienced boatmakers Neil Marine (Pvt.) Ltd. Its pre-set 18-kilometre voyage plan is for about four hours, up the Benthara River. The voyage starts from the Dedduwa Boat House by Jetwing in Bentota, all the way up to Avittewa, a small scenic hamlet 18 km from Bentota. Yathra docks at Avittewa, and as the Benthara River forks a short distance upstream to become the Pelawatte River and Pitigala River, the traveller can imbibe more of nature's treasure troves especially a peek at the robust birdlife in the area.
Another fascinating waterway dotted with men with wicker baskets diving to collect sand, is downstream close to Dedduwa Lake.
Says the enterprising Chairman of Jetwing, Hiran Cooray , "At Jetwing, we have always believed in something new. We love to create, and push boundaries that will give us and our visitors new opportunities and experiences in this beautiful land of ours. Through Yathra by Jetwing, a project that has so far exceeded LKR 60 million, we embark (literally!) on a journey that is completely different to anything done before."
Chairman MMBL Leisure Holding (Pvt) Ltd, Bernard Goonetilleke, who tirelessly worked alongside Jetwing to make the houseboat project a dream come true, says, "Sri Lanka's tourism industry needs to be innovative and responsive to the untapped segments of the market, like the 25-35 age group. We have to provide novel recreational pursuits and be ready with new tourist products to entertain, indulge and captivate visitors to our island in search of serendipity".
Uni students get chance to showcase their artistic talents
By Tharooshie Mahahewage
Veteran artist S.H. Sarath is excited. The future of art in Sri Lanka is full of promise, he feels and as Director of the Kavitha Art Programme, he is responsible for nurturing a pool of young talent and ensuring they can make something of their art.
The Kavitha Talent 2014 programme, directed by Dr. Sunil Ariyaratne trains students who are gifted in different areas of aesthetics–art, singing, dancing, performing music, literature, stage drama, photography, etc.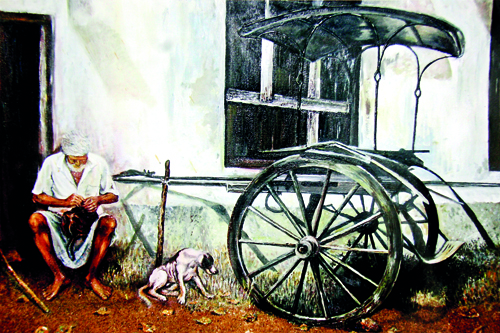 The art exhibition which will showcase the finalists of the painting segment will have on display around 100 paintings of more than 70 students from all 35 national universities around the island. Initially there had been 170 applicants and the selection was done by a board of professional judges after a three-day workshop held at the National Institute of Education.
"Against the backdrop of a dreadful war the children who attended the universities fearfully, also went home in fear. I am happy today as I have been able to contribute to this noble Kavitha programme that has been implemented according to a concept introduced by the Minister and the Secretary of the Ministry of Higher Education," Mr. Sarath said.
Among those exhibiting their work, 25-year-old Puranthiran Shivalingam, a fourth year Bachelor of Art and Design degree student at the Jaffna University can proudly claim two works. Both his paintings, "Bullet" and "Threat" deal with post-war conflicts, specifically oppression of the media. He has used paper cuttings, burnt newspapers as well as ash for his art.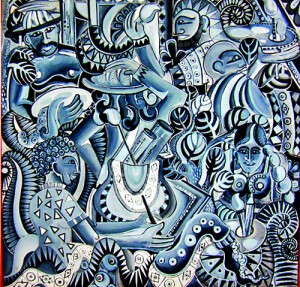 Another student from the Jaffna University, Pakkiyarajah Pushpakanthan is following the Bachelor of Fine Arts degree. He has submitted four paintings, "Feedback" which deals with the lack of silence, "Brahma" which criticises birth and death, "Fun culture" which talks about Kavadi dancing and pain and "Arrested Animals" which looks at animal abuse. "I want to be a professional artist one day and I believe that this Kavitha programme has helped me a lot. The workshop was useful and enjoyable. I also made a lot of Sinhalese friends," the young artist said.
In her fourth year of a Bachelor of Visual and Technical Arts programme at the Eastern University, H.M. Fathima Sumaira wants to be an art teacher following in her father's footsteps. She has two drawings- "Expression of Money" and "Women's life" up for exhibit.
The exhibition will be held on May 18 and 19 at the J.D.A. Perera Gallery in Horton Place from 10 a.m. to 8 p.m. The winner will receive a cash price of Rs. 100,000,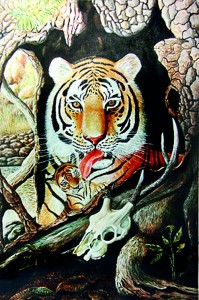 while the runner-up will receive Rs. 75,000 and the artist adjudged third will receive Rs. 50,000. Other participants too will receive other gifts and awards.
The photography exhibition will also be held simultaneously. The photography segment is directed by veteran photographer Lal Hegoda and will showcase around 100 photos of over 40 students.
The finals of the singing, dancing and writing segments will be held on May 22 and 24 at the BMICH.