Appreciations
View(s):

T.D. Dharmasiri De Alwis

Saluting a friend, comrade and above all a humanitarian

Dharmasiri De Alwis, popularly known as "Alla" among friends and in close party circles of the Lanka Sama Samaja Party (L.S.S.P.), passed away peacefully on March 31 at his residence in Pitakotte. He was 86.

Born in 1927, after completing his primary and secondary education at St. John's College Panadura, he opted to join the Railway Station Masters service in 1946. This period coincided with the rise of the Left movement led by the L.S.S.P. with its intellectual leaders including Dr. N.M. Perera, Dr. Colvin R. De Silva, Lesley Gunawardena and Bernard Soysa all of whom he later came to associate with very closely.

Dharmasiri married Srimathie Wickramasuriya, a product of his own college in 1948. She later joined the tutorial staff of the Ananda Sasthralaya Kotte. She remained a source of strength throughout his life. When comrade Alla was engaged in political and trade union work for long hours and long days Mrs. De Alwis courageously and single-handedly attended to all family and domestic matters particularly to the needs of their children some of whom were toddlers at the time. Party and trade union comrades will ever remember with gratitude how they were warmly welcomed at their home at all times. This good lady predeceased him in 1996 creating a big void which he felt very deeply.

With his entry into the public service, Dharmasiri De Alwis joined the L.S.S.P. and within a short time became a prominent activist in the party particularly in the trade union sector. For his active participation in the Hartal of 1953 he became a political victim and had to face immense difficulties being shifted from place to place. These harassments did not deter him from his convictions; instead he became a devoted and militant activist and a firmer believer in scientific socialism. On several occasions he became a Central Committee member and a member of the Organization Bureau of the L.S.S.P.

In the first coalition cabinet of SLFP-LSSP-CP in 1964 he became the Private Secretary to Cholomondly (Chumley) Gunawardena, Minister of Public Works. After the end of this short lived coalition government he reverted to his substantive post in the Station Masters service.

The composition of trade unions at the time was grade or servicewise and the concept of general unions covering all grades and services was almost not known to the public sector. With the sole intention of bringing all railway workers under one banner, Dumriya Sewaka Sangamaya – D.S.S., a general union for all railway workers (like the National Union of Railway men –N.U.R. in U.K.) was formed in 1968 as his brainchild. At the time there were 81 registered trade unions in the Railway representing 150 different grades and, the D.S.S. was the 82nd union. The purpose of forming the D.S.S. was to bring all railway workers under one banner and build working class solidarity not only to gain their rightful demands but also to guide and organise them as a political entity of the working class against reactionary forces. At the time, of the total work force of approximately 26,000 railway workers, Dumriya Sewaka Sangamaya at its peak was able to raise its paid-up membership to almost 14,000, an all-time record achieved through correct leadership and dedication of comrade Dharmasiri Alwis.

With the formation of the U.L.F. government in 1970 under the leadership of Sirimavo Bandaranaike, Mr. Alwis functioned as the Private Secretary to Minister of Transport Lesley Gunawardena and continued in that capacity until the L.S.S.P. ceased to be a partner of the coalition government in 1975. He was not merely a Private Secretary. At times he was an advisor to the Minister and a mitigator too. During this period he did everything within his power to improve working conditions of workers and to sort out their problems in their workplaces in the Railway, Ceylon Transport Board etc. under the ministry.

With the fall of the coalition government in September 1975 he opted to retire from the public service but continued to be in active politics until his health deteriorated; but he never gave up his interest in politics until he breathed his last. He keenly followed political and social changes taking place in the country and in the outside world.

The only legacy he left behind is his seven children; Lal, Harindranath, Indrajith, Shirani, Harsha, Sujeewa and Prasanna are all prospering well in their respective fields. They willingly contribute towards the political and social ideology which their father stood for to the end.

While saluting him as a genuine friend, comrade, trade unionist and above all, as one with great humanitarian qualities, it is our fervent wish that before he finally attains the bliss of Nibbana at the end of his Sansarik journey, may he be born among us again and again to carry forward the unfinished task of achieving socialism for which he stood firmly and with conviction.

Nimal De Alwis

Capt. Emile Jayawardena

I would only be the Captain's son

In our home town of Moratuwa
People always called him Captain
He flew Spitfires and Dakotas
In the Golden Age of aviation.

I certainly could never be the pilot that he was
I probably would never be as good a human being either
I would only be the Captain's son
I wish I could tell him this, but I can't

He is long gone
That is what is so sad about it
I am sure those of you who have lost loved ones
With things unsaid, would know what I'm talking about.
Capt. Elmo Jayawardena

Buddhima de Silva

Thank you for always being there for us

It was with profound sorrow friends and relations attended the funeral of Buddhima de Silva. Buddhi ,Tissa, Lucky and I started planting together in the early '70s at Wellandura Estate Inkahawatta managed by James Finlay Group of Companies. With nationalisation and numerous uncertainties looming over the horizon and amidst the problems the only silver lining was the good fortune of being trained by a strict disciplinarian Shirley Rodrigo, who made us all professionals.

Buddhi to his credit carried away many awards during his Superintendent days and the zenith of his career was winning the award as the best tea cum rubber estate at Doloswella Estate by becoming the best SLSPC Estate in Sri Lanka in the 1990-91 period during the tenure of Minister Ranjan Wijeratne .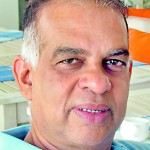 Buddhi married Kumudini in 1978 and they were blessed with two daughters Preneetha and Ruwanthi, who are now happily married. We miss Buddhi for his sincerity and culture, his fun and laughter, love of nature and commitment to excellence in whatever was entrusted to him.
Buddhi greeted everybody very loudly and warmly at his home and plantation bungalows which was open to his friends whom he stood with, in the hour of need. He was ruthlessly loyal to the organisations he worked for and to his immediate superiors.
Buddhi held many high positions in the planting industry, such as Deputy CEO of Horana Plantations and served in many important committees of the Tea Research Institute, Rubber Research Institute, Planters' Association and Tea and Rubber Traders Associations.
He was the youngest son of Dr. G.C.I. De Silva of McCarthy hospital fame and grandson of the philanthropist William de Abrew who gifted land to begin Musaeus College in Colombo 7.
The large gathering at short notice for the private funeral was indicative of the love relatives and friends had for him. We will always remember him with deep respect and affection.
We are grateful Buddhi for your sincere friendship. May you attain the supreme bliss of Nirvana.
Dhammika Jayasuriya
J.K.Fernando
An accountant who opted to be an entrepreneur
It may not register with quite a lot of people who Jayampathy Kumar Fernando was. He took leave from this world on April 24, three days before he reached his 70th birthday.
JK was a few years junior to me at College but met up again when we both joined the same firm to do our respective stints in Accountancy. However JK was not cut-out to be a boring Accountant analysing profit and loss accounts and Balance Sheets. His sights were set far higher. JK's burning ambition was to be an entrepreneur.
In the meantime, he met the love of his life in Shiranthi who was a fellow Accountancy student in the same firm and they married.
After initially dabbling in various lines of business, from construction work to exporting woodwork products, he settled down to be one of the leaders in janitorial services in the country. Of course these efforts took their inevitable toll on his health and unfortunately, when illness was at hand, doctors' advice were not strictly observed.
Over and above all this, here was a man who would never say 'no' to the stream of countless callers who came to him with various tales of woe. It was in his nature to sometimes upbraid an errant employee, but within minutes the incident was a thing of the past. No wonder his employees loved him.
Mahinda Wijesinghe
LLOYD and MALINI PEIRIS
To wonderful parents who lived their lives to the full
The birthdays of my loving parents fell during the same week in April–my mother Malini's on the 22nd and father Lloyd's on the 24th. This year, Ammi would have been 87 years old and Thathi 92 years.
They provided a solid foundation to my elder brother Lalaka and myself through example by inculcating the highest values in life such as honesty and integrity etc, through a disciplined upbringing for which I am indebted to them. These qualities have helped us immensely in both our professional and personal lives in achieving successful careers and earning respect from others.
Thaththi had his education at Prince of Wales College, Moratuwa (POW) and excelled in both education and sports. He was a great cricketer and went on to captain the Moratuwa Sports Club in the premier division. At school level, he was a crafty leg spinner and in the big match of 1937 with St. Sebastian's College Moratuwa he set a bowling record for the best match bag by a Cambrian taking 9 wickets of which in one innings he took 6 wickets for 14 runs bowling out the opponents for the lowest score of the series so far, all out for 37 runs.
Thaththi was a government servant and he worked in the departments of Health, Treasury, Public Administration and last of all at the Ministry of Defence (MOD). At the time of his demise, he was the Senior Assistant Secretary handling the Police Department under the Secretary MOD General Sepala Attiyagala. He was on the verge of being appointed as an Additional Secretary MOD and the Cabinet Memorandum had already been signed by President J.R. Jayewardene.
He helped so many people with their problems and had a very close relationship with all the Commanders of the Armed Forces and the IGPs of Police and key officers of the other ministries.
While he was in the MOD, he helped many young students especially from the Moratuwa schools to join the Armed Forces and the Police.
Ammi was an old girl of Methodist College, Colombo and was involved in social service throughout her life. During our young days, she provided cookery classes free of charge to those at the St. John's Home, Moratuwa. She served in the Moratuwa Branches of the Y.W.C.A., Housewives Association and Cancer Society and held the position of President. She ultimately became the National Vice President of the Y.W.C.A. and was also the Secretary of the Seva Vanitha branch of the MOD. She gained much joy in serving in these organizations.
They were very loving parents who stood by my brother and myself whatever the situation was and their hearts were open to discuss anything without restrictions.
Both of them left this world so suddenly without any suffering, Thaththi in 1988 and Ammi in 2006. There was no time for goodbyes and we look forward to meeting them "On that beautiful shore."
Lakith Peiris