Three wheelers freewheeling with no tough laws in sight
View(s):

Passengers continue to be duped by three wheeler drivers while three wheeler accidents remain an all-time high because of the failure to implement the tough regulations promulgated last year.  The country has over 800,000 three wheelers with a majority in the Western Province. Last year's gazette included over 15 regulations recommended by Transport Minister Kumara Welgama.

The Motor Traffic (Motor Tricycle) regulations that were gazetted last year under the Motor Traffic Act include, ensuring that one side of the passenger seat is partially or permanently closed and that the vehicle has a standard type taxi meter approved by the Motor Traffic Commissioner. The regulations also state that once the taxi meter is examined and approved it should be sealed by the Commissioner General or an authorised officer so that its interior parts cannot be tampered with without breaking the seals.

A fixed price formula has to be decided on by a Fare Reviewing Committee comprising officials from the Ministries of Finance, and Provincial Councils, and the Transport Commission, Police, Department of Local Government, Consumer Protection Authority and two experts in the field of public transport. It is also a must for three-wheelers to display the fare per kilometre.

According to police statistics about 200 fatal accidents involving three wheelers are reported annually–the first six months last year saw 132 fatal accidents.
The regulations also stipulate that the owner of the three wheeler is responsible for ensuring that the electrical components of the vehicle are in good condition while seeing to it that the vehicle is examined annually for road worthiness.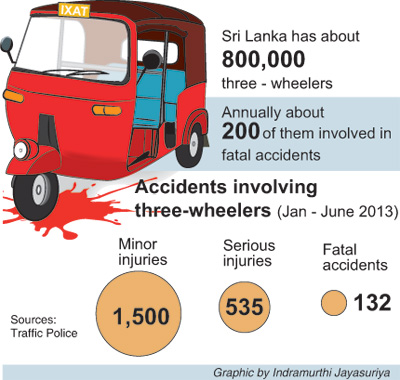 Displaying the registration number, name, photograph and driving licence number of the driver, and telephone numbers in case of an emergency are also made compulsory in the regulations. Once these regulations are implemented it will be compulsory for the driver to behave in a civil and orderly manner, not smoke nor terminate the hire before he is discharged. Passengers have to be taken to their destinations by the shortest possible route within the shortest time. The driver should also issue a receipt upon payment of the fare.
All Island Three Wheeler Drivers' Union President Lalith Dharmasekare said, "We have lost faith in the authorities as they are not interested in regulating the industry. Many of the three wheelers are driven in a reckless manner. These laws are not to discourage self-employment but to attract more people to use three wheelers as a safe and reliable mode of transport."
Last year, the Western Province, too, passed the "Passenger Carriage Services Regulations" pertaining to three wheelers and taxis (Cabs)" which makes it compulsory for three wheelers and taxis to fix a fare meter or face a fine of Rs.100 for not doing so. Three-wheelers that don't display the permit will also face an equivalent fine.
Former Western Province Councillor and present Chairman of the National Transport Commission (NTC), Renuka Perera said that since authorities have failed to look into the issues of the three wheeler industry, the NTC would call all three-wheeler unions for a meeting this month.
"There is a need to regulate both three wheelers and school vans. There are many laws that need to be approved, passed and implemented. From Provincial Councils to Pradeshiya Sabha's, these authorities focus only on the permit fees that are collected from three-wheelers. But regularising and introducing professionalism to the industry by grooming all drivers is a task no authority has yet embarked upon," he added.
All Island Three Wheel Owners Association (AITWOA) Chairman Sudhil Jayaruk said though laws are being drafted they'll be of little use if there there is no institution or umbrella body that all three wheelers come under. "This is the largest profession in the country with close to a million operating three wheelers and another five million being dependent on that mode of transport. The gazette when passed in Parliament has to be implemented by the Motor Traffic Commissioner, who already is burdened by the issuance of driving licences and other motor traffic related work," he said.
Motor Traffic Commissioner S.H. Harischandra said no regulations can be implemented until they are passed by Parliament.