Methodist College
View(s):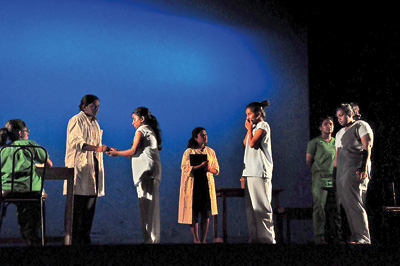 Methodist College Colombo performed a gripping drama called 'Desert Places' and emerged as champions of the night. The drama was set amidst the happenings of a mental hospital and centred around the story of five women patients.  One continuously spoke to her dead sister and played with her while another had thoughts of punishing her children with hot iron knives intending to reform them while another who was raped shied away from men and touch and yet another downcast in spirit considered herself a loser.
Young actress Surami Nethmini bagged the most memorable performance award for her portrayal of Sashini a young girl who is shunned from friends and family, and mocked for her size, . The award for the best male portrayal was also won by Methodist College's Tashyana Handy for her portrayal of Dr. Fonseka while Ayesha Ameen took home the award for Best Supporting Female for her portrayal of Jackie- the abusive mother.
What the judges said
"Methodist College drama, as a production was a strong production. It was played with confidence and without strain. The actual meaning of the production mirrored the meaning in the narrative. The poses were good. It used good effects. It was played with a controlled register. We were perhaps wondering if there was less story in this particular play and that it might be more of an example of a film in it rather than a theatre production because they had too much of on and off's.
It was sometimes a little humorous the way it approached the subjects at hand. Nevertheless we were more enticed with the production as a whole. "We judged each play for the style it was portrayed. We want to make a note that the play 'Desert Places' was the only naturalistic performance while the others were stylistic performances. The judges were unanimous in all the choices."