Sirimal's Dansala
By Manoshi de Silva
View(s):
Sirimal wanted to do  something different this time for Vesak. While watering and weeding his little flower  garden, he tried to think of a new idea. He always made two big lanterns and then they hung the colourful  buckets in branches. That was done every year. He tried to think of something novel.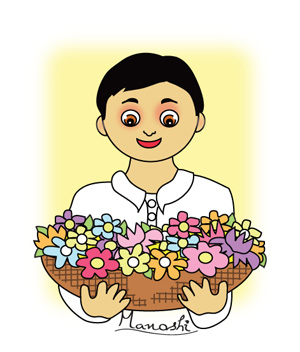 Gardening was Sirimal's  biggest passion but he was also good at making things. "Maybe I should make  something impressive,"  he thought. He couldn't make  something huge like a  pandol, so that was out of the  question. Maybe he could make a few more lanterns this time. But still that wasn't much of a change, although it would catch the attention of the neighbours.
But then again Vesak was not about showing off. Whatever he did had to go with the true meaning of Vesak. He tried and tried to think of  something but nothing came to his mind.  Sirimal liked Vesak very much. He loved making lanterns, going  to temple with his family and  especially the sight-seeing part of it. He also loved stopping by the dansal along the road. The neighbouring village always had a grand dansala. It was annually organized by a group of children. Last year they served fruit drinks, the year before that it was sago with jaggery and they even had an ice-cream dansala once. People stopped-by to enjoy the food and drinks they served, and thanked them. "That's it!" Sirimal thought. "I'll organize a dansala!"
Sirimal continued to think of ideas, while watering his flower beds. "What can I serve?" he thought. Everyone liked ice-cream, so maybe it should be an ice-cream dansala. Maybe he should serve sago. Or maybe he should organize  a grand rice and curry dansala.
The ideal place would be the edge  of his garden. His garden was well  maintained and was a good spot to stop by. It was also by the road which led to the village temple. There were lots of people going to temple passing his house on Vesak day. But he will need to put-up a big hut. Would his father be able to do that? And who was going to prepare all the food? Could his mother do that all alone? There were too many questions without answers and the idea didn't look like an easy one.
When he told his mother about his idea, she looked at him  doubtfully and said, "You can't organize something that big by yourself. The village next-door has a youth committee. It's a hard task to handle!" "That's true," Sirimal agreed. "If you have a dansala in our garden and serve refreshments to the people who go to the temple, you'll have to serve more than a hundred people!" his mother said and Srimal knew she was right.
He couldn't do it alone. Also he couldn't organize a committee because there weren't any  children around his age in the  neighbourhood, only a few very young ones and some older  teenagers. "Would it be possible if you and thaththa helped me?" he asked his mother. "That is a very good deed to do but it's too expensive for us to handle alone," she said and continued, "Maybe you can do some other good deed. I am sure you'll think of something!"
Days got closer to Vesak. Sirimal made two big colourful lanterns. But he still had no idea on what he should do for a change. The idea of having a dansala was still on his mind though. He sat on the garden bench and thought as hard as he could. If he had a dansala, it had to be a small one which he and his
family could handle alone, but should also have the ability to serve everyone who went down his road.  It couldn't be too expensive since they couldn't afford it but still it had to contribute something good to  everyone.
He felt like giving-up on his idea of having a dansala and stared  blankly at his garden feeling very empty. The flowers dancing in the wind caught his eye and he felt happy. This year has been the best year he has had in his garden.  His garden was covered with flowers of different colours and sizes.
The flowers bloomed like never before and every shrub and vine was covered with beautiful flowers. Suddenly, Sirimal felt ideas flowing into his head. "That's it!" he  shouted. "I am having my dansala.
I know just what to serve!"  On Vesak night a table was  put-up by the edge of Sirimal's  garden. It had baskets full of  beautiful fragrant flowers of various colours, from his garden. People  who were going to the temple stopped by and Sirimal and his  parents gave everyone a handful of flowers to offer at the temple. Everyone admired the beautiful flowers and thanked Sirimal and his family for their 'flower dansala'. Some elders touched Sirimal's head and said that he was a very good boy to think of such a kind deed.
After distributing all the flowers from his dansala, Sirimal took the  remaining ones and went to temple with his parents. He knew what he would wish for while offering his flowers. He would wish for more  opportunities to do kind deeds like this to others and make others happy.