Scores killed, as Ukraine crisis take dangerous turn
By Maria Tsvetkova
Moscow says operation destroys deal; Rebels down two helicopters
View(s):
SLAVIANSK, Ukraine, May 3 (Reuters) -Dozens of people were killed in a fire and others were shot dead when fighting between pro- and anti-Russian groups broke out on the streets of Odessa on Ukraine's Black Sea coast on Friday, opening a new front in a conflict that has split the country.
In the east, pro-Russian separatists brought down two Ukrainian military helicopters involved in a pre-dawn operation to try to dislodge the militants from their strongholds in the town of Slaviansk.
The separatists said three of their number had been killed, and two civilians, while the defence ministry said two crew from the downed helicopters died and two other servicemen were killed when separatists attacked them on Friday evening.
"Heavy fighting is continuing," the Ukrainian Defence Ministry said. Russian media also said fighting had broken out overnight near the town of Kramatorsk, just south of Slaviansk, but Reuters could not independently confirm the reports.
Russian-speaking eastern Ukraine has been the focus of concern in Western capitals since pro-Russian gunmen overran the region after Moscow annexed mainly Russian Crimea from Ukraine in March. Clashes had also occurred in largely Russian-speaking Odessa, not far from Crimea, but no one had died there before.
Police said three people were shot dead and dozens of others wounded in running battles between people backing Kiev and pro-Russian activists in the port city. Another man died later and a further 31 people were killed when a trade union building was set on fire as fighting continued into the evening, police said.
The total death toll in Odessa later reached 43, Interfax-Ukraine reported.
President Vladimir Putin's spokesman said Ukrainian forces had fired on civilians from the air in Slaviansk in a "punitive operation" that destroyed an international peace plan. Moscow has tens of thousands of troops massed on the border and claims the right to invade if needed to protect Russian speakers.
The Western-backed government in Kiev said the use of missiles to bring down its helicopters showed Russian forces were already in the town and also that Russian "armed saboteurs" had tried to enter the country overnight, but were pushed back by Ukrainian border troops.
Moscow denies involvement with the rebels and its Security Service said the incursion report was untrue.
Kiev said it was forced to act in eastern Ukraine because Moscow was backing groups which were "putting civilians in danger, seizing hostages and creating an atmosphere of terror and violence".
Reuters journalists in Slaviansk, the most heavily fortified bastion of pro-Russian separatists in eastern Ukraine, heard shooting and saw one helicopter opening fire before dawn. Later in the day, the city was largely quiet, with shops shut and armed separatists in control of the streets.
Advancing Ukrainian forces in armoured vehicles took up positions in the suburbs, but rebels still controlled most of the town of 130,000.
Acting President Oleksander Turchinov said the operation had been complicated by the rebels' use of human shields and had not progressed as quickly as had been hoped.
Sound of cannon
The growing chaos is overshadowing a presidential election the pro-Western leadership in Kiev is planning for May 25. The rebels are planning a vote on May 11 to seek a mandate to break with Kiev, like one held in Crimea before Moscow took it over.
Moscow moved in on Crimea following the overthrow of Ukraine's pro-Moscow president by protesters angered by his decision to scrap a trade deal with Europe.
The United States and Europe have imposed sanctions on individuals over the Ukraine crisis but they have had limited impact. U.S. President Barack Obama said the next step would be sanctions on sectors of the Russian economy and they would be imposed if Moscow impeded the Ukrainian presidential poll.
German Chancellor Angela Merkel, visiting Washington, told a joint news conference with Obama that the elections on May 25 were critical and sectoral sanctions were ready.
The energy and banking sectors are likely targets.
On the square outside city hall in Slaviansk, about 100 people gathered on Friday and said they were appealing to Putin to send troops to help them.
Businesswoman Tamara Voshchanaya said: "What can you think when the sound of cannon makes you jump out of bed, when helicopters are flying over and shooting at our guys? On the town's southern outskirts, eight Ukrainian armoured personnel carriers cut off the road but faced a cordon of local residents shouting at them to go home. Some rebels erected barricades of trees.
Putin's popularity has soared with the seizure of Crimea and talk of restoring Moscow's former empire. This week he restored the Soviet-era tradition of holding a May Day parade on Red Square, where marchers carried banners hailing the acquisition of Ukrainian territory.
U.S. Defense Secretary Chuck Hagel said Russia's actions in Ukraine had shattered the myth of European security in the post-Cold War era and said NATO allies had increased the danger by failing to meet their defence spending pledges.
The European Union said it was watching events in eastern Ukraine with growing concern. But Kiev is not a member of NATO and Western leaders have made clear they will not fight todefend Ukraine.
Helicopters down
The Ukrainian Defence Ministry said two Mi-24 attack helicopters had been shot down by shoulder-launched missiles while on patrol overnight around Slaviansk. Two airmen were killed and others wounded.
Other Ukrainian officials and the separatist leader in Slaviansk said earlier that one airman was taken prisoner.
A third helicopter, an Mi-8 transport aircraft, was also hit and a serviceman wounded, the Defence Ministry said. The SBU security service said this helicopter was carrying medics.
Ukrainian officials said their troops overran rebel checkpoints and Slaviansk was now "tightly encircled".
Putin's spokesman heaped blame on the Ukrainian government, which took power two months ago after pro-Western protests forced president Viktor Yanukovich to flee to Russia. Saying that Putin had warned before that any "punitive operation" would be a "criminal act", Dmitry Peskov told Russian news agencies that this had now happened in Slaviansk.
"While Russia is making efforts to de-escalate and settle the conflict, the Kiev regime has turned to firing on civilian towns with military aircraft and has begun a punitive operation, effectively destroying the last hope of survival for the Geneva accord," he said, referring to a deal on April 17 signed by Russia, Ukraine, the United States and the European Union.
Under that agreement, separatists were supposed to lay down their arms and vacate the public buildings they have seized in about a dozen towns they have seized across the Russian-speaking east. Since then, however, they have tightened their grip.
Ukraine's Interior Ministry said it persuaded separatists to leave two buildings in the city of Luhansk on Friday.
The SBU said the deadly use by the separatists of shoulder-launched anti-aircraft missiles was evidence that" trained, highly qualified foreign military specialists" were operating in the area "and not local civilians, as the Russian government says, armed only with guns taken from hunting stores".
Russia demands halt to Ukraine operation
UNITED NATIONS, May 03, 2014 (AFP) – Russia has warned Ukraine of "catastrophic consequences" unless it halts a military operation against pro-Russian gunmen while Western powers round on Moscow at emergency UN talks.
Russia called the Security Council meeting on Ukraine, the 13th since the crisis began, after pro-Russian rebels shot down Ukrainian helicopters and the Kremlin said a peace deal was dead.
Ukraine's Western-backed government has accused Russia of fomenting the rebellion and has launched a military operation to seize control of the flashpoint town of Slavyansk.
Seven people were killed in the town on Friday, including two Ukrainian servicemen shot down in two helicopters, two civilians and three pro-Moscow rebels, sources said.
"If the criminal misadventures of Kiev are not swiftly stopped then catastrophic consequences for Ukraine cannot be avoided," Russian ambassador Vitaly Churkin told the 15-member Council.
He rounded on Kiev and its Western allies, accusing the United States of "blatant" double standards and claiming that English-speaking foreigners were interfering on the ground.
Demanding a halt to "all punitive operations" he said: "It is time for Western colleagues to think twice."
Secretary General Ban Ki-moon reiterated grave concern and called for maximum restraint to avoid more bloodshed, saying that a diplomatic solution was the only way out of the crisis.
"Escalating violence and reported further loss of life in the city of Slavyansk today is a stark reminder of how dangerous the situation has become," he said in a statement on Friday.
But Western powers expressed full support for Ukraine's military operation designed to reclaim one town from an armed uprising.
The United States said Russian-directed agents and paramilitaries were responsible for "horrible violence" and accused of Moscow of trying to "replicate the charade" that led to its annexation of Crimea.
Russian expressions of concern were "cynical and disingenuous," said US ambassador Samantha Power.
Ukraine's response is "reasonable, it is proportional and it is frankly what any one of our countries would have done," she said.
"These are dangerous days for Ukraine and all of us," she said.
It's not Russia that's pushed Ukraine to the brink of war
The attempt to lever Kiev into the western camp by ousting an elected leader made conflict certain. It could be a threat to us all
By Seumas Milne
The threat of war in Ukraine is growing. As the unelected government in Kiev declares itself unable to control the rebellion in the country's east, John Kerry brands Russia a rogue state.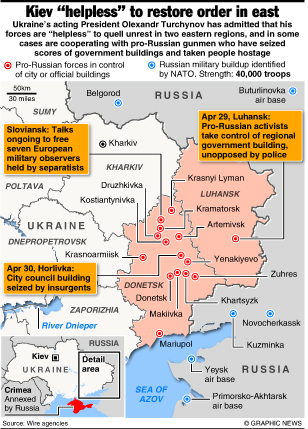 The US and the European Union step up sanctions against the Kremlin, accusing it of destabilising Ukraine. The White House is reported to be set on a new cold war policy with the aim of turning Russia into a "pariah state".
That might be more explicable if what is going on in eastern Ukraine now were not the mirror image of what took place in Kiev a couple of months ago. Then, it was armed protesters in Maidan Square seizing government buildings and demanding a change of government and constitution. US and European leaders championed the "masked militants" and denounced the elected government for its crackdown, just as they now back the unelected government's use of force against rebels occupying police stations and town halls in cities such as Slavyansk and Donetsk.
"America is with you," Senator John McCain told demonstrators then, standing shoulder to shoulder with the leader of the far-right Svoboda party as the US ambassador haggled with the state department over who would make up the new Ukrainian Government.
When the Ukrainian president was replaced by a US-selected administration, in an entirely unconstitutional takeover, politicians such as William Hague brazenly misled parliament about the legality of what had taken place: the imposition of a pro-western government on Russia's most neuralgic and politically divided neighbour.
Putin bit back, taking a leaf out of the US street-protest playbook – even though, as in Kiev, the protests that spread from Crimea to eastern Ukraine evidently have mass support. But what had been a glorious cry for freedom in Kiev became infiltration and insatiable aggression in Sevastopol and Luhansk.
After Crimeans voted overwhelmingly to join Russia, the bulk of the western media abandoned any hint of even-handed coverage. So Putin is now routinely compared to Hitler, while the role of the fascistic right on the streets and in the new Ukrainian regime has been airbrushed out of most reporting as Putinist propaganda.
So you don't hear much about the Ukrainian Government's veneration of wartime Nazi collaborators and pogromists, or the arson attacks on the homes and offices of elected communist leaders, or the integration of the extreme Right Sector into the national guard, while the anti-semitism and white supremacism of the government's ultra-nationalists is assiduously played down, and false identifications of Russian special forces are relayed as fact.
The reality is that, after two decades of eastward Nato expansion, this crisis was triggered by the west's attempt to pull Ukraine decisively into its orbit and defence structure, via an explicitly anti-Moscow EU association agreement. Its rejection led to the Maidan protests and the installation of an anti-Russian administration — rejected by half the country — that went on to sign the EU and International Monetary Fund agreements regardless.
No Russian government could have acquiesced in such a threat from territory that was at the heart of both Russia and the Soviet Union. Putin's absorption of Crimea and support for the rebellion in eastern Ukraine is clearly defensive, and the red line now drawn: the east of Ukraine, at least, is not going to be swallowed up by Nato or the EU.
But the dangers are also multiplying. Ukraine has shown itself to be barely a functioning state: the former government was unable to clear Maidan, and the western-backed regime is "helpless" against the protests in the Soviet-nostalgic industrial east. For all the talk about the paramilitary "green men" (who turn out to be overwhelmingly Ukrainian), the rebellion also has strong social and democratic demands: who would argue against a referendum on autonomy and elected governors?
Meanwhile, the US and its European allies impose sanctions and dictate terms to Russia and its proteges in Kiev, encouraging the military crackdown on protesters after visits from Joe Biden and the CIA director, John Brennan.
But by what right is the US involved at all, incorporating under its strategic umbrella a state that has never been a member of Nato, and whose last elected government came to power on a platform of explicit neutrality?
It has none, of course — which is why the Ukraine crisis is seen in such a different light across most of the world. There may be few global takers for Putin's oligarchic conservatism and nationalism, but Russia's counterweight to US imperial expansion is welcomed, from China to Brazil.
In fact, one outcome of the crisis is likely to be a closer alliance between China and Russia, as the US continues its anti-Chinese "pivot" to Asia. And despite growing violence, the cost in lives of Russia's arms-length involvement in Ukraine has so far been minimal compared with any significant western intervention you care to think of for decades.
The risk of civil war is nevertheless growing, and with it the chances of outside powers being drawn into the conflict. Barack Obama has already sent token forces to eastern Europe and is under pressure, both from Republicans and Nato hawks such as Poland, to send many more. Both US and British troops are due to take part in Nato military exercises in Ukraine this summer.
The US and EU have already overplayed their hand in Ukraine.
Neither Russia nor the western powers may want to intervene directly, and the Ukrainian prime minister's conjuring up of a third world war presumably isn't authorised by his Washington sponsors. But a century after 1914, the risk of unintended consequences should be obvious enough — as the threat of a return of big-power conflict grows. Pressure for a negotiated end to the crisis is essential.
Twitter @SeumasMilne
Courtesy The Guardian, UK