Rukshan launches DVD of songs with Rotarian themes
View(s):

"Experiencing Rotary Through Music" – a DVD of singer Rukshan Perera's eclectic songs that closely link to Rotary themes and values will be launched on May 10 at the Rotary Assembly. This DVD released by the Rotary Club of Colombo Metropolitan is dedicated to all Rotarians who volunteer to serve the underprivileged by implementing humanitarian projects covering education, health, poverty, promoting integrity while advancing world understanding, goodwill and peace.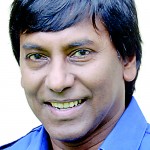 The songs featured in this DVD have been written, recorded and produced by Rotarian Rukshan Perera, a leading musician and significant contributor to the Rotary movement. All proceeds will be in aid of the Rotary Foundation.
The first song on the DVD, "Rotary Sri Lanka", is a dedication to all Rotarians in Sri Lanka, and reflects Rotary ideals and beliefs. With many project pictures and beautiful videolips, this song highlights how the 60 Rotary clubs in Sri Lanka and approximately 1800 Rotarians serve the underprivileged.
Among the other songs that reflect Rotary values are a composition that signifies the worldwide effort to eradicate poverty and improve the lives of over a billion people. "Fight for Justice", a tribute to Nelson Mandela, "A Green Planet" emphasising the environment we live in, "Education Rights", a tribute to MalalaYousafzai, "Fighting Disease" from a patient's point of view reflect the musician's versatility. The DVD ends with a dedication to Rotary's endeavour to actively promote peace and harmony in the world, encouraging all Sri Lankans to live in peace and harmony.
The DVD is priced at Rs 1,000.