Rib ticklers
Visiting Jesters Without Borders group Giullari Senza Frontiere from Italy were in Sri Lanka recently travelling across the country leaving a trail of laughter and fun along the way
View(s):
They trade in laughter and they won't stop till you get on board their train of utter madness. When the visiting Jesters Without Borders group Giullari Senza Frontiere from Italy were in Sri Lanka a few months ago, they travelled cross country for nothing more complicated than bringing laughter to local communities. 
Performing at bus stands, villages, schools, orphanages, disability support centres, train stages and even prisons, the travelling jesters drew quick praise from their audiences. Giullari Senza Frontiere was formed in 1998 and since then they've raised their own funds to travel each year to developing countries with the aim of bringing joy to areas affected by war or poverty. In recent years the troupe has performed in communities throughout Mexico, Africa, Ukraine, Albania, India, Brazil, Cambodia and Mexico.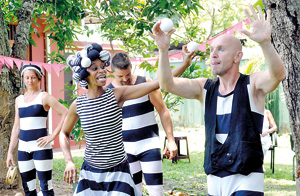 In Sri Lanka, a fascinating assortment of jugglers, acrobats, fire breathers, comedians and musicians travelled islandwide for performances in Colombo, Negombo, Kandy, Anuradhapura, Jaffna, Sigiriya, Ella, Arugam Bay, Tangalle, Galle, Ahangama, Unawatuna and Hikkaduwa.
In Galle the troupe visited the disability support groups Smile Foundation and ECSAT (Equality-based Community Support and Training) along with local schools and finally the Serendipity House, home of the Serendipity Trust for their last show in Sri Lanka. The Serendipity Trust coordinates the popular Galle Children's Festival events throughout the southern province and also supports many other initiatives which promote the participation and creative expression of local young people.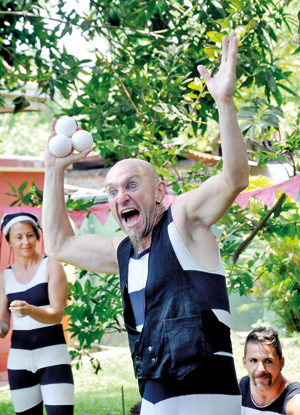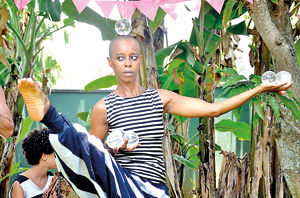 At the show, children from local schools and the Yasodara Children's Home together with local families took part in a fun morning of traditional customs and games before being treated to a hilarious session with the Italian jesters. Serendipity Trust's Project Officer Anushka Deegodagamage said "What a great variety of performances! We all have our own problems and worries but performances such as these bring the local community together to laugh and celebrate the simple act of being happy."
Troupe performer Stefano Guarino Grimaldi speaking about the conclusion of their Lankan tour said 'Serendipity is one of the most beautiful words in the English language, as well as one of the most difficult to translate. It basically means a 'happy coincidence'. This event run by Serendipity Trust seems like the significant conclusion of our trip: a great party for a 'new' year, with Sinhalese and Tamil children playing happily together. A beautiful hope we can all carry in our hearts and a happy ending to a wonderful trip!"