Priyantha returns with 'Adaraneeya Kathawak'
By Susitha R. Fernando
View(s):
Breaking the silence of more than 12 years seasoned filmmaker Priyantha Colambage returned to filmmaking with 'Adaraneeya Kathawak' (A Melody of Love) a musical movie.  Priyantha's last movie 'Arumosam Wehi' in 2002 won international accolades including the Award for Excellence at the 2007 China International Children's Film Festival, but the filmmaker turned fulltime advertising to create TV and video commercials, documentaries and corporate videos under his own production house the Creative Force.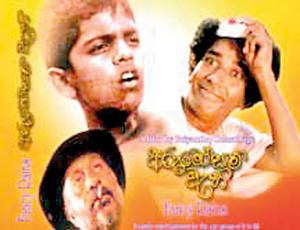 Priyantha returned to cinema teaming up with Chaminda Gamage, the son of late journalist, writer and lyricist Dharmasiri Gamage."Even though I was involved in the commercial my heart was with cinema, I wanted to return to it" said Priyantha who has won a reputation for his previous films like "Dehena"(Trance), his directorial debut at which he set a new record in Sri Lankan cinema becoming the youngest film director. He made this film while he was just nineteen years of age. In 1998, Dehena won the highest number of awards for Sri Lanka and represented the country at the Tokyo International Film Festival.
His second film "Vimukthi"(Salvation) was the unanimous choice of local film critiques to represent Sri Lanka at the Kerala, Milwelly and Cairo International Film Festivals. Then he made "Arumosam Vehi" (Fancy Rains) as his third production and it was financed by the National Film Corporation. "My fourth film will focus on Sri Lanka's reality televisions programme. When I studied these programmes I was touched by the incidents where many youngsters with enormous talent were forced to stay back because they werex unable to compete these battles," Priyantha said. "This is a tragedy where these incidents could lead to complete destruction of their talents," he said. The film is to depict a tragic story.
His earlier films were graded as classic films and were released in Fifth circuit cinemas and Priyantha said his latest could be graded as a 'Classic Commercial'. The film is a real musical movie with nine songs in it. For the first time internationally renowned singer Chitral Somapala will enter cinema as a singer while talented Udara Samaraweera will be the music director. Among other singers Kasun Kalhara, Amala Perera Uresha Ravihari and Amila Perera are to sing in the film.
The film is co-scripted by Uveni Shanika and Priyantha himself and is to be played by a young cast including Bimal Jayakody, Udari Warnakula, Aruni Rajapaksa and up and coming actor Hemal Ranasinghe.