'Odyssey into the Wild' with Mahipala
View(s):

'Odyssey into the Wild', an exhibition of creative works penned and illustrated by B. A. Mahipala will come alive on May 8 at the Cinnamon Grand Hotel.
This exhibition will be a revelation of his journeys ranging from popular tourist destinations to remote corners of the planet earth. A 208 page coffee table book, 'Odyssey into the Wild' includes not only stunning photographs but also a step by step narrative tracing the steps taken by Mahipala during each voyage, including tips on best times to travel, the best paths to take and more.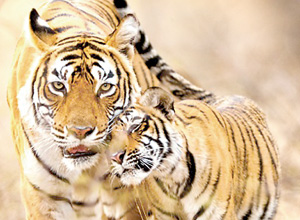 The launch will be followed by a Photo Exhibition, which will be opened to the public from 29th May to 1st June, 2014 at the National Art Gallery, Nelum Pokuna Mawatha. A breathtaking collection of Mahipala's photographs taken at numerous destinations will feature polar bears, tigers, emperor penguins, leopards, jaguars, and wild dogs of Africa to name just a few. An auction will also take place, enabling visitors to bid and take some of the arresting photographs back home.
All the proceeds from the exhibition as well as the sale of the book will be for a worthy cause—to build a new operating theatre complex for the Homagama Base Hospital and to purchase equipment for the hospital under the Bamunu Arachchi Foundation, (www.bamfd.org) headed by B A Mahipala. The development and modernization of the Homagama Base Hospital is a major philanthropic endeavor of Mahipala. This is the hospital founded by his father B. A. Semaneris Appuhamy back in 1948 and he has followed the path of his illustrious father by building two modern blocks for the hospital comprising of a 30,000 square feet, 3 floor building which houses the OPD clinics and diagnostics and a second 30,000 square feet 3 floor building which is a 300 bed residential treatment facility with pediatric, surgical and medical wards.

An avid lover of nature, Bamunu Arachchige Mahipala's journey in chronicling the wonders of wildlife began at a young age. Born in September 6, 1947, as the youngest of six siblings, Mahipala was not able to get better aquatinted with his father due to his father's early demise when he was just seven months old. However, a renowned entrepreneur and philanthropist, his father left a legacy which formed the foundation in shaping the future path of Mahipala; the most significant being the gifting of a five acre land to the government of Ceylon, then under the British rule and then building a hospital, which is now known as the Homagama Base Hospital.

Mahipala gained his primary and secondary education at S. Thomas' Preparatory School – Kollupitiya, St. Thomas' College – Gurutalawa and St. Thomas' College – Mt. Lavinia respectively. After which he went onto graduate as a Mechanical Engineer from the University of Peradeniya. After graduation he invested his time and energy to build a successful business of his own, known today as BAM Holdings. Though he is semi-retired now, Mahipala still acts as the Chairman of his company, which under his guidance continues to thrive in markets not only within Sri Lanka but also beyond its borders.
Through the years of a wide and varied business career and personal accomplishments, one aspect of Mahipala has remained the same—his love for wildlife and photography. "My eldest brother Dharmasena was a lover of wildlife and in my younger days, he used to travel to Yala and Wilpaththu frequently," said Mahipala fondly reminiscing his introduction to wildlife photography.
During his travels to the wild, Mahipala has supported various wildlife conservation efforts in different parts of the world. Among the projects that he has supported are the construction of 9 concrete water holes at Yala National Park to provide much needed water to sustain wildlife during dry months (in 2009), donation of a solar power battery storage system for the Painted Dog Conservation Center at Hwange, Zimbabwe (in 2012), and the financing of a drinking water storage project with deep well pump, generator, generator house and water tank for the usage of several villages resettled from the border of Ranthambhore National Park to the outskirts of Sawai Madhopur, India (in 2012).
For more information on the book launch, please visit www.odysseyintothewild.com.