'Look, read, this is me!'
By Namali Premawardhana
RocketMou5, a new brand of Sri Lankan T-shirts aims at making fashion real and relevant, say its creators Dilshara and Harshini Jayamanne
View(s):
Meet the Jayamannes. Dilshara started off as a copy-writer for an ad agency and studied some design. He is straight talking and laid back. Harshini "has design in her blood" and if her work on the interior design of their home is any indication, her instincts run riot with colour and texture contained only by spatial boundaries. Put the two together and one begins to see a creative ethic that unabashedly claims bragging rights for where it really comes from.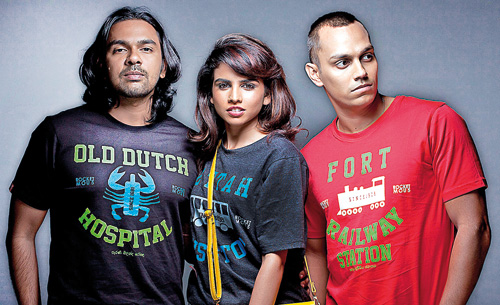 This is RocketMou5, Sri Lanka's new brand of truly authentic casual street wear. From Galle Fort to Ratmalana to Colombo and on to Kandy, RocketMou5 (pronounced RocketMouse) is setting out to literally represent Sri Lanka on the chests of a comfort-happy T-shirt generation. Starting with a trend, the couple are using their talents and passions to keep fashion real and relevant.
Dilshara went to design school in London during 2003 and 2004 and also did some dj-ing on the side. What he noticed while immersed in pop-culture there, was a hip-hop fashion conscience where everything related to day-to-day life. When he returned to Sri Lanka too, he was perplexed to find that "people feel very strongly about their T-shirts" even when they don't really know what the text and graphics on their chest are. So he and Harshini started asking why. The answer seemed to be design.
"It's a subtle way of saying who you are and where you come from." So although you may never have seen the Chicago Bulls play ball, and although you may not know who the Yankees are, the Jayamannes think the design ethic of your T-shirt is speaking for you. "That's the power of design."
So they got down to work, to take the design philosophy that is attracting the Sri Lankan market, and do something relevant and "real" with it.
"What we wanted to do was, take our outings at the Dutch Hospital or our walks on Galle Face – those places are iconic, you really love this stuff – and put it on our T-shirts," Dilshara explains. RocketMou5 T-shirts have prints screaming SRI LANKA. "Galle Fort since 1588", "Old Dutch Hospital", "Galle Face Green", "Pettah Bus Stop", "Katunayake Airport" and even "Kandy Lake Round".
"What a young person chooses to display on their chest is important," Dilshara points out. So they're evolving and expanding, getting more locations on their prints and just staying focused on what's relevant. The T-shirts are still slightly on the pricey end but Harshini, who handles the business, feels strongly about making them affordable.
"There are a lot of brands out there with this "exclusive" label," Dilshara explain. "We are not exclusive. We are TOTALLY inclusive."But the couple is so passionate about this project that they are not willing to compromise on any grounds. For them, RocketMou5 should not just be able to sit next to A&F and Hollister on store shelves, but also compete in terms of design, quality and relevancy.
Dilshara is very aware that what they're doing is different and that not everyone is going to embrace it immediately. But as far as can be seen, RocketMou5 is young and fresh, and well on the way to doing for Sri Lankan street wear what no other label has been able to do. They've taken something universal, claimed it for their own, and are taking a lot of pride in it.
Check out the full range and even shop online at rocketmou5.com. And when you get your T-shirt, read the label carefully!