Just get out there and grab the mic
View(s):

This week on Take 3 we're checking out Open Mic Nights, fast growing in popularity (and numbers) in Colombo. Whilst local audiences are generally nice and easy-going, we found that these open mic nights are often launching pads for the musically inclined to scope out audience preferences without the badge that comes with it. Also, interestingly, all three are hosted by musicians who've already earned a name for themselves in the circuit, so in case you don't want to sing you will find yourself just as content listening to these guys strum their guitars.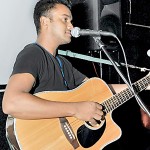 The Manchester
Our first stop, the Manchester, is already a popular spot to chill out in the evening with a drink and some friends. It's also the perfect setting for an open mic night, which is probably why every Tuesday, host Sam Dayaratne finds himself trekking to the pub with his guitar, ready to take on the people waiting at the door.
Of all the places we visited the Manchester had the biggest crowd. We were pleasantly surprised by the numbers on a rainy weekday evening and the relaxed aura of the venue which seems to go a long way convincing people to get off their comfortable seats and sing, or even do stand-up (as long as it involves using your voice they're fine with it, says Sam.
Sam is on standby to back you up if you're going solo, but feel free to bring an instrument along. Open Mic Nights are generally acoustic, so an electric guitar is probably not going to cut it here. You can just walk in and sing, but fair warning for the place gets quite busy on Tuesday evenings so you might have to wait a while for your turn. But never fear, for the pub does great fare and if you're feeling fancy you can even step into Agra next door.
When: Tuesday, 9 p.m.
Entrance: Free
Address: 100/10, Independence Avenue, Colombo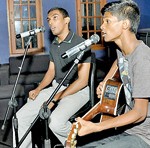 Voice Lounge
The Voice Lounge, in contrast, is sparsely occupied when we walk in. We're a little early though. It's a tad difficult to find the lounge-the address says BRC, but you actually have to enter from the Park Road side (there's a big sign to your left) and proceed straight down the narrow road which will lead straight to the lounge.
At Voice Lounge the open mic night is complemented by their Acoustic Tuesdays session, which is fully underway when we enter. Acoustic Tuesdays features Ryan De Mel (lead vocals) and Joel Fernando (lead guitar), who also host the open mic session at the lounge. Just like the others, Voice Lounge has a walk-in policy for their open mic night, which usually starts at 7 and will go on till about 11 p.m..
You can sing in any language you want, with Ryan and Joel backing you up but you're also free to bring instruments. Any genre is encouraged but remember, once again, that these are usually acoustically inclined evenings. They occasionally bring in guest artists too, so if you don't want to sing you could just sit back and relax to the music. The Voice Lounge doesn't really do food, however, so come on a full tummy (if not there are plenty of great restaurants nearby).
When: Tuesdays, 7 p.m
Entrance: Free
Address: Burgher Recreation Club, 149, Havelock Road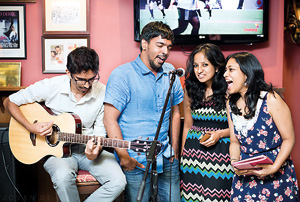 Inn on the Green
This is a bit of an institution in the open mic night scene (it's been around for quite a few years) and new host Lasith Fernando (of Angel Down) has already managed to draw in the crowd- and an interesting one at that. If a Thursday-being closer to the weekend and all-sounds like a better idea for you then this is where you should be, settled into the comfy, plush confines of the booths at the Inn.
It's an open stage for singers, comedians and guitarists and just like the other two we checked out they'll provide backup (if you need it) or you're free to bring along your own instruments. There's no list or pre-arrangements to make-all you have to do is walk in and they'll take it from there.
The Inn is well known for their gastronomical fare so you won't go hungry either. If singing is not really your thing then you can just pop in to listen to Lasith, who will occasionally grace the stage. You'll find yourself bumping into familiar faces from the stage here too, so it's not all amateur talent. But don't let that deter you from getting up there and belting your (young, significantly older-doesn't matter) heart out-after all, these open mic nights are about good times and great vibes more than anything else!
When: Thursdays, 8 p.m.
Entrance: Free
Address: Galle Face Hotel (enter from the Galle Road side)