DJ Ruki from Chicago spins at the Sky Lounge
View(s):

Internationally acclaimed DJ Ruki Dole is now in action at the 'Sky Lounge' of the Kingsbury Hotel during the month of May. DJ Ruki Dole, who has earned repute in the Chicago party circuit, spinning as a DJ for the hippest nightclubs and parties in the Windy City. DJ Ruki has also spun for internationally acclaimed Music Artistes such as Snoop Dog, DMC from Run DMC, Lloyd Banks (G-Unit), Spindarella (Salt N Pepper), Mike Epps, Katt Williams, RhymeFest and Tony Touch (Rock Steady Crew) etc.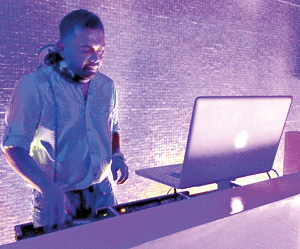 DJ Ruki has several residencies to add to his accolade of achievements, spinning for the most happening night spots in downtown Chicago, including The Kerryman, Vertigo Sky Lounge, Benchmark and Angels and Kings at the Hard Rock Hotel. Elevated on the top most floor of The Kingsbury and offering a bird's eye view of Colombo City, the Sky Lounge is a truly spectacular place to unwind. Seated at the Sky Lounge, the sea looks like it laps the shore, rather than crash against it, the senses seem to mellow down and tune out of the usual alertness synonymous with city dwelling.
The Sky Lounge can be called a sky gazers' paradise, loners' reverie and a busy week's dream come true. Since of late, it has also transformed to be the more preferred hangout to not just revel in solitude, but to also enjoy the tunes spun by popular DJ's or live music bands. Having DJ Ruki over at the Sky Lounge was indeed an exhilarating experience for the party fans.
He spun music with prolific expertise that got the crowd grooving to the beats and moving to the tunes.  The management of Sky Lounge enthusiastically noted that this would be the beginning of many more exciting night events to be held at The Sky Lounge – the epicenter of Colombo's nightlife. In addition to being the choicest chill-out spot in the City, the Sky Lounge now also ventures to become one of the most sought after Nightlife boosters, catering to a select and discerning clientele that settles for nothing but the best when it comes to entertainment.