Little book of royal recipes
By Tharooshie Mahahewage
After 27 years of hard work and research, Chef Dr. T Pubilis Silva launches "The Royal Meals of the Last King of Sri Lanka", the world's smallest cookbook
View(s):
Internationally acclaimed chef Dr. T Pubilis Silva has another first to his name. His book which is said to be the world's smallest recipe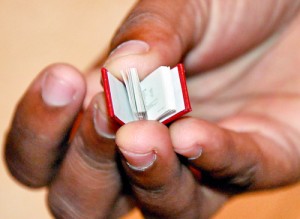 book titled "The Royal Meals of the Last King of Sri Lanka" was launched last Thursday evening at the Mount Lavinia Hotel.
The book is 1cm by 1 cm. A slightly larger version of it is 3cm by 3cm. This tiny book was laid inside a mother of pearl shell and the first book was presented to President Rajapaksa earlier in the day, the day incidentally being Chef Publis's birthday.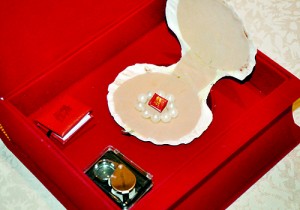 The event started with Buddhist religious rites, lighting the oil lamp and the observance of two minutes of silence in honour of the soldiers who sacrificed their lives in the war.
"Chef Pubilis has always been interested in popularising Sri Lankan cuisine not only internationally but also introducing it to the younger generation of our country. The book was a result of 27 years of hard work and research. He has made our hotel proud and we are glad that Chef Pubilis is with us," said Chairman of Mount Lavinia Hotel, Sanath Ukwatte.
Chef Pubilis has been with Mount Lavinia Hotel for the past 57 years. "This was my first job and it will also be my last. This book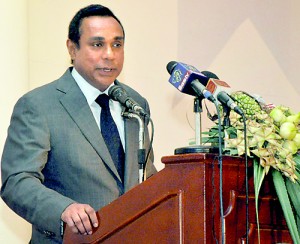 wouldn't have been possible if it wasn't for the help of many people, especially the librarian of the Temple of the Tooth Relic in Kandy. The information of the book was taken from ancient ola leaf books (pus kola poth)," Chef Pubilis said.
"Most people said I can't do this in Sri Lanka because we don't have the appropriate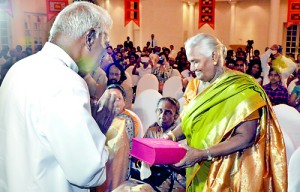 technology. When I inquired from England they said that the smallest book has already been published in Japan- a book on flowers that fits in the hole of a needle. Singapore publishers sent quotations for my book to be printed there. But I wanted to do this in Sri Lanka somehow and Vijitha Yapa lent a big helping hand. The biggest challenge we had to face was the printing, binding and the cover design. Other than the printing, everything in this book is hand made," Chef Pubilis said. He also made a promise saying that he will soon release a book on fast food in Sinhala so that people who are only Sinhala literate will be able to read it.
The guest speaker at the event, Prof. Prashantha Maddegama from Kundasale, spoke about the culinary habits of our ancestors and the grand meals of our ancient kings. Many religious leaders and personalities from different fields attended the event.