An unforgettable cricketer and a character – Neil Chanmugam
appreciation
View(s):
A long and an illustrious innings came to an end when one of Sri Lanka's cricket stalwarts of yesteryear Neil Chanmugam made his last journey to the General Cemetery Kanatte on Thursday evening.
A die hard Thomian showing glimpse of a bright future in cricket represented his alma mater with great success playing in the 1958/9 Battle of the Blues encounter. As a schoolboy I had the privilege of seeing Neil Chanmugam in action for the Sinhalese Sports Club in the Sara Trophy matches — the premier cricket tournament at that time.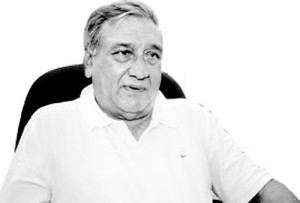 It was a delight to watch the shots that he played with immense power dispatching the ball to every corner of the field and many a times over the ropes.
As an off-spinner making use of his height he mesmerised most leading batsmen local and international with crafty variation in flight and length. Considering his performance in club cricket Neil Chanmugam was an automatic choice and found a place in the national team at that time in the early sixties. In that era when Ceylon was lacking in pace Neil with other three spinning aces in Fritzroy Crozier, Anuruddha Polonowita and Abu Fuard carried the bunt of responsibility thus making the leading international batsmen in the world's leading cricketing nations finding run getting a hard job with Ceylon. Neil played a vital role when Ceylon beat India and Pakistan in unofficial tests at home and abroad.
Once playing against the English team led by Ted Dexter at the Colombo Oval he exhibited a fine spell of bowling to capture 5 wickets which was highly praised by most Englishmen.
The most memorable innings he played was against the mighty West Indies under the captaincy of world's greatest cricketer Sir Garfield Sobers at the Colombo Oval in March 1967. Neil and P. Ian Peiris both former Thomians were involved in a record partnership of 110 runs for the 10th wicket. Chanmugam played a lusty inning of 72 which included a mighty six sailed over the Oval pavilion and nine boundaries. Ian Peiris at the other end collected an unbeaten 46, with a six and seven fours. After doing yeoman service to Ceylon cricket later Neil devoted his time for the improvement of cricket at the SSC. Later he joined the Maharajah Organisation and helped it become one of the leading cricket playing establishments in the mercantile sector.
If my memory is correct Maharajah Organisation was the first to introduce professional cricketers into Sri Lanka cricket by getting down county cricketers to strengthen the Maharajah team to face strong sides like Ceylon Tobacco and Browns in that era. Neil Chanmugam was a keen golfer and was regularly seen in the links at the Royal Colombo Golf club. Neil's brother Dennis too played for S. Thomas' and SSC and was a member of the Sri Lanka team that played in the inaugural World Cup in England in 1975.
The efforts of this late cricketer to see Sri Lanka recognised among the test playing nations will be remembered for a long time.
- Lakshman Ranasinghe