Taking a challenge by its wheels
With a spirit of adventure and determination to help a cause in their hearts, a group of 12 cyclists ride across Sri Lanka. Duvindi Illankoon reports
View(s):
When Ajith Fernando decided to mark his 50th birthday in style he would never have imagined the consequences. No sooner had he ambitiously decided that he would cycle around Sri Lanka was he approached by several others, amongst them Ranil De Silva, Managing Director of Leo Burnett Solutions. Ranil was the one to suggest that perhaps Ajith and his fellow cyclists could raise something for charity along the way. The idea stuck and they would end up picking a cause dear to their hearts; cerebral palsy, a condition that affects an estimated 40,000 children in Sri Lanka at present.
For Sarinda Unamboowe, one of the 12 cyclists who would eventually make the trip, trekking across Sri Lanka for a cause is nothing new. Sarinda was a force behind the Trail campaign, which raised USD 1.6 million (and counting to a goal of USD 2 million) for the construction of a Radiotherapy Unit and to develop the Paediatric High Dependency Unit in Jaffna after a legendary walk from one end of Sri Lanka to the other. It's easy to imagine Sarinda leading from the front, breezing his way through the journey with a smile but he was heavily overweight at the time of taking on Around the Pearl-97 kilograms to be exact. "Honestly? People thought I wouldn't make it," he tells us with relish. "But I did-we all did."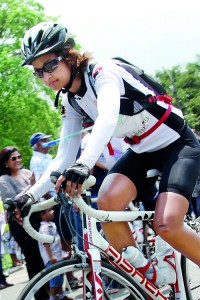 It was simply a matter of training, training and more relentless training. Luckily, perhaps, most of the cyclists on board were already enthusiasts- or "we would have had a situation on our hands," says Yasas Hewage of WrooM, a community of cyclists who meet on a regular basis for excursions. The cyclists began training individually a few months ago; Sarinda, together with Charlene Thuring (the only woman in the group), began working on an extensive training schedule. "It's not easy," they tell us. "We had only driven mountain bikes before and those too comparatively shorter distances."
The plan was to cycle around the country while keeping to the coastline, and an estimated 1427 km was to be covered! A formidable team of 12 was formed; Ajith, Sarinda, Charlene and Yasas, together with Suren Abeysuriya, Jehan Bastians, Dushmantha Jayasinghe, Annudatta Dias, Peter Bluck, Sanjay Mendis, Gihan Hemachandra and Ravi Weerapperuma were the brave souls who put themselves up for the task. Along the way they were joined for short distances by colleagues and friends.
The journey began on April 10 with the first leg from Colombo to Weligama and by the end of that first day some could barely move. Over the next 10 days they settled into a routine; at 4.30 a.m. the team would wake up to an "amazing buffet spread with peanut butter sandwiches," (and jam if they woke up on the right side of the bed)-they would then pack their gear, complete with water bottles and plenty of Jeewani for sustenance and set off with the sunrise. Each day the cyclists would aim to cover an 80 km minimum-they managed to do a maximum of 180 one lucky time-, pedalling for about 6-10 hours overall.
The team didn't really travel with any medical assistance but "we knew our way around cuts and bruises," says Yasas. Accompanied by
a capable back-up team, they cycled from town to town, through curious villages, deserted roads and sandy beaches. They would occasionally struggle to keep themselves hydrated and would often take a tumble off the bike. Staying over at hotels, at the end of the day "all we could do was fall into our beds," Yasas says. "After 10 hours, your bum doesn't talk to you." Supplemented with a cream aptly titled 'Bottom Butter', they managed to make it through the trip without serious consequences. Eventually taking mercy on their bodies, the team decided to take a day of rest in between. "I think that was the only time we got to really bond," laughs Charlene. Taking a bad tumble on her third day Charlene found herself looking to her teammates for support and they didn't disappoint. "They watched out for me all the time-we all did that for each other I think."
From Weligama they would follow the coastal belt to Kataragama, Arugam Bay, Pasikudah, Trincomalee, Mullaitivu, Jaffna, Mannar and Chilaw. They remember one arduous trip over 100 kilometres of gruelling, broken road near Mullaitivu. Having asked other cyclists and locals and told it was about a 40-50 kilometre trip, they set off happily only to find themselves on a seemingly never-ending ride over unforgiving terrain. Yasas' wife Ajani, who was leading the support team, ended up with her vehicle stuck in the sand. "We were stuck in the middle of nowhere and our vehicle was stranded," remembers Yasas. "Eventually everyone managed to pull together and get it moving." The morale of the story? "Never ask a cyclist to gauge distance."
But they'll tell you it was all worth it in the end. "I had done several things to challenge myself before," says Sarinda. "But when you're doing it for a cause there's a far greater sense of purpose and achievement. After Trail I had decided that hereafter I would do both together-challenge myself while harnessing it towards something good. This was perfect." This is why the entire journey was self-funded by the cyclists; not a single cent raised through Wheels for Wheels, the official name of their initiative, will be channelled for expenses. Instead the money raised will go towards the cause and nothing but the cause.
For Yasas, who has been cycling for most of his life but never really with a specific goal in mind it was an eye opener. "We suddenly realized that every time we're spinning a wheel it can raise money for a pair of different wheels for someone else," he says. "To realize that all this cycling could be focused towards giving a pair of wheels for somebody who really needed it was an amazing thing." While the initial target is 1000 wheelchairs (at roughly USD 100 per wheelchair that works out to about Rs. 12 million), they hope to keep Wheels for Wheels alive until enough funds have been raised for anybody who needs their assistance. "Now it's about people coming forward and supporting the cause. They could raise awareness, donate or even do something like we did." Much of the awareness campaign for cerebral palsy happened on social media and the web. "It's not a very concentrated condition. But 40,000 children are affected in Sri Lanka alone. Not all of them can afford the treatment and facilities needed to make life easier."
For Ajith, this project and journey was somewhat of a personal crusade as well. His daughter was diagnosed with cerebral palsy at a young age; "she was one of the lucky ones," he reflects. "We treated her at the earliest stages and now she leads a perfectly ordinary life." What people need to realize, he says, is that while the body might appear to be severely affected in those who reach the advanced stages the mind is not. Unfortunately, most families are unable to afford wheelchairs for their children and this is why the children are often confined to one room, with no freedom to move about. He's thrilled because this journey has also served to inspire his daughter to go out and raise more awareness about the condition. "She has always felt that she was one of the lucky ones. Now she knows she can do something to help the kids who weren't as fortunate as her."
Returning to Colombo last Sunday (20th) and the Independence Square, the 12 cyclists were joined for the last leg of their trip by friends, family and well-wishers. "Up to Independence Avenue it was mostly about us," they smile. "When you're taking a tumble off your bike on a dirty, dusty road you're not going to be thinking about the cause. But returning to Colombo, and meeting these little kids with cerebral palsy who were all waiting for us; that was just amazing. All that effort, all the falls and the injuries-it made perfect sense."
The Around the Pearl initiative by Wheels for Wheels was conducted in partnership with the Cerebral Palsy Lanka Foundation and WrooM. Sponsors and partners for the initiative include Janashakthi Insurance, Orient Finance, CAL, Jetwing Hotels, Blinking Bikes, Shift, Leo Burnett and Wijeya Newspapers.
Visit www.aroundthepearl.lk
to contribute.
Cerebral Palsy: What you need to know
Cerebral Palsy (CP) is the term for a group of non-progressive disorders of movement and posture created by abnormalities or damages to the motor control centres of the brain. CP is usually caused by brain damage that occurs before or during a child's birth, or during the first 3 to 5 years of a child's life and can cause problems with posture, movement and coordination. It is one of the most common childhood disabilities.
In Sri Lanka the number of children with cerebral palsy is as high as 8-10 per 1000 births while it is 6 per 1000 births in the developed world. Sri Lanka has an estimated 40,000 cases of cerebral palsy amongst children (this stands in comparison to an estimated 17 million around the world).
While no unique cause has been detected for the condition, it is usually associated with difficult or premature births and brain infection, says Mayuri Bandara, a Speech and Language Pathologist based at the Gampaha District General Hospital. Early detection is key to alleviating the more serious symptoms of the condition, which can include respiration problems.
There's no cure for cerebral palsy. However, there are plenty of treatments and therapy-specifically speech therapy- that can reduce the impact of the condition by easing symptoms such as spasticity, improving communication skills and finding other ways to do things. A wheelchair can greatly improve the quality of life for sufferers of cerebral palsy. Those with CP cannot use standard wheelchairs as the seating must provide specialized support for the trunk and legs. "These wheelchairs are even more costly than the standard ones, hence many families are unable to afford them," says Ms. Bandara. The wheelchairs bought with the aid of the fund will be distributed to children with CP in districts around Sri Lanka based on the prevalence of the condition, and will be given specifically to children with a Gross Motor Function Classification System (GMFCS) score of 4 or 5 after assessment.
While government hospitals offer therapy and consultation, the Cerebral Palsy Lanka Foundation, a non-profit organisation dedicated solely to the cause also offers specialized education, speech and physiotherapy for children with cerebral palsy. Visit their website on www.cplanka.org for more information.