Students of Narthana Asapuwa set for big day
View(s):

The students of the Narthana Asapuwa of Bemmulla, Gampaha are getting ready for their first public concert since the institute's inception five years ago- "Angahara 2014- Heritage Unfolded". The show is choreographed by Nuwan Ranjith Priyanga, a professional dancer who is also the dancing teacher of Carey College, Colombo and his wife Krishanthi Angelo, the dancing teacher of Good Shepherd Convent, Kotahena.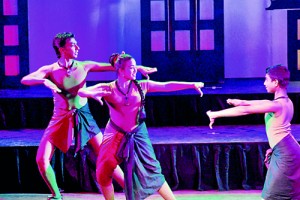 Around a hundred students with ages ranging from 3 to 21 will perform in the show that will showcase Kandyan dancing along with other dancing methods derived from traditional styles, contemporary dancing as well as a new vannama Nuwan is hoping to bring to light- "Vrushabha Vannama".
Nuwan has been in the profession of dancing for the past 30 years, learning the art from well known gurus – Chitrasena and Budhavatte. He has performed in over forty different countries.
The concert "Angahara 2014 Heritage Unfolded" will be held on May 3 at the Bishop's College Auditorium from 6.30 p.m.. Tickets will be available at the entrance. For further information contact Nuwan on 0777364004.