In the doghouse!
By Gyan C. A. Fernando
View(s):
As readers probably know by now, any organised activities in our household usually end up by being totally disorganised. Whether it is making Christmas Cake or playing Monopoly, we end up in a near-riot situation.
As I said before, there are too many loud females in our over-extended family who have differing opinions amongst themselves on everything, but who when the situation arises, are quick to unite against the minority men and mostly against me.
I do try to involve myself in most activities but not in anything to do with dogs. Over the course of years, Canines and I have had an uneasy relationship. At the moment of my birth a dog may have barked in the distance and that may have had an early impact on me. They bark at anything and I hate them!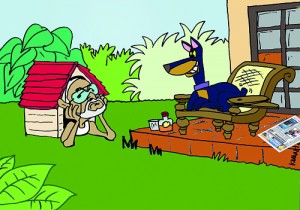 My normally nice niece Samanmalee (35+, sharp teeth and tongue, nice skin, pedigree available) proclaims herself as a dog lover and a dog breeder, an activity which she takes seriously, but her input into this activity generally consists of ordering others what to do in looking after "her" dogs.
In our households there are other canines that belong to my sisters. They, the dogs, are of all sorts of mixes, pedigrees and generally Pariahs.
Contrary to popular belief, Dog does eat Dog and perforce the creatures need to be kept separate. This is where dog houses come in.
Dadoriya
The latest crisis arose when Sam introduced a "Doberman" into the household, whose name escapes me. I generally refer to all black dogs as "Dadoriya" which is an ancient Sinhala name for dogs. This one was a bitch and better called something else but that's what I called her.
She immediately took a dislike to me and the feeling was mutual. She barked at me in fractured German, her ancestry being rather questionable in spite of Sam's assertions that she was a pure bred. I growled back at her; the dog, not at Sam, in my fractured Dog language and in English. She backed off!
Relations remained on that uneasy truce.
She, Sam, as usual had grandiose ideas. She wanted to be a dog breeder and specifically one of Dobermans. This involved an arranged marriage of Dadoriya with another suitable Doberman, Caste and Creed Immaterial but send copy of Pedigree!
Meanwhile, Dadoriya was getting to be a handful. She did keep the beggars away from the gate and one crippled beggar even made a miraculous recovery and did the 100m sprint along the road; but local tradesmen started avoiding our house.
Things came to a head when the Postman tossed my copy of the National Geographic magazine over the gate. Dadoriya took umbrage at this, chewed the Nat Geog through and through and nearly vaulted over the gate.
We spent the next few hours pacifying the Postman and picking him up and his letters from the drain.
This is when they, the womenfolk, decided that Dadoriya had to be kept chained as an interim measure and then confined to a doghouse to be built in the back garden. Commander-in-Chief Sam drew up plans and commandeered all the menfolk using a combination of charm and veiled threats.
Barking mad
I was asked to keep out of the way which I was planning to do anyway. On the day appointed for dog house building, I moved the old rocking chair into the back garden, made sure that there was plenty of beer in the fridge and sat down to watch the proceedings.
Sam was dressed in a pair of cut-short-above-the-knees type Denim dungarees, lipstick and manicured nails. She likes to strike poses like magazine cover girls even when supervising the building of dog houses. She was now in her Dog House Building pose. It was a pity that she didn't have a tail to wag!
Things then got underway. I am sure you know the Biblical story of the Tower of Babel. It was a bit like that!
They Speaketh in Different Tongues! Confusion reigned. Tempers were at flash point.
Original plans were modified repeatedly, specifications were altered and quantity surveys were exaggerated.
The general idea at the start was that the doghouse should go smack against the back wall, but Sam said something in Chinese like Feng-Shui and the ground plan was rotated by 20degrees.
The Shanghai-ed menfolk grumbled and sought out ways to escape, but Sam was in command. There was no escape.
Meanwhile, I started barking!
Death ray
Yes! At this point I started barking!
Sam turned around and fixed me with one of her Death Ray like disapproving looks but then, wisely, decided to ignore me. The other menfolk were digging, sweating and lifting concrete slabs and looking longingly at my beer. I was rocking back and forth and drinking beer and barking.
Seeing impending doom, Dadoriya, now safely chained, also started barking, not at me but with me! I could see that there was now some sort of an understanding between the two of us.
At one point I started barking in Spanish, which goes like "Gau! Gau!"
Dadoria joined me in German: "Wuff! Wuff!"
By now, I was a persona non grata. Sam totally ignored me.
Monday being a Public Holiday, it was going to be a long weekend, both metaphorically and literally. I suddenly felt sorry for Dadoriya.
Late on Monday the construction was completed. There were still some FengShui bits to be sorted out before Dadoriya could be sent down for life imprisonment. Now resigned to her fate, Dadoriya resorted to whimpering. We were both now in the Dog house, metaphorically and we had now become twin souls.
It was a dark and stormy night
That night I couldn't stand it anymore. It was dark and it was late and I could hear Dadoriya's whimpering.
I got out of bed quietly, walked out of the back door and normally, at this point, Dadoriya would have started barking furiously. She didn't.
I looked at her and she looked at me with her liquid brown eyes, which I had not noticed before.
"GrrrrrrrrGrrrrrrrr!" I said, in my usual obnoxious manner, trying to provoke her. "NnnnnnNnnnnnnn" she said quietly, pitifully and in reply.
It was a difficult choice. I made up my mind. I quietly unlatched the back gate.
Without a second thought I loosened her collar. Dadoriya wriggled out of it, and with dignity still intact, walked quietly to the gate and turned back to look at me.
There was then one of those tele-dramatic moments. She lowered her head and lifted it up again.
She looked at me for one last time.
If she had a tail I am sure she would have wagged it.
She then silently bounded off into the dark night.