How T.K. won an Air Force jungle survival training course
View(s):

The year: Around 1964
The place: The Royal Ceylon Air Force (RCyAF) ground combat training centre Diyatalawa, 1500 m. high in the central highlands of Sri Lanka.

The scene: A senior training officer addresses 15 young trainee officer cadets (including T.K., a native of Colombo) prior to a jungle and mountain survival course. "Tonight, exactly at midnight each one of you will be dropped off by Air Force truck far from here in the mountainous jungle with your rifle, survival rations, a box of matches, map and compass in different locations. We expect you to use your brains, use your map and compass and find your way back to this camp by morning or earlier. Remember, there are wild animals such as bear, leopard and don't forget there are deadly snakes too."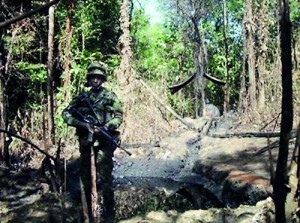 Come midnight, the truck carrying T K. and the other 14 recruits travels for about 45 minutes and they are dropped off at different locations in pitch darkness, drizzle and freezing cold.
A shivering T.K. who has never been in a jungle at such an elevation is in a state of shock. He ponders for a while and starts his trek back to the camp. Having walked a short distance he is exhausted, mosquito-bitten, his clothes are torn and he has mud all over him.
He feels he has to take a rest. Finding a tree to shield him from the drizzle, he removes his backpack, places the rifle at his side and leans against the tree trunk to rest for a while.
Tired as he is, T.K. falls into a deep sleep all his troubles and fears forgotten. Much later, all of a sudden, he hears voices close by. An alert T .K. assuming it could be trainers from the Air Force camp checking on the trainees' progress cautiously challenges them, only to be told that they are traders taking a short cut through the jungle and mountains to the town of Diyatalawa to sell their produce at the weekly fair the next morning.
This highly elated trainee decides that if he follows this party of traders through the jungle route, he is sure to reach the town centre from where the Air Force camp is only a 15 minute walk away. He asks, "Can I follow you to town since the camp wants me to get back very quickly?" They agree and TK happily follows the traders to town.
T.K., now pretending to be exhausted and having daubed more mud and dirt on himself is the first to reach the camp (very much earlier than his trainers expected). He is questioned as to how he got back so soon only to tell them (with a straight face) that all his skills and resources were mobilised to get back to camp braving many obstacles. The other trainees straggle back to camp very much later, all battered, bruised and exhausted.
The winner: At the final passing-out parade T.K. is awarded the 1st prize for the cross country jungle survival course!
P.S.: 30 years later at a re-union of the alumni of Air Force Officers and Cadets each of the former trainees is asked to relate an interesting story on an experience had during their training. T.K. chuckles and relates his story to all those present amidst loud guffaws!