Go back in time to country living
In his series on Unusual Hotels, Royston Ellis finds a defiantly different hotel in Koslanda Living Heritage
View(s):
Reproduction of antique furniture is common in boutique hotels in Sri Lanka, but it's unusual to find an entire hotel that is itself entirely a reproduction of traditional Sri Lanka heritage architecture. Even more unusual is that this hotel is set in 80 acres of forest, but has only four accommodation units.
I use the term "units" deliberately because the rooms, being self-contained suites built on traditional ancient manor house lines, are unlike any other hotel rooms in Sri Lanka.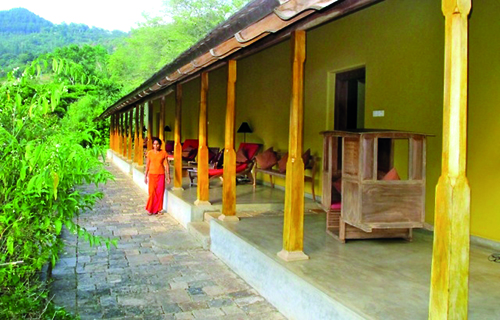 The sense of being in for an unusual experience begins with the drive to the property. The modern A4 highway at the Beragala junction (in the hills 184 km from Colombo) suddenly swoops back in time as it deteriorates into an old fashioned country lane where it descends to Koslanda.
This lane winds charmingly through lush woodland scenery where huge trees provide shade from the sun and a quaint sign heralds a "Motor Bus Halting Place" near a round red colonial pillar box. The hotel's website instructs drivers to turn down a track at the 203.3km stone mark by a blue house. The house is now orange, but its gate is bright blue.
This track is unsurfaced as it dives into the woods but then suddenly there are beautifully built granite brick walls beside the trail, hinting at carefully constructed countryside. The website refers to "a giant elephant gate"which had us looking for an elephant motif and we expected something more visual than a high-arched gate with a slim tiled roof.
Another difference of opinion I have with the website is that it says Koslanda Living Heritage is 20 minutes from Haputale Railway Station, and 45 minutes from Ella. Perhaps it is, as the crow flies, but by road it takes a good 30 minutes longer than the suggested times.
However, the approach builds up the excitement at finding a hotel that is defiantly different. There was a warm welcome by the gateman at the entrance where we parked our vehicle, to be escorted down a path to the central ambalama (pavilion) used as the reception lobby.
Facing it is another open-sided, wooden-roofed pavilion, with an ancient bullock cart at its entrance, where meals are served. The menu specialises in chicken, fish, prawns and fresh vegetables, with lunch being complimentary for guests staying on a bed & breakfast room rate.
From the restaurant there is a view of a lawn and a raised cabin constructed in traditional style at the edge of the forest. Deep within this private forest, perfect for trekkers, is a delightful waterfall and a cool jungle pool. There is a real swimming pool stretching into infinity overlooking paddy fields atop a small hill.
The main accommodation consists of three suites linked by a long verandah, with an ancient sedan chair setting the tone for pure relaxation. Step through the heavy beamed doorway of a suite and you really do step back in time. A traditional medamidula (courtyard) is at the centre and there are plenty of antique knickknacks to set the tone of withdrawing from the present.
A bedroom leads off the central courtyard of each unit and as well as ultra modern bathrooms and amenities there is an open air Jacuzzi attached to each suite. Doors connect each one so the complete range of three suites are suitable for a family or a group who want easy access to each other from adjoining rooms.
Built in solitary splendour near the gate is the fourth suite, a granite brick cottage of formidable exterior but cosy interior with, instead of a courtyard, an entire ambalama for private relaxation.
Koslanda Living Heritage is deliberately named to reflect its ambience. The buildings have been constructed and positioned according to traditional Sri Lankan architecture and astrology. The management stresses that by its very creation jobs were found for unemployed local craftsmen who used traditional materials and building methods, some of which had to be re-learned and revived.
The appeal of this unusual hotel is for those who want to recapture the gracious style of leisurely country living of bygone days, and to switch off from the electricity of modern life (although there is WiFi). Staying there is not to forego creature comforts as fittings, furnishings, food and service are first class as befits an upmarket hotel that is a refreshing change from mainstream boutique properties.
As yet, only a few resident expatriates (diplomats, artists, etc.) and trendsetting tourists have discovered Koslanda Living Heritage. For Sri Lankans who want to experience the lifestyle of their forefathers, this remarkable reconstruction of ancient village homesteads as hotel rooms, offers an intriguing insight into the rural past.
Koslanda Living Heritage, Koslanda; tel: 077 935 5785; www.koslanda.com. From US$175 net, B&B double, with complimentary lunch.