Events
View(s):

Clean & Clear – ITN Avurudu Kumara and Kumari 2014

Clean & Clear was a proud partner with ITN for the second consecutive year as they held the annual 'Clean & Clear-ITN Avurudu Kumara and Kumari 2014' (Clean & Clear Wethin Abihesheka Labana ITN Avurudu Kumara SahaKumari 2014). The final winners were selected by a distinguished panel of judges and were crowned by Clear & Clear at a glamorous event at Pattiwala Public Grounds, Biyagama. The winners received cash prizes and valuable gift packs from Clean & Clear.

RASSL lecture: 'Natural Disasters – A Geological Perspective'

'Natural Disasters – A Geological Perspective' -a lecture by Prof. Kapila Dahanayake, Professor Emeritus (Geology), University of Peradeniya will be the Royal Asiatic Society Monthly Lecture to be held on Monday, April 28 at 5 p.m. at the Mahaweli Auditorium, 96, Ananda Coomaraswamy Mawatha, Colombo 7. All are welcome.

The lecture will deal with geology-related natural disasters such as landslides, floods, subsidence, earthquakes and tsunamis that had occurred in Sri Lanka in the distant and the recent past. The mitigation measures adopted by villagers and tea planters with regard to old landslide deposits in the central highlands will be discussed with colour illustrations. The lecture will also deal with recent and past occurrences of natural disasters and the measures that should be taken to safeguard human lives and mitigate such events.

Correction: 'Tranquil lakeside for adventure or weddings'

In the article on the Thotupola Lakeside Holiday Resort published on Page 4 of the Sunday Times Plus last Sunday, the Head of Marketing of Wild Holidays Jayantha Senanayake (pictured right) was mistakenly referred to as Jayantha Silva. Our apologies to Mr. Senanayake for this error.

Zonta Woman of Achievement Awards 2014

The Zonta Woman of Achievement awards, the flagship event of Zonta Club 1 of Colombo will have its grand awards ceremony for 2014 on May 25 at the Galadari Hotel, Colombo. Since 1985, Zonta Club 1 has actively recognised and rewarded women who have achieved outstanding success in their respective fields and at the same time contributed towards national development.

Nominations were sought from across a range of disciplines through entry coupons published in the print media in all national languages. An independent panel of judges will carefully vet the nominations.

All proceeds from the event will be used to support on-going projects of Zonta Club 1 of Colombo.

Zonta International with over 30,000 members in more than 1,200 Zonta Clubs in 66 countries is a global organisation of executives and professionals, working together to advance the status of women worldwide. Zonta Club I of Colombo, established as far back as 1968, created history by being the first international service organisation consisting exclusively of leading business and professional women in the country, whose commitment is to empower women. Pioneered by Charter Secretary Mano Muthukrishna Candappa, Zonta was initiated in Sri Lanka with the formation of Zonta Club 1 of Colombo.

Zonta attempts to create a ' world in which women's rights are recognised as human rights and every woman is able to achieve her full potential.' Zonta International, its Districts and its clubs are non-sectarian and nonpartisan. Today Sri Lanka has five clubs consisting of over 200 members across Colombo, Negombo and Kandy and boasts of the 4th District Governor for South Asia, Dr Mrs Marlene Abeyewardena.

Milestones of Zonta Club 1 of Colombo:

- Construction of six houses in Seenigama, Telwatte for tsunami affected women in 2005. Additionally the Club has built 16 houses for women and families of the North as a part of their brand new project 'Building Bridges – Peace through Women'.
- Facilitating the Gender Based Violence counselling desk at the De Soysa Hospital for Women in collaboration with Women in Need – in operation since 2004. The club has a sustained record of over two decades of working towards combating GBV in Sri Lanka through advocacy and public awareness programmes, including providing counselling services at grass root level in the busy metropolitan city of Colombo.

- Implementation of the Mahaweli Well Water programme, which provided over 4,000 wells for 25,000 settlers in the Maheweli area in the late 1970s.

- Honouring Sri Lankan women through scholarships such as the Jane Klausman Fund, and events such as the Young Woman in Public Affairs.

- Chartering Sri Lanka's first Golden Z Club in Colombo in 2004 and Jaffna in 2013 where Zontians take a mentoring role to nurture and groom female undergraduates and mentor them to run projects of their own.

- Hosting the Zonta International District Conference 2013 in Colombo last year bringing over 250 Zontians from Sri Lanka, India, Bangladesh and Nepal together in a biennium event to strategise and plan for the future.

The Building Bridges – peace through women programme, is the flagship project initiated in the current biennium (2012-2014) to assist women war victims through financial support, skills training, and health initiatives. The target group is women from all ethnic backgrounds affected by the armed conflict, specifically the more vulnerable groups – adolescents, single parents and woman-led families with specific protection needs.

The Club has also commenced a skills training programme for young female ex-combatants from Kilinochchi, who have voluntarily joined the Army to become local leaders. Their training occurred in the home of a committed senior past President Sharmini de Zylva, where they have learnt cookery, table décor and etiquette, beauty and grooming etc.

CANSA and SLPI's third climate change workshop

Climate Action Network South Asia (CANSA) in collaboration with the Sri Lanka Press Institute will conduct its third monthly Workshop on Climate Change and Development Journalism for local journalists on Tuesday, April 29 from 9 a.m. at the Sri Lanka Press Institute (SLPI), Colombo 5.

Nalin Munasinghe from the Food and Agriculture Organisation and Sarath Ekanayake, Secretary, Centre for Applied Biodiversity Research and Education are the resource persons for the workshop which is a follow up to the CANSA – SLPI partnership to raise awareness on climate change in Sri Lanka.

The first introductory workshop discussed the energy situation in the country and the impact of climate change in Sri Lanka whereas the second held last month went into technical detail on the international processes related to climate change and communications training for journalists.

The Sri Lanka Press Institute (SLPI) has established itself as the leading media development institute in Sri Lanka. The Institute offers systematic training for journalists, promotes self-regulation in the print media and advocates for a free and responsible media in Sri Lanka.

CANSA is a coalition of 116 civil society organisations from seven countries of South Asia, including eleven in Sri Lanka, demanding that all countries ratify the second commitment period of Kyoto protocol by 2015.

Hindi class admission at Indian Cultural Centre

Admission to the Hindi classes conducted at the Indian Cultural Centre for the session 2014/2015 will commence on May 5. A special course for children between 7 – 15 years will also begin on May 9. All those attending the present courses should re-apply for the new course. Those who to wish learn Hindi Language as hobby and those who wish to attend morning classes also can contact the Centre for special group classes, an ICC press release states.

Applications are available at the Indian Cultural Centre, 16/2, Gregory's Road, Colombo 7 (9 a.m. – 5 p.m.) on all weekdays. The course duration will be one year for each level. Students are taught Hindi for the Level 100 (beginners), Level 200 (intermediate) and Level 300 (advanced). The examinations will be conducted by the Kendriya Hindi Sansthan, Agra and certificates will be issued. The classes are conducted by Sri Lankan experts in Hindi and a specialist Hindi teacher from India.

For further details please contact the Indian Cultural Centre on telephone no: 2684698 and Email: iccrcolombo@gmail.com.

Rodrigo Family Friend in Need Society 175th anniversary on May 3

The 175th anniversary of the Rodrigo Family Friend in Need Society Limited will be celebrated on Saturday, May 3 at the Panadura Town Hall.

The association of 20 men started as an annual event in 1823 to celebrate Christmas with a family reunion and engage in acts of charity. It was formally established in 1838 as a Society with clearly laid down objects, rules of conduct for members and internal operational procedures.

The founders included Paththinihennadige Johannes Rodrigo who was elected founder President, five brothers and six first cousins of his. Among them were three Patabendi Mahathmayas, one Police Vidane, one MahaVidane Muhandiram, one teacher and one Notary Public who served as the founder Secretary.

The primary object of this organisation was to render assistance to the needy in four areas; education, shelter, medical assistance and welfare of the elderly.

The Society has been dynamic and innovative. In 1842, long before legislation was enacted to incorporate or register societies or companies, the Rodrigo Family Friend in Need Society executed a Notarial Deed No. 134 to legally bind its members to the rules and the objects set out in the Deed. By that time the membership of the Society had grown to 26 and each of them became a signatory to this document.

In 1906 it was incorporated under the Societies Ordinance No. 16 of 1891 as the first society to do so.

From its inception the Society membership was restricted to male descendants of the founders until 1935 when daughters of such members were allowed to enjoy all rights of membership but only until they married.

In 1977 it changed its rules to permit female descendents to become members and to hold office. It elected the first lady President in 2006 and the first lady Secretary in 1996.

Another distinct feature of this institution is the preservation of old records and its archives. They contain the minutes of the first meeting held on December 24, 1838 and subsequent ones, list of collections made on the execution of the Notarial Deed in 1842, cash books and ledgers, proceedings at dispute resolution hearings and many other valuable documents.

The Society has stepped into the last lap of its second century with renewed energy and enthusiasm. It now has three generations of members in the Central Committee of 17. Its descendents are spread out in major cities around the world and many of them have excelled in their chosen careers. The Society has also published a book on its history; Ahead of Time, the accomplishments of these men and women.

The Jubilee celebrations of this Society have always been held in a fitting manner. The 50th anniversary event was presided over by James Peiris (later Sir James), the 60th by the Colonial Treasurer, L. F. Lee, the 70th by the Chief Justice Sir Joseph Hutchinson, the 90th by Governor General Sir Herbert Stanley and the centenary by Governor General, Sir Andrew Caldecott.

The events organised for May 3 include a public meeting presided over by former Chief Justice Sarath N. Silva, P.C., the launch of the book, Ahead of Time, activation of its website www.rodrigofamily.lk and a garden party. Professor Hiran Dias will deliver the guest lecture on the work of the Society and poverty alleviation.

"Musaeuites take to the streets!"

On Saturday, May 3, Colombo will be treated to a colourful spectacle as the present and past pupils of Musaeus College celebrate 123 magnificent years of the life of their alma mater with the 'Musaeus Walk 2014'. Vibrant with colour and music, the pageant promises to be unique, with walkers, runners, horse riders, cyclists, colourful floats depicting different themes, Classic and Vintage car parades and very interestingly "big match styled" trucks full of Past Musaeuites in costume dancing to the "papare" bands.

The parade starting at Nelum Pokuna at 7 a.m. will move along Alexandra Road, Town Hall, around the Park via the Museum, Lipton Circus, Rosmead Place and end at the Bloomfield Cricket grounds at a hawker street cum mini fair with food, drink, live & DJ music and dancing.

Proceeds are to be utilised for the Sports Fund, established to improve and sustain the outstanding achievements of students in the field of sports.

Brandix talent shows inspire workforce

Irresistible music, dance and team spirit made for a colourful evening at the Sugathadasa Indoor Stadium when the Season One finale of the 'Brandix Rasadiya Narthana Tharu' and the finale of Season Two of the 'Brandix Rasadiya Gee Tharuwa' talent contests were staged by Sri Lanka's single largest apparel exporter.

Conducted with the aim of inspiring the workforce and encouraging employees to harness their talents, the event saw six troupes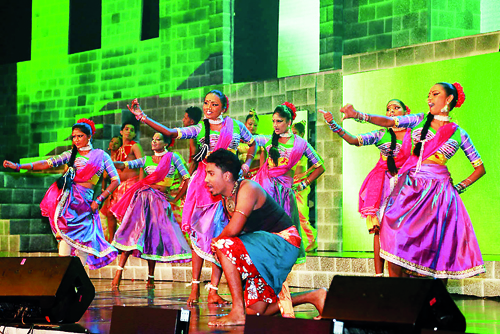 perform in the final round of the dancing competition from 24 teams from different strategic business units of Brandix, entertaining an audience of more than 5,000 of their colleagues.
The team from Brandix Finishing – Ratmalana won the trophy as the first 'Brandix Rasadiya Narthana Tharu' while the teams from Brandix Casualwear – Avissawella and Brandix Casualwear – Ekala took second and third places respectively.
The climax of the evening saw four stars from Brandix compete for the title of 'Brandix Rasadiya Gee Tharuwa,' with each contestant given two performances. They were judged by popular musicians Nirosha Wirajini, Rohana Bogoda and Chamika Sirimanne.
Nalin Deniyagoda from Brandix Intimate Apparel – Avissawella was crowned the winner of this contest. He competed against Rasika Chathuranga of Brandix Essentials – Nivithigala, Nilusha Perera of Brandix Casualwear – Avissawella and Thushara Sampath of Phoenix Industries – Makandura who were placed second, third and fourth
respectively.
A highlight of the event was the performance by last year's 'Rasadiya Gee Tharuwa' Sanjeewa Premaratne of Brandix Lingerie – Nittambuwa who sang his own song.