Hard drug use grows, new committee to act
View(s):

With at least 15 people arrested around the country in possession of illegal drugs – especially heroin – in the first three weeks of this month, the government has appointed a special committee to act on drug trafficking and use. Trafficking and use of heroin is high, making up a third of all drug arrests in recent years, research shows.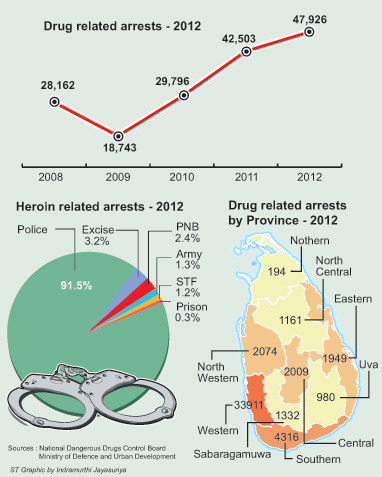 The arrests this month were made in Agulana, Wariyapola, Ella and Peliyagoda among other areas.Among those arrested was a 31-year-old man, a resident of Bandaragama. He was arrested on April 19 in the Dehiwela area with about 26g of heroin.Another man was arrested by Peliyagoda police with more than 4g of heroin on April 18. The 51-year-old man, a resident of the area, was produced before the Mahara Magistrate, and Peliyagoda police are carrying out further investigations.
In a separate incident a man was arrested in Gotuwala, near Ella, on April 10 in possession of more than 1kg of cannabis.
The following day, a woman was arrested by Agulana police with more than 2g of heroin.
The government has appointed a special sub committee to eradicate illegal drug circulation and use within the country.
The committee draws in the police, navy, Customs and the Immigration and Excise departments.
The committee will keep a close lookout for illegal drug circulation among people arriving in and leaving the country. The committee has also begun education programmes for children and the general public on the harm caused by drug use.
Meanwhile the Assistant Director of Research, National Dangerous Drugs Control Board (NDDCB) Badrani Senanayake said research showed that 71 per cent of drug-related arrests occurred in the Western Province in 2012.
The research, contained in Handbook of Drug Abuse Information in Sri Lanka – 2013, takes into account drug related arrests made from 2008 to 2012.
"Through this research we found out that Colombo, Gampaha and Kalutara areas were places where illegal drugs arrests were made in the Western Province. They reported 60 per cent, 6 per cent and 4 per cent respectively.
"The Southern Province reported 9 per cent followed by the North Western Province at 4 per cent," she said.A total of 33,911 arrests were made in the Western Province, 4,316 in the Southern Province and 2,074 in the North Western Province. The report also shows that 35 per cent of the arrests were for heroin and 65 per cent for cannabis. Ms. Senanayake said that while heroin was mainly imported from India and Pakistan, cannabis is grown in the country, mainly to manufacture Ayurvedic medicine.
The handbook shows that the average street price for a kilogram of heroin was Rs. 8 million rupees for locals in 2012. This was 45 per cent more than it was priced at in 2011, while the average street price for 1kg of cannabis was Rs. 25,000 for locals in 2012 – an increase of 20 per cent from the previous year.
Ms. Senanayake said 91.5 per cent of the arrests were made by police, 3.2 per cent by the Excise Department and 2.4 per cent by the Police Narcotics Bureau (PNB).
She said that after matters go through the courts drug dependents are admitted by the NDDCB to rehabilitation centres where they are treated free of charge for three months. "We have four residential treatment centres where a number of 200 drug dependents can reside in. In addition, we have started a programme to educate children about the affects of illegal drug use," she said. Ms. Senanayake was not able to remark on the drug usage among school students as the NDDCB is yet to conduct a research on the area.
The research shows that Sri Lanka is a transit point for drug trafficking. "The traffickers act as carriers of drugs from Pakistan and India to Europe and the West through Colombo and Male." According to the NDDCB during the last five years 114 foreigners were arrested in Sri Lanka for offences related to drug handling; 46 per cent were Pakistanis and 19 per cent Indians. The research also shows that 43 Sri Lankans were arrested in foreign cuntries for possessing drugs during the same period.