That Café in Colombo
View(s):

With its curiously utilitarian name, 'That Café' in Colombo is more a restaurant than a coffee shop but don't let that bother you. Their portions are substantial, filling and actually quite yummy and its a good place in Wellawatte for a decent spot for chilling out with friends and family.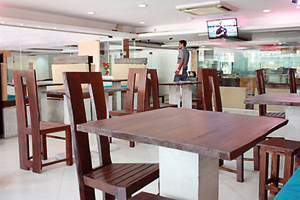 Opened a few months ago by Anushka Rathnasooriya, the café serves a range of cuisines. Their more popular dishes include the hefty, filling sizzling platters but you really should branch out a little and try things from their extensive menu. We tried the chicken wellington, a blend of chicken breast baked in flaky pastry served with a creamy sauce and boiled veggies, and chicken teriyaki (you may need to accustom your palate a little for the soy sauce in this one). Try the chicken enchiladas-very Mediterranean and more forgiving on a full tummy than the others. Apart from these they've got pizzas, pastas, salads and other staples including an extensive vegetarian menu (we're told that the chef would be happy to accommodate special requests if possible). There's a breakfast special going for Rs. 199 as well.
The beverage list is just as extensive as the dining options, so you're unlikely to run out of things to eat or drink. Also, make sure to try out their sizzling brownie dish served with ice cream; the brownies are creamy and utterly chocolatey and when heated with vanilla ice cream makes for a desert you'd be hard-pressed to find fault with.
Open from: Weekdays from 7am-10pm, 11pm on weekends
Address: 30, Green Palace (Ground floor), W.A.Silva Mawatha, Wellawatte