'Thanha Rathi Ranga' Road Movie entered State's film fest.
View(s):

Nilendra Deshapriya's directorial debut 'Thanha Rathi Ranga' which is translated as 'Between Yesterday and Tomorrow' has been selected as an official entry to Julien Dubuque International Film Festival in the United States.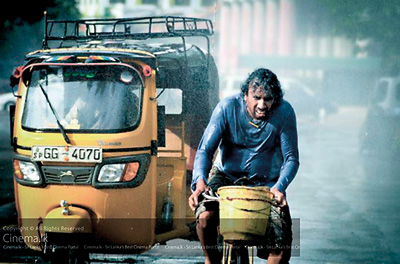 A road movie about a country where a 30-year old civil conflict has brutalized the psychology of its people, making it utterly impossible to settle with peace, the film revolves around three friends who are deeply connected despite their differences and inner conflicts to realize their dream of visiting a land that was long restricted to be explored.
The three main characters of the film, Wimal, Suraj and Sirithunga, are peculiar creatures, sort of anti-heroes. Wimal, a three wheeler driver, has had many deceptions in life. Impulsive, often crashing into obstacles Suraj is an oversensitive University student, affected by an unexplained melancholy.
Then there is Sirithunga a handyman, a father of three young children.
They are strong, independent men. Through these characters on a backdrop of a society inflicted by a 30 year old civil war, we paint a portrait of contemporary Sri Lanka. Three friends, dreaming of a better life, a future filled with freedom, love, money. This future tragically disappears revealing to cowardly acts and pettiness of the human soul.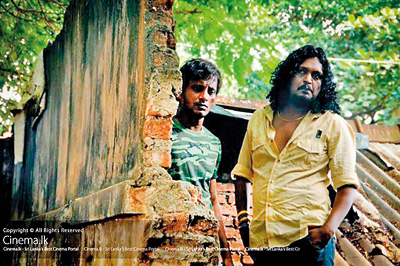 The group of experienced and talented stars include Sarath Kothalawala, Kumara Thirimadura, Namal Jayasinghe, Sulochana Weerasinghe, Swarna Mallawarachchi, Anoja Weerasinghe, Nita Fernando, Kamal Addararachchi, Adam Adamally, Dayadewa Edirisinghe, Vishwajith Gunasekara, Wasantha Moragoda, Thumindu Dodanthenna, Priyantha Sirikumara, Amal Perera, Nadeesha Madushani, Sandali Welikanna, Sachin Chathuranga, Nadeeshani Weliwita, Dharanee Kaveesha, Dhanuri Heshara, Isuru Kothalawala, Joe Senevirathna, Sarath Chandrasiri, Dilka Samanmali, Elumalei Pillei, E .Thavamanidevi, R. Kamaladevi, K.Gopithan and R.Dilaxan.
Nilendra studied drama and theatre at school and at the age of fourteen he wrote his first stage play "The HorseCarriage" inspired by the film "Rashoman" by the legendary Akira Kurosawa which became a huge success.
He was an active member of the "group 78" at the Lionel Wendt Theatre, a community where the creative elite gathered and produced many theatre productions.
Scripted by Sarath Kothalawala and Kumara Thirimadura, Dhanushka Gunathilake handles cinematography and art direction is by Heenatigala Premadasa. Make up by Narada Thotagamuwa music composed by Gayathri Khemadasa and Anupa Khemadasa. Edited by Ravindra Guruge, sound designer is Tapas Nayak the film is co-produced by H. D. Premasiri and Sunil T. Fernando.