Prestantia Chorale premiers 'Borrowed Tomb' – Easter Cantata
View(s):

The Prestantia Chorale is a new choral group, formed in February 2013 under the Musical direction of Dr. Priyeshni Peiris Perera. It filled a vacuum in Moratuwa, which the "Moratuwa Choral Society" functioned and performed for many years.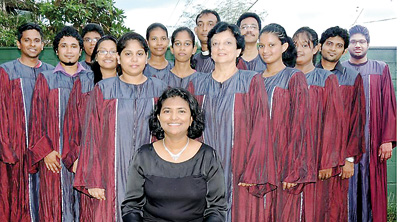 Dr. Priyeshni Peiris Perera, who obtained her doctorate in Music from the Texas Tech University, USA returned to Sri Lanka and established the Prestantia School of Music (www.music.edu.lk) which is gaining popularity by the day. She is a senior lecturer at the Department of Western Music at the University of Visual & Performing Arts (UVPA), Colombo 07. It did not take much time for her to be requested to form a choir which she gladly did. She linked the choir with her Music school calling it "The Prestantia Chorale" in which the word prestantia means 'Excellence' in Latin.
The choir was formed with just eight people in 2013 to sing on Easter morning at the Holy Emmanuel Church (HEC) Easter Sunday Sunrise service at 5.30am. ''We received the invitation from Rev. Keerthi Fernando from HEC to share our music. The team rehearsed well in advance, although we were few in numbers at the time, we worked hard as one team. The full choir gathered at 4.00 am on Easter Sunday morning to run a short voice warm up and a rehearsal for the two anthems we sang that day, which were "See what a Morning and Blessed be the king" by David Clydesdale. Some were skeptical of the thought of singing at 4.00 am but the team took the challenge and sang with exuberance at 5.30am" Dr. Priyeshni said.
At present, the choir consists of fifteen passionate singers who devote their precious time to sing in four-part (SATB) and five-part harmony (SSATB) with the Prestantia Chorale. They are namely; Prashanthi Perera, Shanika Mendis, Ranthilini Fernando, Sudarshi Fernando, Pavithra Madapatha, Nayomi Fernando, Manoj Sanjeewa, Melantha Fernando, Rev. Upul Fernando, Shehan Perera, Yasindu Mendis, Janaka Fernando, Wasanatha Kumara Geekiyanage, Kalsha Fernando and Nilaisha Silva. Many of them are bankers, marketing Specialists, clergy, engineers, music teachers and some who are junior lecturers & graduates of the Department of Western Music of the University of Visual & Performing Arts, Colombo 07.
The Prestantia Chorale has had quite a few performances at church services, weddings, public institutions and on SLRC and the "MTV Good morning show" during Christmas. 'We have also volunteered to sing at fundraiser events." added Dr. Priyeshni P. Perera. "Our first major public appearance was at the "Festival of Choirs'' organized by the Ceylon Bible Society. I'd like to thank Ms. Lakshani Fernando for inviting us because this event increased the confidence and motivation of all 'Prestantians'" she explained.
Their singing has been greatly appreciated as they blend well as a choir and always attempt to provide a heartfelt performance. The Prestantia Chorale has taken a new challenge this Easter season to hold a Special Easter Choral reflection titled "The Borrowed Tomb'' by David Clydesdale at the Dutch (Christian) Reformed Church, Bambalapitiya, on Sunday April 27th (weekend after Easter) @ 6.30pm. This event is free and open to all interested in music.
"The Borrowed Tomb" by David Clydesdale has gained popularity among church & community choirs in the U.S. and world over. Clydesdale, a Grammy award winning composer, ingeniously weaves lush choral harmonies, combined with heartfelt melodies in songs – both familiar and new. These elements are seamlessly blended to express the emotional and life-changing Easter story through choral music. This Easter musical reflects on a collection of contemporary praise songs which have been revived through the use of traditional hymns while giving it a modern flavour.
For example one arrangement features familiar songs such as Charles Wesley's "And Can it be " weaved into a medley of John Newton's "Amazing Grace" and contemporary praise song "I am Amazed" and John Stainer's popular anthem "God so loved the World", in four-part (SATB) & five-part (SSATB) harmony.
The choir promises an evening of reflective, spirit- filled Choral music to celebrate this Easter Season.
For more information on the event visit www.music.edu.lk