'Miridiya' stands tall in Anuradhapura
View(s):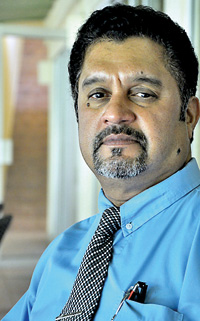 Miridiya Hotel has been maintaining its prestigious and demanding position in the hospitality trade specially in the heritage city of Anuradhapura for the last 35 years. Miridiya stands out todate, despite the fact that there are many hotels in the vicinity.
'The secret of unbreakable guest flow at Miridiya is the uniqueness of the hotel, environment, food, the fully equipped rooms and the warmth of our staff' Nalin Nugawela, General Manager of Miridiya Hotel said.'The Management of Miridiya is now in the hands of well experienced and versatile businessman, Ranjan Dedigama, Chairman of Dedigama Group of Companies' he said.
'The hotel has planned an extensive expansion drive to delight its guest and the new management is a tower of strength in executing the plans of constructing the Open Coffee Bar, Aurvedic Centre, New Restaurants, Yoga Centre, Meditation Centre, Additional rooms' he added.As of now over 40 spacious rooms including few cottages with open air bathrooms make anyone embark with nature, beyond doubts. The rooms have the facilities of hot and cold water, IDD telephone facilities, Internet access, Wi-Fi, satellite TV. Tea-coffee making facility and safety lockers. Doctor on call, same day laundry service and excursions to suit the needs of the guests are additional unique features of the hotel.
Miridiya is the choice of devotees to the heritage sites. Hotel offers morning 'kiri bath' to those, who wants visit the Jaya Siri Maha Bodhi free of charge. Sri Maha Bodhiya and Atamastanaya are the most convenient locations to visit and Mihintale is 14kms is away from the city. This is a central spot to Polonnaruwa, Sigiriya, Dambulla and special tours are arranged to Trincomalle and Passikudah.
Day begins at Miridiya with the breathtakingly beautiful nature which boarders 'Nuwarawewa' and the sounds of a variety of endemic and migratory birds that flock together in the scenic garden of the hotel. The hotel is self sufficient with its own water purification plant to provide water to its recreation facilities. A dip in the pool is an inviting experience on a sunny day.
Miridiya Hotel is the selection of couples entering matrimony to mark their happy occasion a memorable one. Hotel also is the place for staff outings, seminas workshops and out bound training. Nalin Nugawela, GM of the hotel is an experienced hotelier with over 35 years experience in the industry specially exposed to UK and European working environments. He invites all who have visited Miridiya to explore the change itoffers now and for those who have not visited the hotel so far to make it your next holiday destination.