Let the music come to you
View(s):

They simply won't let him leave. He returns to the stage three times, each time to an audience on its feet chanting his name and giving both him and his orchestra the thunderous applause they had earned that night. Having returned to the piano for his third encore, Yanni takes a moment to drink in the view before him; an audience in the thousands, deafening applause and beaming faces. With his legs folded beneath him and hand to his heart, he makes a solemn promise. "I will be back, Sri Lanka."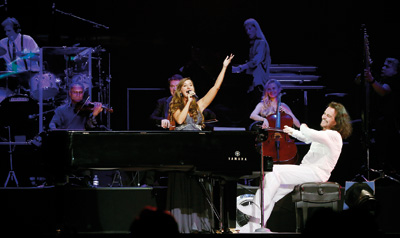 When we meet him a few hours earlier at the Hilton, Yanni has most likely just woken up for he enters and says "Good morning." It doesn't matter what time it is, he laughs. "It's always a good morning." As you'd expect the musician is at ease, cheerful and perpetually smiling. There's one thing he won't do though and that's touch anyone just before a performance. It's a ritual that seems both in tandem and at odds with his effusive personality.
There's a story he shares with us of being in transit at the Bandaranaike International Airport a couple of years back. It was here that the seeds for his return were sowed, for he met a man who, on recognizing him, elicited a promise that Yanni would return to Sri Lanka for a performance one day. "He wouldn't leave the room till I had promised I would!" They met again the day before the concert and there were smiles all around.
Colombo has been in wait for this day for quite a while; ever since the musician staged his legendary show at the Acropolis in Greece, perhaps. This concert is part of the Yanni 2014 World Tour, which has travelled to select destinations around the world and found an audience in the thousands each time. On Wednesday, the next stop after his date with Colombo was the Royal Albert Hall in London, where he played in the UK for the first time in a decade. Sri Lanka was the successor to a performance in Bangalore, and before that an audience of 5000 in Chennai. India, he says, has held him enraptured for many years. It was in 1997 that Yanni staged a historic show at the Taj Mahal, so it's only natural that he says, "if you've been there once your life will change forever." Indian audiences were phenomenal, but "now I'm looking forward to the Sri Lankan audience," he smiles. "Let's see how that turns out."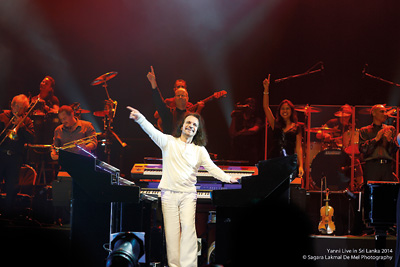 At the Sugathadasa Indoor Stadium last Sunday night, Sri Lanka didn't disappoint. Queues for entrance started forming early evening and by 7 p.m. almost all seats were filled, despite the fact that the show was billed to start at 8 p m. Kudos to the organizers for the event started on time-compere Kumar De Silva opened the show and made way for the orchestra, including Mary Simpson (violin), Ming Freeman (keyboards), Samvel Yervinyan (violin) and Lauren Jelencovich and Lisa Lavie on vocals. Yanni stepped on stage next, and the first familiar tune to greet the audience was 'Santiago'. Old favourites One Man's Dream, Nostalgia, the Nightingale and the Rainmaker were interspersed with newer compositions and the audience loved it all. Violinists Simpson and Yervinyan faced off, as per tradition, and drummer Charlie Adams delighted the audience by donning a Sri Lanka Cricket t-shirt just before a spectacular session on the drums. Victor Espinola picked up his massive harp and strummed it like an electric guitar, possibly one of the coolest things this audience had seen.
On his end, Yanni was the consummate entertainer. Alternatively chatting and laughing with the audience, he introduced each piece of music on a personal note. 'The End of August', a beautifully melancholy piece written during the very early stages of his career was prefaced with the words, "I try to write positive music…music that uplifts."
This was a reiteration of his thoughts earlier at the Hilton about music transcending cultural and language-based restrictions. "I like sitting quietly," he explains. "The music just comes to me and I hear it all and it's perfect. The process of destruction begins when you try to bring it down to words so other people can hear what you're saying. " Over the years, he says, he has learnt not to destroy that which he hears. It helps having perfect pitch-everything he hears is translated into music-"Whenever I hear music I know exactly what it is; the notes, the pitch. It's like a language." This is useful because Yanni uses his own musical shorthand which he developed as a child. A self-taught musician, he never imagined that his music would reach into the hearts of so many and connect with them the way it has. "It's still amazing to me that when I come to Sri Lanka, it seems like everybody knows me."
The creative process is a frame of mind and a place of surrender, he elucidates. "All of the music that I will write in the future is there, it's available. It's a matter of being able to get your mind and your psyche to let it exist and to hear it." That's not enough- you've got to learn to separate the acts of creativity and judgement too, he advises. "You cannot be the music and also judge it because as soon as you do that the creative moment ends. I did it wrong for years until I realized what I was doing. Don't judge-as soon as you surrender the whole thing will come to you. It comes to you, and it exists in that moment and it's perfect."
Yanni Live in Sri Lanka was organised by AKG Events, Wizcraft Worldwide and Amuseum Special Events. The Sunday Times and the Daily Mirror were the print media sponsors.