Let the games begin
View(s):

Game of Thrones season 4 is already underway and with the release of the episode titles for the new season, fans already have some clue as to what to expect from the series. With clips of episodes floating around and spoiler blogs, we've put together a few scenarios to be played out in this season. If you have not read the books, or want to remain surprised, read no further for season 4 spoilers.

Stannis' chance to be a hero
A much anticipated and immine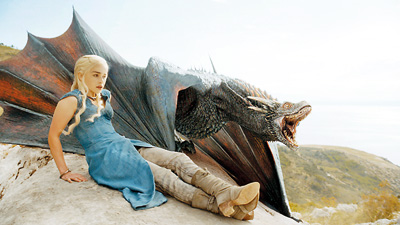 nt show down in this season will be the battle between the Wildlings and the guards of the Night's Watch. As one would expect Jon Snow plays a pivotal role in defending the Wall and eventually surviving the wildling's attack to serve as de facto commander of the Night's Watch. This season will see more of Stannis' character coming into focus and it is anticipated he will join forces with Jon and the Night's Watch as well.
A Stark evolution
The last season ended with Arya the youngest Stark family member on the road with the Hound vowing to avenge the murder of her family members. It is expected that her character will undergoe the biggest transformation of any character in the series. The first episode in this season sees her recovering her sword, Needle, and killing Polliver, one of the names on her hit list. The season differs from the novel "Song of Ice and Fire" and the duo's journey is prolonged for a bit and is anticipated by fans to serve as a secondary plot which spreads out over a couple of episodes, with the Hound hiding his wounds until Saltpans where Arya leaves him and starts her journey to Braavos using the coin given to her by Jaqen H'gher.
Sansa's escape
This season will see Sansa Stark the eldest of the Stark sisters finally attempting an escape from King's Landing despite previous opportunities to do so. Sansa who was set to marry Joffrey in season 1 has been surrounded by enemies ever since the death of her father. In season three she was forced to marry Tyrion and this season escapes during the Purple Wedding, thanks to Littlefinger. Littlefinger disguises Sansa as Alyana Stone and the two make their way to the Vale. Petyr marries Sansa's aunt, Lysa, but that marriage does not last long and more of Littlefinger's plans are revealed, including his role in the death of Jon Arryn in season one, before he pushes Lysa out of the Moon Door.
Lady with the dragons
In season 3, Daenerys Targaryen frees Yunkai and the fourth season sees the young queen ready to conquer the last Slaver city, Meereen. Once again, the plot line in the novel "Song of Ice and Fire" differes from its celluloid adaptation as Barristan Selmy's identity is already known. The tension between Barristan and Jorah could be a focal point, as it is revealed that Jorah has been sending reports to Varys. The mission with Barristan and Jorah should still happen and while Meereen is freed, Jorah will be dismissed by Dany.
This season will also focus on the volatile relationship between Daenerys and her growing dragons, with a bit of her storyline from "A Dance with Dragons" being played out including the death of a farmer's daughter killed by her largest dragon, Drogon.