"Dhawala Bheeshana" back again
View(s):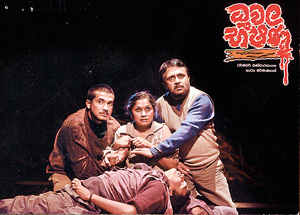 The veteran dramatist Dharmasiri Bandaranayake's award winning stage play "Dhawala Bheeshana" will be staged in Colombo on May 7 at Lionel Wendt Theatre.  The Sinhalese translation of the play "Men without Shadows" by French playwright Jean Paul Sartre, this play was first produced in the year 1988 by acclaimed theatre director Dharmasiri Bandaranayake. The original script was translated to Sinhala by Cyril C. Perera and music composed by maestro Premasiri Kemadasa.
The play was reproduced in 2012 and was selected as the Sri Lankan representation for the 15th "Bharat Ranga Mahotsav" which is an international theatre festival organized annually by the National School of Drama in association with the Indian Government. Dhawala Bheeshana had been selected to be performed in the main festival in New Delhi as well as in the parallel festival in Jaipur, Rajasthan and was well received by the Indian audience.
The cast comprises veterans W. Jayasiri, Niel Alles along with Jehan Srikanth, Oshadi Gunasekera, Ishara Pramuditha, Susanga Kahandawala, Jagath Chandralal, Arunod Wijesinghe, Warnatunga Senanayake, Sunimal Perera, Samitha Amarasinghe and Kosala Lakshitha. The play is organized by Comite' de Soutient of the Board of Investment of Sri Lanka.