… And all that's nice
The Mirror Magazine takes a look at what's on offer at some quaint new cafes around Colombo
View(s):
Mel's Tea Cafe
There's a new tea shop in town-a green haven tucked away amidst the bustle of activity on Cotta Road, Mel's is a family run business catering to those with a penchant for a cup of good old Ceylon tea.
The café was opened by Niraj de Mel, a professional tea taster who is realizing a lifelong dream of serving Sri Lankans a real cup of tea. "Most people don't know what a good cup of tea is," he shares with us. "At Mel's you will find a unique blend of home-grown tea prepared by professionals." These guys are actually trained by Mr. de Mel himself at Mel's Tea Academy and they know exactly how long the perfect cup of tea must be brewed and how it must be served.
Mel's is refreshingly unpretentious. Walking in, you're greeted by an expansive garden, dotted with tables shaded by umbrellas. Inside you'll find a lounge area and a reading room, with a comfy inbuilt window seat if you want to while away a day reading. For basics they serve plain tea for Rs. 75 and milk tea for Rs. 90.
You can then move onto the fancier ones, including tea shakes and floats. On a hot afternoon you must try out a tall, ice cold glass of ginger fizz tea, or a cinnamon tea shake.
Nibble on the extremely munch-worthy snacks they've got available while you're enjoying a cup of tea. You can try out the traditional rolls, fish buns etc or go for a cosmopolitan green tea cupcake. They serve breakfast in traditional Sri Lankan style (3 pieces of milk rice with a fiery lunu miris comes to Rs.150) and favourites like pol rotti are available. You could also try out their waffles; the savoury ones come with chicken or tuna or you could go for a sweet treat slathered with chocolate spread or kithul pani. They've also got a selection of salads and a range of mains you could try for something more substantial.
Open: Weekdays and Saturday from 7am to 7pm.
Address: 98/1, Dr. N.M. Perera Mawatha (Cotta Road),
Colombo 08
---
Charcoal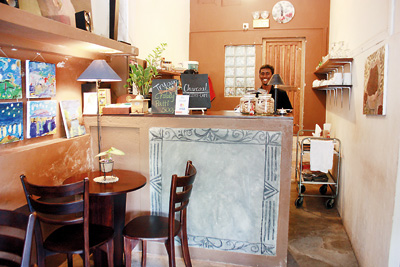 Charcoal isn't exactly brand new (it opened about a year ago) but it's definitely still a major find and that's simply because its cosy, confined indoors are little matched by similar spaces in the area. At Charcoal you can abandon all manners and settle yourself into a beanbag or chair with your legs tucked under or thrown over an arm. They have a limited, but delicious range of nibbles and main and serve good coffee (local brand Hansa provides the beans) and tea.
Charcoal is primarily a gallery run by Priscilla Caren, an artist with a vision for an inclusive arts community in Sri Lanka. Priscilla conducts lessons here as well and the main gallery is an exhibition space for artists. The café itself serves as a place for quiet reading and conversations (it's a very relaxed, peaceful place so probably not the spot for large groups). In here you'll find mains like the crabby patty (Rs. 500), their infamous beef burger with luscious homemade tomato relish and little nibbles like chocolate chunk cookies for Rs. 50.
They also have an all-day breakfast going for Rs. 400; it's made to order so you can choose what goes in it, plus a selection of waffles and homemade muesli with yogurt and fruit. Also, drop in on a Saturday evening for their weekly open mic night, a must for anyone who enjoys music and stand-up.
Open from: 10am-8pm
Address: 75, Hotel Road,
Mount Lavinia