View(s):

EAM media releases come in cart before horse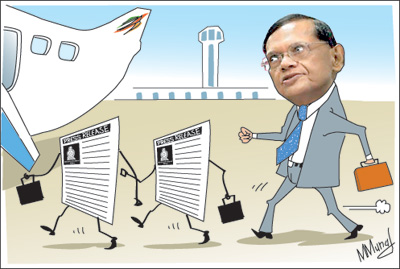 It's literally a case of placing the cart before the horse, as one witty External Affairs Ministry (EAM) official revealed yesterday.
News releases related to Minister G.L. Peiris' engagements are usually written ahead of the event. A case in point was Dr. Peiris' briefing for Colombo-based diplomats and Consuls General at the EAM at 11 a.m. on Thursday. At the eleventh hour, however, the invite to Consuls General was withdrawn.
Hardly had the briefing ended, was a new release issued to the media by EAM officials. It focused almost entirely on what Sri Lanka's External Affairs Minister told the diplomats. There were some searching questions from western diplomats but they went unanswered and found no place in the release.
One head of mission related the story of how Dr. Peiris directed him to issue a news release before going for a meeting with his counterpart of a country.
Whatever the outcome is, Sri Lankans are made to believe how articulately the country's foreign policy is being conducted.
---
Unauthorised Easter holiday: Holy Saturday trouble for envoy
External Affairs Minister G.L. Peiris is not only ticking off foreign governments and dignitaries these days. Even Sri Lanka's own envoys are coming in for some rapid fire from him. One such case was when he cut down Chris Nonis, Sri Lanka's High Commissioner to the United Kingdom, for not following procedures laid down by the External Affairs Ministry.
High Commissioner Nonis had wanted to be on holiday in Sri Lanka during the Easter Week. So he decided that all he needed to do was pack his bag and go to the airport with a Business Class ticket. However, Sri Lanka's envoy to the Court of St James little realised that the EAM needed him for some official business in Britain. When the EAM learnt he had left station, it checked with the Overseas Administration Division (OAD) whether he had obtained leave. "There was no such leave granted," replied an official to a higher one. It was immediately brought to the attention of Minister Peiris.
Who should ring the External Affairs Minister last Saturday morning, the day before Easter? It was High Commissioner Nonis. Just before leaving the residency, he had telephoned his minister to say he was headed to Sri Lanka and thought he would let him know. "If you want to do that, follow normal procedure," snapped an irritated Peiris. He then cut the call. Dr. Peiris' mobile phone rang for a long, long time thereafter but he did not answer. An aide had to take it away lest it disturb the dinner.
EAM Secretary Kshenuka Seneviratne formally wrote to Mr. Nonis last Tuesday seeking his explanation. To make matters worse, she noted that Mr. Nonis had informed Britain's Foreign and Commonwealth Office (FCO) of his departure and told that Neville de Silva, the former journalist, would be acting High Commissioner. Alas, he has not said this to his own Ministry.
Secretary Seneviratne's ire did not end there. She was livid about another official taking leave matters lightly. This time, Thushitha Wijemanne, the legal officer attached to Minister Peiris' bureau flew off to Romania to discuss a visa exemption agreement with that country. Alas, he has not sought her permission. Now Wijemanne's explanation has been sought.
Officials at the EAM were chuckling at the Nonis incident only because the High Commissioner had not informed the OAD of his previous private visits to Colombo too. One of them remarked, rather mischievously though, that there may be a nominal "pay cut."
---
Police spokesman gets taste of his own talk
Perhaps for the first time, when President Mahinda Rajapaksa met national newspaper editors and heads of the electronic media, Police Chief N.K. Illangakoon was present. Tagging along with him was Senior Superintendent Ajith Rohana, the highly controversial Police spokesperson who has been accused by a wide spectrum of the media of being spokesperson for the ruling party rather than the Police.
When the event ended, a Presidential media staffer asked SSP Rohana somewhat jocularly, "you are being lampooned in cartoons in the media. You are like a cabinet minister." A flustered spokesperson asked the staffer, "Is boss (meaning the President) seeing these things. What does he think?"
The response was no match for SSP Rohana's own versions at different news conferences. "Well, he also gets lampooned in cartoons," said the staffer cleverly dodging a direct answer to the question.
---
UNP MP plays wrong card at casino protest
A United National Party (UNP) Parliamentarian, one among many who protested outside a casino this week, was most embarrassed.
His party was voicing its opposition to granting 'strategic enterprise status' to three companies with foreign collaboration for 'integrated projects,' which the UNP says include casinos.
As the man walked to the protest venue, someone handed him a placard to hold whilst shouting slogans. He happily did so.
It was only when television channels began broadcasting the event did he realise that the placard he held named the casino owner and made some unfriendly reference. He was livid he did not read it first. After all, the owner was not only a friend but also one who helped the politico in his hour of need.
---
Highway robberies by traffic cops
A staffer from the Sunday Times was rushing in his car to Kandy to attend a funeral last Thursday afternoon.
Like on most days, the Colombo-Kandy road was covered at every few kilometres by traffic cops. Just past the Warakapola town, a traffic cop pulled the vehicle to a side and told the driver, "You have passed the middle line on the road." He said it was an offence for which he had to file action in courts. The driver denied he had done so.
As the debate continued, the traffic policemen said he would make a compromise. He said he would impose a spot fine. The cop said the driver could come to Kegalle the next day (Friday), pay the fine and collect the licence. Then came the crunch. The cop added that if the driver did not want to do that, he could on his own decide what was needed to be done. The message was clear. The same ritual was being done to a private bus driver.
This is no doubt a case of highway robbery and is happening everywhere; something the Police Chief N.K. Illangakoon is duty bound to probe. Like sending plainclothesmen to raid brothels, he could perhaps send a similar group on a trip to Kandy. He will surely catch some of the cops who are making a killing. This is amidst public complaints of a breakdown in law and order.
---
President rules Sanga, Mahela not out
An angry President Mahinda Rajapaksa ticked off master batsman turned politician Sanath Jayasuriya this week. It was over Sri Lanka Cricket's move to conduct a disciplinary inquiry against Kumar Sangakkara and Mahela Jayawardena. He said they were Sri Lanka's cricketing heroes and should not be humiliated.
Parliamentarian Jayasuriya tried to defend the action saying it was on grounds of discipline. That was to draw more anger from the President who said this issue should not be prolonged.
He wanted Jayasuriya, the head of the national selection squad to speak to the two cricketers and resolve the matter on the eve of an important tour of Ireland and England.
---
Guess, who did not come to lunch
India's High Commissioner Kumar Sinha was one of those invited to lunch on Friday by Speaker Chamal Rajapaksa.
Though it was in honour of a visiting delegation from Balochistan (in Pakistan) Provincial Assembly led by Speaker Khan Jamali, the invitation card made no mention.
Evidently a staffer at the Speaker's Secretariat simply sent the lunch invitation without mentioning the occasion.
High Commission officials regretted that Mr. Sinha was unable to attend the event.