No walk in the park for Randev, Lahiru jumps into the lead
35th Bata-the Sunday Times Most Popular Schoolboy Cricketer of the Year 2014
View(s):
It looks as if Randev Pathirana of Royal College will not have a walk in the park. Lahiru Wickramasinghe of De Mazenod College Kandana, sensing his chances, has bounced back to take over the leadership by the 14th week of the All-Island category of the 35th Bata-the Sunday Times Most Popular Schoolboy Cricketer of the Year 2014 contest.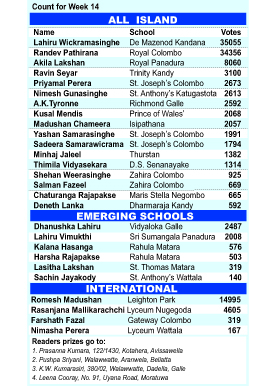 Last weekend Lahiru was trailing Randev by slightly over 600 votes. By this weekend Lahiru has managed to put his closest rival in pursue with a lead of 699 votes. Lahiru's tally came up to 35055, after adding up 3661 votes in the ended week while Randev received slightly more than a half of what his closest rival had from last week. Randev's 1842 from the ended week only took his tally to 34356 but with less than six weeks remaining the progress looks unimpressive.
Akila Lakshan of Royal College Panadura, who can be assured of his position at No.3, became the first besides Lahiru and Randev to surpass the 8000 mark. Ravin Sayer of Trinity College Kandy is far behind at fourth with a deficit of slightly less than 5000 votes. St. Joseph's College allrounder Priyamal Perera is at fifth with 2673 votes to his tally, but Nimesh Gunasinghe of St. Anthony's College Katugastota and A.K. Tyronne of Richmond College Galle have all the possibilities to give him a good run in weeks to come.
The Emerging Schools category is still led by Dhanushka Lahiru of Vidyaloka Vidyalaya Galle but his closest rival Lahiru Vimukthi of Sri Sumangala College Panadura too is keeping up his pace. The difference between the top two is 479 and matters could face a sudden change in a matter of a moment. Others in the race show very little progress.
Romesh Madushan of Leighton Park continues to improve day after day as he is becoming a bit too hard to beat. Romesh leads the International Schools category for yet another week with an addition of 1633 votes this week, which took his tally to 14995 and his lead by 10390. Others have not added up anything to their last week's tally.
Coupons of the 35th Bata-the Sunday Times Most Popular Schoolboy Cricketer of the Year 2014 will appear on Wijeya Newspaper's dailies, the Daily Mirror and Lankadeepa and also its weekend English issue, the Sunday Times. Readers will be able to send in as much as coupons in favour of their favourite schoolboy cricketer until end of May.