Kids World
View(s):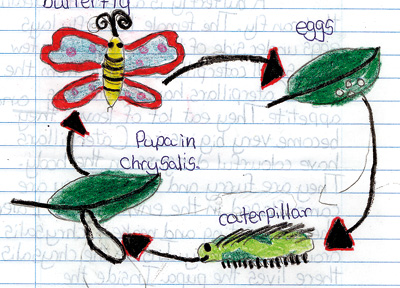 Caterpillar to Butterfly
A butterfly is a beautiful creature that can fly. The female butterfly lays eggs on the under-side of leaves.
After a few days, small caterpillars emerge from the eggs. Caterpillars have a voracious appetite. They eat lots of leaves and become very big in size. They have colourful designs on their bodies. They are furry and toxic. They are camouflaged in the environment. Later they stop eating and make a chrysalis around their body.
Inside the chrysalis lives the pupa. The pupa transforms inside the chrysalis into a butterfly. The butterfly comes out of the chrysalis and flies away.
A butterfly has four wings and it feeds on flower nectar. When it becomes an adult female, it lays eggs again. This is the life story of a butterfly.
Saumya Pandithakoralege
(Grade 5)
St. Bridget's Convent
---
Trees are truly our saviours
From ancient times, trees have given men, animals and birds, much food. The medical properties of fruits are many and varied. The wood from trees is used for housing, making furniture, boats and ornaments. Trees give us paper and fuel too. The wood for the cradle at birth and the coffin at death
is supplied by trees. Trees help to purify the air by taking in carbondioxide and giving out oxygen. They help to prevent erosion and floods.
By cutting down trees, Asia annually loses 25,000 million tons of soil through erosion. Trees are cut down to make room for new houses, factories and government buildings, to clear lands for cultivation and to provide wood for housing and firewood.
The television, radio and newspapers highlight the importance of planting and maintaining trees already planted. The department of wildlife distributes plants. I also actively participate every year in the national tree planting campaign. I distribute plants among my school mates. So, let us plant and protect trees to save ourselves.
Trees are truly our saviours.
Isuru Suraweera (16 years)
Ananda College
---
My hobby
My hobby is collecting stickers. I started collecting them from six years old. I have collected a lot of stickers like, Mickey Mouse, Barbie, Hello Kitty, Dora, Cinderella, Minnie Mouse and many more. There are lovely and colourful stickers in my collection. I have 100 stickers by now.
It is an interesting hobby.
I would like to continue it until
I get big.
Sarah Rizwan (9 years)
St. Lawrence's Convent, Colombo 6
---
Myself and my sister
My name is Fathima Amna Mohammed. I am six years old. I live at Rajagiriya. My school is Methodist College.
My sister's name is Azma.
She is four years old. Her school is Little Angels Montessori.
We play together at home. We like each other. My favourite animal is the rabbit. My sister's favourite animal is the squirrel.
Amna Mohammed
(Grade 2)
Methodist College
---
Falling Flowers
Why do you have to leave?
It's not yet time to go
Why do you turn brown and float away?
Sometimes you will fall off your tree
and be swept away.
Your petals are still fresh
And they smell so sweet
The birds fly here and there
And say "Tweet, Tweet".
You give them honey
Which makes them happy
Your father's not yet dead
But you're leaving instead
Your brothers are still green
And they all scream and scream
"Why do you have to leave,
We will miss you so?"
Dulanjee Jayanandana (Grade 7)
Bishop's College
---
My pet
My pet is a puppy. He is a very
good puppy. His name is Jack.
His favourite meal is meat.
I love him a lot. I always play with him.
Vinuli Ranasinghe (7 years)
Lyceum Int. School, Nugegoda
---
Funday Times
The Funday Times is a great magazine.
I wait until my father brings it every week. There are interesting things to read for us. Every week there is a surprise for me in it.
I was chosen to go for the Funday Times Christmas Carnival too. That was an unforgettable day in my life.
I like the cartoons that are published in it. I wish Funday Times a long life.
Sinali Bethmage
(8 years)
Musaeus College
---
My garden
I have a little garden. There are flowers and trees and the green colour gives beauty to the garden. The flowers give more beauty too.
Early in the morning,
the birds and butterflies come in to my garden.
The bird-sounds make me happy. The Bul-Bul bird is very friendly with us.
I keep them fruits and I also keep water to bathe. I keep my garden clean and tidy.
Bhagya Gajadheera
(8 years)
Colombo Int.
---
Korean Young Flower, Sukwee
"Time has arrived to gather
Time has arrived to separate.
It has been a long time since we met,
It has been a long time since we parted
Even if the breeze of the spring has ended,
The young flower is still waiting."
I hope you all remember this poem which was recited by Princess Sukwee in Isiwara Wedadura. Once I heard it, I started to like it so, I translated it to English.
Specially I must tell you about the princess; at first she acted so childishly but in the end she became a thoughtful woman, which made her memorise this poem. Even I could get deep into this poem because I understood the meaning by her feelings.
The simple style, unique pattern and the charm in this poem made me explore more. It was then I found the poem 'On that day that shines again' by Seo
Jung-Ju. I'm looking  forward to learning many Korean and Japanese poems and I think that you also would be delighted to try something new and different,
Avishi Navanjana
Vishaka B.M.M.V.,
Bandarawela
---
A children's park
This is a park. People are
enjoying at the park. An old man is sleeping under a tree.
A boy and a girl have come for a picnic. They are having beverages.
A seller is selling mats and fruits.
There is a pond in the park.
There are two ducks in the pond.
The pond is blue in colour. A child is swinging on the swing. The swing is red in colour. A girl is skipping. She is enjoying her skipping.
There are so much of trees behind the park. The trees are green in colour. There are bushes too. A man is reading a newspaper while sitting on a bench.
The sun is shining very bright. There is so much of grass in the park. Birds are flying in the park. There are butterflies in the park. Now the people are having so much fun. This is a big park.
It is a very nice park.
Umar Rishad (Grade 4)
Royal Int. School, Kegalle
---
My best friend
My best friend is Dilmi. She is ten years old. She goes to Newstead Girls' College, Negombo. She is in Grade Six. She's in Ward House.Her favourite subject is Environment. She can run very fast. She is a Buddhist. She lives in Raddoluwa. She has long hair. She has a little brother. She likes to eat noodles. She likes to drink Necto. Her ambition is to be a teacher. Her hobby is drawing pictures. She is fond of English. She's a fan of Ben10.
She has lots of Ben10 stickers.
Her father works in an
airport and her mother is a
housewife. Her class teacher is Miss. Rinooza. Dilmi is a kind hearted girl. She mostly helps me in my studies.
I love my friend very much.
Jinadi Hallawa (10 years)
Newstead Girls' College, Negombo
---
Elephants
The elephant is the largest living land animal. The elephant is very useful to people. It has a big body, a long trunk, big ears and a small pair of eyes. Most of the elephants have tusks. These tusks are very useful to man.
There are different types of  elephants such as the African elephants and the Indian elephants. African elephants may reach up to 3.5 metres tall and weigh as much as 5000kg., but the Indian elephants are smaller and these elephants are gentle and more easy to train to work for man. The Sri Lankan elephants are more beautiful than the African and Indian elephants.
Why are these elephants useful to man? Because they are very strong and can lift heavy logs too. Their most useful limb is their trunk. When elephants are bathing they use their trunk to suck up water when it wants a shower. And the trunk also helps them to breathe. The trunk is also used to bring food to its mouth.
We can categorize elephants into groups. The female elephant is called a cow. The male is called a bull.
A baby elephant is called a calf. We can see elephants walk in the Kandy perahera. Under good conditions elephants may live to be 120 years. We must protect elephants for the future generation.
Raneesha Wimalasuriya
(11 years)
Ave Maria Convent, Negombo
---
Drought
Earth is cracked
Clouds not to be seen,
Rivers dry up,
Rain not to be seen.
Starving people!
Leaves are red,
People dig wells,
Animals walk far.
Rivers and lakes dry up,
Animals die in hunger!
A drought has come,
People suffer.
Rashmini Wasana
(Grade 9)
Nauththuduwa M.V., Matugama
---
Lion has a tasty meal
Running and running
full of cunning,
But it is very thrilling!
Will the lion catch or not?
But he is extremely hot and hot.
The sky is vast and blue,
But it doesn't give the lion a clue.
Sisanth Kanth
(Grade 7)
Hilburn College Int.,
Avissawella