Anti-C'wealth Gayoom guest of honour at Lanka's C'wealth day
View(s):

The Commonwealth Day was marked in London on March 11 during the diamond Jubilee year of Queen Elizabeth II.
It began with a multi-faith observance at the Westminster Abbey and extended to other events. President Mahinda Rajapaksa, Chair-in-Office of the Commonwealth with a population of 2.1 billion citizens, was unable to attend. The move came amidst reports that Tamil diaspora groups were set to stage protests. However, Sri Lankan officials told the Commonwealth Secretariat he was busy with the Southern and Western Provincial Council election campaign.
Instead, it was External Affairs Minister G.L. Peiris who took time off from sessions of the UN Human Rights Council to take part in the ceremonies and return to Colombo.

Now, Dr. Peiris has decided to hold the Commonwealth Day event in Colombo on April 26. Just back from an avurudu holiday in a luxury Maldivian resort island, who should he decide should be the "Guest of Honour" at the event? It is none other than Maumoon Abdul Gayoom, the former President and now the power behind the archipelago's government. His daughter Dunya is the Foreign Minister.

Last Wednesday, Dr.. Peiris was at the Bandaranaike International Airport to receive Mr. Gayoom and his wife Nasreena who have arrived early for the event. They will spend time in Sri Lanka.  Evidently, Dr.. Peiris has not been able to have any other "Guests of Honour." The reason – Mr. Gayoom is a staunch critic of the Commonwealth and declared only months ago, ahead of the Majlis (Parliament) elections in the Maldives, that his country should renounce its membership.
The widely accessed Miadhu news website run by a close ally of Mr. Gayoom and one time Maldives Ambassador to Sri Lanka, the genial Ahmed Abdulla had this to say in a report in November last year:

"President of the Progressive Party of Maldives, PPM, former President Maumoon Abdul Gayoom has called to withdraw the membership of Maldives from the Commonwealth if the organization continues to make undue influences regarding internal affairs of the Maldives."Former President Gayoom said that Maldives joined the Commonwealth during his rule. He said that it was through his efforts that Maldives became a special member of the organisation in 1982 and full membership was gained in the year 1985.

"Gayoom made this remark speaking at the campaign rally held by the Progressive Party of Maldives, PPM and their supporters at the Alimas Carnival last night.
"Gayoom said that Maldives joined the organisation because during that time they aided small country states. He said that the membership of Maldives then was fruitful and beneficial. As there were many members including small country states, these small country states got many aids from the commonwealth (sic). Especially in the area of security, environment and other than that. The policies of the Commonwealth in these areas are very good," he said.
"However, Gayoom said that the course of action of the Commonwealth has changed over the years. He said that there is not much benefit now gained from the Commonwealth.

"They are trying to have their say regarding our internal issues. They are trying to impose their own policies as our policies. They are creating unrest here by these irresponsible actions. Therefore, we today want to quit our membership from the Commonwealth, he said……"

On the other side of the divide, Canada one of the original members of the grouping of former British colonies said it was cutting off its contribution to the Commonwealth as long as President Mahinda Rajapaksa remained Chair-in-Office. Commonwealth Secretary General Kamalesh Sharma was livid when Canada announced it would not make its US$ 20 million contribution. Much of the Commonwealth Secretariat salaries and travel is paid for by contributions from the wealthier Commonwealth countries like Canada.

Are we seeing the Commonwealth go their separate ways? What would Sharma say to the anti-Commonwealth Gayoom being chief guest at the Commonwealth Day celebrations in Colombo, asked a witty EAM official.
---
Muddy joke about elephants
When he flew back hurriedly from Gampaha for the oil anointing ceremony at Temple Trees, President Mahinda Rajapaksa had passed the auspicious time of 11.16 a.m. The Buddhist priest who was officiating at the ceremonies asked why he was late. Usually the President was always present at Temple Trees for that function though he would be in his ancestral home at Meda Mulana, near Tangalle.
Mr. Rajapaksa explained that Parliamentarian Pandu Bandaranaike had arranged for a national ceremony and it was inevitable he had to be present there. So when it was over, he had rushed back. The monk noticed a small patch of mud on the President's otherwise immaculate white dress. The President remarked that he had to anoint oil to elephants too at Kosinna Raja Maha Vihara.
He said one had to be prepared to face such mud attacks when dealing with elephants.
Even anointing them with oil was of no avail, it seems.
---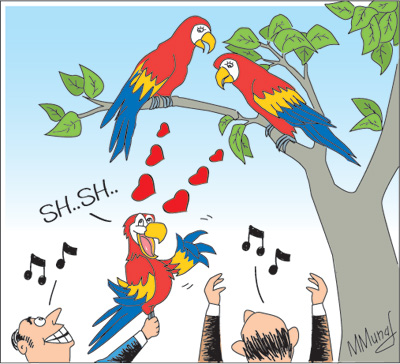 Mating trick to recapture MR's macaws
The Avurudu week escape of three exotic macaws from the Janadipathi Mandiraya (President's House) was to cause some flutter.It was none other than President Mahinda Rajapaksa, who noticed that the birds were missing when he went to feed them the morning after he returned from Avurudu festivities in the South.
One of the birds, a female, was re-captured from the Defence Services College at Kompannaveediya (Slave Island).
Two others, female birds, were located in Modera but a re-capture became a difficult task. They gave the slip to those attempting to re-capture them.
Soon an ornithologist in the re-capture team realised there was a way out. He brought a male macaw to the scene and attracted the duo. Soon the two females were drawn in.
---
Namal's toy pistol tweet
Hambantota Mayor Eraj Fernando who brandished a pistol when pro-Government mobs attacked a group of United National Party (UNP) Parliamentarians is now claiming that he used a toy weapon.
That claim received some wide publicity after Hambantota District UPFA Parliamentarian Namal Rajapaksa tweeted it.
However, later Mr. Rajapaksa made clear that he did not ask Mayor Fernando to threaten or intimidate the protestors.
---
Wimal plays cat-and-house game with UN
He once wanted Sri Lanka to take initiatives to form a separate United Nations to replace the one in New York.
He even staged a 'fast unto death' to protest UN Secretary General (UNSG) Ban Ki-moon appointing a Panel of Experts to probe accountability issues in Sri Lanka. He wanted the UNSG to call it off.
Ban did not but later Minister Weerawansa did call off the fast. Now, Minister Weerawansa is seeking Government approval to set up a Habitat Secretariat in Sri Lanka and establish a National Standing Committee parallel to the United Nations third conference on housing and sustainable urban development, to be held in 2016. He also wants a Sri Lanka national report to be prepared for this event.
These measures, according to Weerawansa, are the result of decisions reached at the Third UN Conference on Housing and Sustainable Development in 1996.
As one wag in his Ministry remarked, 'if you can't beat them, join them.'
---
Foundations – new fad in politics
More Cabinet ministers want Foundations in their names and these are established by introducing bills of incorporation in Parliament.
The three latest ones that are awaiting approval of the Government are:
The Lakshman Wasantha Perera Community Development Foundation. He is the Minister of Social Services. The Nimal Siripala de Silva Foundation. He is the Minister of Irrigation and Water Resources Management. The Piyasena Gamage Foundation. He is the Minister of Vocational and Technical Training.
Besides the three, a UPFA Parliamentarian is also having a foundation in his name — Vasantha Senanayake Foundation.
Legislation to set up these foundations has been prepared by the Ministry of Social Services in consultation with the Attorney General's Department.
---
Dangerous games on Nugegoda flyover
The Nugegoda "fly over" located strategically on the intersection between the High Level Road and S.de S. Jayasinghe Mawatha has assumed notoriety for different reasons. During morning and evening hours, when traffic builds up right across, the bridge sways sideways. Some motorists who are alarmed by this do not drive over the bridge but take the ground route.
Now, during nights there is a new feature. Buses operating on short routes like Pettah to Padukka, Homagama and Avissawella, compete to pick up commuters, overtaking one another on the bridge.  As one motorist noted, even traffic cops do not seem to take note whether it is day or night. "During day time, the tussle to pick up passengers leads to these buses monopolising the road and violating traffic laws with impunity. They are nowhere there during nights," said the motorist.