Toyota Lanka unveils next generation line up of eight vehicles
View(s):

Toyota Lanka has pulled the wraps off the next generation line up of eight vehicles along with two concept cars TOYOTA FT 86 Open and NS4 at a glittering event in Colombo anticipating a new boom in the car market with a reduction in import duty in the near future.
Manohara Athukorala, Chief Operating Officer / Executive Officer of Toyota Lanka told the Business Times on the sidelines of the 'The Toyota Show' at the Sirima Bandaranaike Memorial Exhibition Centre in Colombo recently that they hope to sell 10 to 15 new units per month at present with sales improving considerably in the coming months.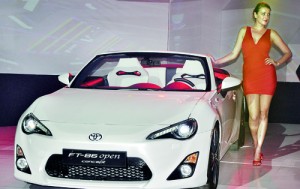 The launching of eight cars on a same day in all the glamour and intensity of an international auto show with stunning vehicle displays was done for the first time in the Sri Lankan automobile history as Toyota Lanka is confident about the future potential in the local car market, he said, adding that even at present there is a demand for super and semi luxury cars as well as hybrid cars.
He expressed the belief that the government will bring down taxes on vehicles soon as the state revenue from vehicle imports has slumped due to heavy import duty.
"Further, in order to maintain the highest quality, driven by the durability and reliability in performance, our after sales services at Toyota Lanka continues to grow nation-wide with new expansion of services facilities, high tech services, express maintenance, etc," he added.
Three 'brothers' of Hybrid cars – Camry, Prius and Prius C; the completely new Corolla; Yaris and RAV4, a face lifted Prado and the fascinating sports car GT 86, were unveiled at the event held in all the glamour and intensity of an international auto show with stunning vehicle displays, fabulous entertainment and a thrilling atmosphere.During the last year several new models were introduced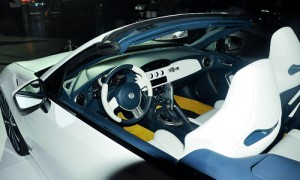 while some flagship models went through changes further bolstering Toyota's strong product line-up. As the financial year of 2013 / 2014 drew to a close, Toyota Lanka gave a panoramic view of what the coming year has in store for its dedicated patrons, he added.
The two concept cars were specially shipped to Sri Lanka to be displayed at this exclusive event. The Toyota NS4, Toyota's vision for an advanced future plug-in hybrid saloon, with a focus on connectivity and safety, boasted a stunningly futuristic design and was the show stealer. The Toyota FT-86 Open Concept which is designed to combine all the lively, performance and highly engaging, readily exploitable dynamic abilities of the GT86, is ready to provide greater levels of driving pleasure derived from open-topped motoring.