Multimillion dollar Avurudu gifts for Hambantota
By Our Political Editor
President works out plans for private power plants and other huge projects to make the southern district a mode While one district prospers, another province is left to die from kidney disease epidemic while more committees make more proposals After the New Year honeymoon, Rajapaksa regime will face Geneva and other crisis-management issues
View(s):
As another National New Year dawns, the movers and shakers of the UPFA Government will be heading south. Ministers, military top brass, senior bureaucrats, commoners and family members will be there to greet President Mahinda Rajapaksa at his ancestral home in Meda Mulana, just 32 kilometres from Tangalle. The area, like other parts of the Hambantota District, is all Rajapaksa heartland. That no doubt is reason for this region receiving high priority in development activity.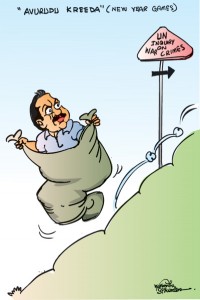 This is notwithstanding the UPFA's drop in voter support at last month's Southern Provincial Council (SPC) elections. The ruling party's vote reduced to 57.42 per cent from the 2009 polls where it stood at 66.95 per cent. Yet, there is a remarkable difference in the festivities this time.
President Rajapaksa is continuing his ambitious programme to make Hambantota a city which would be more developed than even Colombo, the country's commercial capital. Though somewhat controversial, two landmark projects are already in place. One is the Mattala Rajapaksa International Airport (MRIA) where arrivals are bare minimal. The other is the Magampura Mahinda Rajapaksa Port where cars are unloaded periodically for transhipment. It has also seen the docking of cruise ships once in a while. Other landmarks include an international conference hall, a tank farm, an aircraft maintenance facility by the national carrier SriLankan Airlines, Commonwealth Games Village 2018, Sooriyawewa, Botanical Gardens, Hambantota City Center, Administrative Complex, Beach Park/South Asian Beach Games, Banking Square , Siribopura, a Bird Research Centre and the Bus Complex at Siribopura.
Now, more ambitious projects are to be located in Hambantota. They include a Sugar Refinery Plant, Petrochemical Plant (PET resin), Fertiliser Storage/Processing/Bagging Plant, Cement Grinding Plant and Warehousing Facilities. These projects, which will generate considerable employment opportunities, according to President Rajapaksa, were the result of "Request for Proposals (RFP)" for which bids were open in October 2010. They had been called by the Sri Lanka Ports Authority (SLPA). Now, a Cabinet Appointed Negotiating Committee (CANC) has recommended that these ventures should be established.
On top of that, the SLPA called for a second round of "Request for Proposals" in September last year. The Cabinet Appointed Negotiating Committee which examined these proposals, President Rajapaksa says, has recommended five more projects. They are (1) Manufacture of Aviation Fuel, Surfactants, Caustic Soda, Sulphuric Acid and PVC pellets, (2) LPG Storage and Distribution Plant, (3) Lubricant Blending Plant, (4) LNG (Liquefied Natural Gas) Hub Terminal and Combined Cycle Gas Turbine Power Station with capacity of 300 Mw in 8 years, and (5) Petrochemical Storage and Transhipment Facility. The capacity is 50 Mw more than what the Sri Lanka-India power project will produce during its first phase — 250 Mw. These too will enhance employment opportunities, particularly for those in the Hambantota District.
President Rajapaksa has noted that with regard to RFP projects already approved in the first category, work has not yet begun. Even in the case of the second one, he has pointed out that despite adequate publicity only ten prospective investors had forwarded bids. One of the main impediments to attract investments in industrial ventures near the Hambantota port, the President says, is the absence of a guaranteed uninterrupted electricity supply, this too, at a reasonable tariff rate. The power requirements for proposals received are for port operations as well as the Mirijjawela Board of Investment Export Processing Zone (near the port) and would total 80 Mw. If Rajapaksa's observations suggested that electricity tariffs were one of the highest in Asia, the examples he gave came as more proof. Most households in urban areas have been badly hit by the last increase in electricity rates. So much so, many of them use minimum electricity. In marked contrast, illuminations in Government buildings, roundabouts, public places like parks and other areas continue till the early hours of the morning consuming a high volume of electricity.
Here is a table compiled by the Ports and Shipping Ministry. It gives one a clear idea of electricity rates in this region:
1. Vietnam Rs 8.19 per K wh (kilowatt hour)
2. India (Kerala) Rs 9.80 per K wh
3. Bangladesh Rs 9.87 per K wh
4. South Korea Rs 11.00 per K wh
5. Thailand Rs 12.90 per K wh
6. India (Tamil Nadu) Rs 15.40 per K wh
7. Malaysia Rs 15.90 per K wh
8. Sri Lanka Rs 17.80 per K wh
To ensure uninterrupted power supply at cheaper rates for projects in Hambantota, Rajapaksa wants to establish a Joint Venture Company. This is between the Ceylon Electricity Board (CEB) or a Government concern nominated by the Treasury (with his concurrence) and Energy World International Ltd. This company's website says it "develops, constructs and operates power generation and electrical energy related projects. The company also develops property investment and infrastructure projects. The company was incorporated in 1987 and is based in Hong Kong."
Yet, according to CEB statistics, the Hambantota District is one among many where 100 per cent electricity penetration level has been achieved. There are only 14 districts in Sri Lanka, where the CEB says, the total penetration level is yet to be completed. Those districts and the current levels are: Mullaitivu (40 %), Kilinochchi (46 %), Ampara (81 %), Trincomalee (86 %), Batticaloa (81 %), Kurunegala (95 %), Puttalam (95 %), Kegalle (97 %), Ratnapura (93 %), Badulla (92 %), Moneragala (85 %), Nuwara Eliya (96 %), Matale (92 %) and Kandy (99 %).
Even in the post war north, the supply of electricity has expanded. In the Jaffna District it has increased from 60% in 2009, when Tiger guerrillas were militarily defeated, to 84 %. In Mannar the increase is from 37 % to 74 % and Vavuniya from 66 % to 84 %.Despite achieving a total penetration level in all other districts barring those listed above, neither the CEB nor its distributor Lanka Electricity Company (LECO) has been able to ensure uninterrupted supply even in areas surrounding Colombo. Regular breakdowns are common and often the two state institutions blame each other. One glaring example in this regard is the Kotte electorate where supplies are interrupted almost every week morning, noon and night. The CEB's target date to achieve full power supply countrywide was December 31 last year.
The inability, Power and Energy Minister Pavithra Wanniarachchi says was mainly due to non-availability of material and equipment, besides inadequate funding to meet construction costs. She says that if long term credit is made available to the CEB, the target of countrywide penetration of electricity supply could be achieved this year. In January this year, the Treasury laid down a policy decision on the CEB. It said that the CEB should now use its own funds for completion of remaining electricity schemes. Even if such funding is made available, managing the networks to prevent periodic interruptions is a management issue which both the CEB and the LECO would have to genuinely resolve. This is one issue on which they cannot blame all others. It is therefore not surprising that none other than the President of Sri Lanka is not confident that uninterrupted power supply is something which neither the CEB nor its distributor LECO can ensure. Not even when they provide the whole of Sri Lanka with electricity.
So much so Rajapaksa says he wants a separate power generation plant for Hambantota to ensure uninterrupted supply. Therefore, he has opted for a private venture to obtain an efficient and even a low cost service. According to Rajapaksa, the power generation project with this 17 year old company will be with a total investment of US$ 1350 million (more than Rs. 175.5 billion) to establish the following on a build-own-and-operate basis: (a) LNG hub terminal comprising loading/unloading arms and storage tanks of capacity 80,000 cm; (2) Combine cycle gas turbine power station with aggregate capacity of 1200 Mw in four phases of 300 Mw each at two year intervals over a period of eight years. The Hong Kong-based company's objectives, Rajapaksa says, are: (a) To export LNG to neighbouring countries and to supply for domestic requirements. (b) To supply compressed natural gas (CNG) for transport vehicles and ships. (c) To produce and sell clean electrical energy on a Power Purchase Agreement to the Ceylon Electricity Board.
With the establishment of the power plant, President Rajapaksa has noted, that it would be possible to guarantee uninterrupted power supply to all the investors in the Hambantota Port Business Ventures Development Project and the Mirijjawela Export Processing Zone. With these projects being considered a strategic investment, he has said that it would be an additional incentive since electricity tariffs to investors could be reduced. The Hong Kong-based company has offered to give the Government-nominated partner to the Joint Venture Company ten per cent of the shares. He has added that the investor has agreed to guarantee uninterrupted power supply and sought the lease of 30 hectares of land for 20 years. They will sign a Power Purchase Agreement with the CEB. The proposed Joint Venture Company is to be called upon to enter into an agreement with the Board of Investment to secure "strategic enterprise" status and obtain other concessions.
Since the CEB is being called upon to enter into a Power Purchase Agreement with the proposed Joint Venture Company, it is to be made mandatory that it will provide uninterrupted electricity. This is at "a special reasonable lesser rate" to all industrial concerns of Hambantota Port Business Ventures and Mirijjawela Export Processing Zone. This move will also have the added advantage of drawing more Foreign Direct Investment into the Hambantota area. Since electricity would be cheaper, investors would find it more attractive or so the Government believes.
The proposed power project with the Hong Kong-based company is in addition to another major power complex the Government wants to establish in collaboration with India. This is through a tie-up between the CEB and India's National Thermal Power Corporation (NTPC). The two entities have already signed a deal. A joint venture company, Trincomalee Power Company, has been formed to construct 2 X 250 Mw coal power plant in Sampur. Costing US$ 512 million, the power generated is to be applied to the national grid via high transmission lines from Sampur through Habarana to the Veyangoda Grid sub stations. A power purchase agreement by the CEB, with the joint venture company, as well as a coal supply agreement was signed last year. This is the second coal-fired power plant after the Chinese built Norochcholai project. The Government has now asked China for technical assistance to manage this project.
Another proposal, this time by a Sri Lankan entrepreneur with strong political connections, is to boost the power supply to the national grid by a reported 10 Mw through an Ilmenite Processing Plant. This would-be investor, said to be constructing a hotel in Dubai, is learnt to be behind a project proposal by an Indian firm, Narayan Titanium Industries Ltd., to the Board of Investment to set up this plant in Kappalthurai, Trincomalee. This is by transforming ilmenite, a mineral found in abundance in the Pulmoddai and Mullaitivu areas, into value added Titanium Dioxide pigment. The Bombay based firm has proposed to invest US$ 300 million (or more than Rs. 39 billion).
Titanium Dioxide pigment is used in many industries. This includes coating for paints, plastics, high-grade paper, printing inks, fibres, rubber, cosmetic products and food products. The Lanka Mineral Sands Ltd., if this project gets under way, will not export its annual harvest of an estimated 100,000 tons per year. The Indian company is to be given the exclusive right to buy the mineral at a mutually agreed price. Investment Promotion Minister Lakshman Yapa Abeyawardana wants this firm given exclusive right to export valued added products after processing ilmenite. In addition Lanka Phosphate Ltd. is to be called upon to provide the firm 100,000 tons of Eppawala Rock Phosphate to produce super phosphate fertilizer. The Ceylon Fertilizer Corporation will be required to buy the entire quantity thus obviating the need to import.
Minister Abeywardana claims that the project would generate 1,500 direct employment opportunities and wants it to be given "strategic enterprise status." At present Lanka Mineral Sands Ltd, successor to the Mineral Sands Corporation, is the sole miner and exporter of untreated ilmenite. He argues that there would be a 700 to 800 per cent increase in foreign exchange earnings to Sri Lanka with the processed Titanium Dioxide pigment which fetches a market price of US$ 2000 a ton. He says that the market price of unprocessed ilmenite is anything from $ 125 to $ 200 a ton.
Abeywardena points out that the sulphuric acid by-product after producing titanium will lead to the generation of captive power. Captive power plants are associated with specific industrial complexes, and their output is usually consumed by that industrial plant. However, there are surpluses too. A maximum of 10 Mw could be sold to the CEB at an agreed tariff rate. He wants the Government to allocate 500 acres of State owned land in the Kappalthurai area to the Indian company for this project on a 99 year lease. This is besides the Sri Lanka Ports Authority (SLPA) providing land in the Trincomalee port area for a bonded warehouse for the Indian company. The CEB will be required to establish a grid substation at Kappalthurai to generate 40 Mw of power for the initial commissioning of the project.
One of the conditions proposed by Minister Abeywardena is that the project should function smoothly without intervention by local authorities or the provincial authorities. He has declared that it would be the responsibility of the Board of Investment to obtain "all required approvals from Central Environmental Authority (CEA) and other agencies without delay." The practice followed in other countries is to call upon a prospective investor to satisfy the host country authorities that they have conformed to environmental standards. The BOI taking the onus to clear such an important aspect is viewed in some circles as a means of fast tracking the process without a proper environmental assessment. They point out that the CEA would be under pressure ostensibly on the grounds that $ 300 million worth Foreign Direct Investment (FDI) would be lost to the country if it does not grant approval.
The development projects in Hambantota will make that southern city the most developed area in Sri Lanka. Like in the case of the international airport and the sea port, the question that begs answer is whether the cost-benefit ratio has been seriously taken into consideration. The same applies to the Kappalthurai project where, it is clear, the Investment Promotion Minister is bending backwards to oblige a would-be investor by having the BOI clear its environment impact assessment. This is not to mention a variety of exclusive concessions offered to it.
If more ambitious development projects will continue in the country's south and the east, it was a disturbing story in the North Central Province. The spread of Chronic Kidney Disease (CKD) formed the subject of discussion when ministers met for their weekly meeting the previous Thursday evening at the Presidential Secretariat. They focused on the measures necessary to arrest the deteriorating situation.
An action plan prepared by a five-member committee headed by Presidential Secretary Lalith Weeratunga has now come up with both short-term and long-term recommendations. Other members of the Committee were Ivan de Silva, Secretary, Ministry of Irrigation and Water Resources, B.M.U.D. Dissanayake, Secretary, Ministry of Environment and Renewable Energy, Dhara S. Wijayathilake, Secretary, Ministry of Technology and Research and Shantha Bandara, Additional Secretary, Ministry of Economic Development.
Here are the highlights of both the short- and long-term recommendations:
Short term:
Launch a countrywide programme to identify CKD patients with special attention to the North Central Province and declare it as a notifiable disease in Sri Lanka.
Initiate a research project to carry out further research, identify the exact causes factor/factors of CKDU and to pursue appropriate action to address the issues under the appropriate Ministry.
Analyse the fertiliser recommendation scheme whilst paying attention to environmental consequences (example — pollution of ground water and surface water by Eutrophiation, Nitrification, heavy metals etc.)
The use of inorganic fertiliser together with organic fertiliser and pesticide with minimum impact on environment.
Promote and implement rain water harvesting structures with water quality monitoring systems and make regulations from appropriate legislation to assure all new buildings in CKDU hotspot area to be equipped with rainwater harvesting units as a compulsory requirement.Long term:
Establish regular water quality monitoring system by an accredited agency under direct supervision of a government institution. Water Resources Board or National Water Supply and Drainage Board may be proposed to undertake this exercise.
Establish procedures for the examination of quality agrochemicals. Level of harmful elements (mainly toxic heavy metals and metalloids) occurring as active ingredients, catalysts, agents, impurities etc. should be examined at boarder (sic) points, factory outlets, wholesale and retail shops in the districts.
Prepare a long-term programme to empower and strengthen the capacity of the officers who work in the grassroots level in the agricultural sector to make them capable enough to educate the farmers how the minimum quantity of fertiliser and pesticide for a particular crop is used, what alternative methods are available for inorganic fertilisers and pesticides and specially the safety measures to be followed when the agrochemicals are handled and applied.
The Action Plan has also endorsed recommendations made by an expert team appointed by the Parliamentary Consultative Committee on agriculture. The team, among other matters, called for prohibiting the sale and the use of the agrochemicals Propenil, Glyphosate, Carbaryl and Clororpyrifos which have been identified in the urinal residues of Kidney patients. Another recommendation by the team was for the appointment of a technology council with authority under the Ministry of Agriculture to promote environment-friendly agriculture.
The Lalith Weeratunga-led Action Plan has recommended 204 different initiatives to be taken for minimising CKD. Eleven line ministries are to be tasked with the responsibility of implementing these initiatives. The highest number of initiatives (86) has been assigned to the Ministry of Agriculture. However, the largest budgetary allocation of Rs. 2,412 million has been allocated to the Ministry of Health. This is under a five-year programme which is estimated to cost Rs. 4.5 billion. Ministries are to be called upon to review progress reports every month.
The contrasts in prosperity in one province whilst sickness is spreading rapidly in another are striking. Though national concerns over the latter are mounting, the UPFA Government is yet to mobilise public opinion on the need for a vigorous programme that should also include the private sector. Both the private sector and most Sri Lankans, both rich and poor, are generous enough to pool their might. The tsunami of December 2004 is a clear example where this was demonstrated. Alas, the Government has failed so far to tap that resource and left the task only to be reviewed many a time by different official committees. There is a vast potential to be exploited over a humanitarian crisis and that could save many lives.
This is the scenario as a nation lulls into a holiday mood which would last a week or more. As it gets done, the crucial issues facing the Government would surface again. In Geneva, the Office of the High Commissioner for Human Rights (OHCHR) is deliberating on a draft plan. This is on how to carry forward the United States resolution that was adopted by the Human Rights Council. The draft includes the appointment of a team to probe alleged war crimes.
Whilst the Government has declared that it will not in any way co-operate with the proposed team or allow it to visit Sri Lanka, issues related to this are still being debated at the highest levels. One is the question of whether or not third parties unrelated to the Government but "strongly concerned about the country should be allowed to testify," said a Government source speaking on grounds of anonymity. This, the source said, would be determined after UN Human Rights Commissioner Navi Pillay formally informs the Government of the investigation, its terms of reference, the composition of the team doing so and invites the Government to take part.
It is not immediately clear whether the Tamil National Alliance (TNA) will appear before the investigators. This week a TNA delegation headed by its leader failed to secure appointments in New Delhi with leaders of the Congress-led caretaker Government. Though appointments were to be confirmed, they were told that the leaders were busy with the election campaign. This has prompted the delegation to fly direct to Pretoria where they are holding talks with Cyril Ramaphosa, South Africa's special envoy for reconciliation efforts in Sri Lanka. One of the subjects of discussion is said to be the setting up of a Truth and Reconciliation Commission modelled on the lines of the one that functioned in South Africa. However, such a Commission is to be tailored to meet Sri Lankan needs. Yet, its parameters would have to be accepted by all stakeholders in the reconciliation process.
Arriving at a consensus, therefore, would be time consuming not to mention the other difficulties involved. All in all, many issues for the ruling UPFA Government including matters arising from the US resolution will be on hold in the coming few weeks. Thereafter, once again it would be a case of crisis management for President Rajapaksa and his ministers.