MH370 debris breakthrough in new area
By Greg Wood
Search parties approach the site where small bits of possible wreckage are spotted
View(s):
PERTH, Australia, March 29 (AFP) – Searchers scoured a new area of the Indian Ocean for Malaysia Airlines Flight MH370 today hoping to salvage possible debris from the doomed jet after several hopeful sightings.
But despite having access to considerable assets, Australian Prime Minister Tony Abbott said the search teams faced a formidable task given the distances involved.
"We should not underestimate the difficulty of this work, it is an extraordinarily remote location," he told reporters Saturday.
"We are trying to find small bits of wreckage in a vast ocean. While we're throwing everything we have at it, the task goes on."
Planes attached to the multinational operation spotted "multiple objects" floating in the water on Friday after the focus of the search moved to a new zone on the strength of fresh data indicating the plane was flying faster than first thought before it disappeared on March 8.
Authorities stressed that the items sighted could not be verified as coming from MH370 until they were physically examined and ships from China and Australia have been tasked with finding them.
The Australian Maritime Safety Authority (AMSA) said a Chinese ship, the Haixun 01 began attempting to relocate the objects at first light today.
It was joined by a navy vessel Jinggangshan, which carries two helicopters, China's official state news agency Xinhua said.
AMSA expects six ships to be in place by the end of the day, including the Australian navy's HMAS Success and a total of five Chinese vessels as they comb an area of roughly the size of Norway.
The authority said weather conditions today were good, although they could deteriorate later in the day.
AMSA has 11 military aircraft from six countries — Australia, China, Japan, New Zealand, South Korea and the United States — at its disposal for the search, which is taking place far off Western Australia and about 1,100 kilometres (685 miles) northeast of where initial efforts were focused.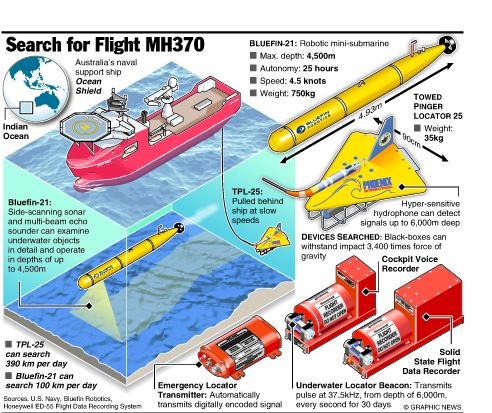 Yet the objects they are trying to find are tiny, with New Zealand Air Vice-Marshal Kevin Short saying the items spotted from a New Zealand Orion Friday were mostly rectangular and ranging in size from just 50-100 centimetres (20-40 inches).
New search zone
The search sector "was shifted north after international air crash investigators in Malaysia updated their previous analysis of the likely aircraft movement", AMSA said.
The new area was identified following an examination of radar data by experts from Boeing who have joined an international investigation team in Kuala Lumpur.
It suggested the aircraft was travelling faster than previously thought, meaning the Boeing 777 used more fuel and would have crashed into the Indian Ocean sooner.
The analysts calculated MH370′s estimated speed during the time it was briefly tracked by Malaysian military radar shortly after it diverted to the west — the last time MH370 appeared on radar. It switched the search's focus to an area around 1,850 kilometres west of Perth, prompting Australia to re-position its satellites to look for clues.
The new zone is closer to land, meaning planes can spend more time searching before having to return to refuel, and enjoys better weather than seas further south where the search had been concentrated.
Chinese and Australian
ships draw blank
A Chinese and an Australian ship have failed to identify remains from the missing Malaysia Airlines flight after their first day in a new search area.
The two ships retrieved objects from the Indian Ocean but none was confirmed to be from missing flight MH370, Australia's maritime authority said.
Chinese aircraft also flew over the area, north-east of the previous zone, and have spotted more objects.
The airliner disappeared on 8 March with 239 people on board.
Chinese patrol ship Haixun 01 and Australia's HMAS Success "reported they have retrieved a number of objects from the ocean but so far no objects confirmed to be related to MH370 have been recovered", the Australian Maritime Safety Authority (Amsa) said late on Saturday.-
BBC