Islamic scholars establish prizes for peace
View(s):

ABU DHABI (Reuters)- Muslim scholars aiming to combat religious extremism in the Islamic world have established annual prizes for the best studies on peace and the best initiatives to promote peace in the region. At a meeting in Abu Dhabi on Sunday and Monday, they also recommended the creation of a team of young Muslims trained to visit conflict regions in Muslim countries to spread a message of peace instead of religious-based violence.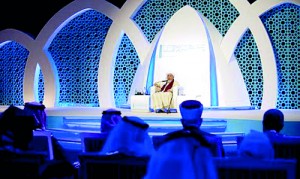 The meeting, which was addressed by United Arab Emirates Foreign Minister Sheikh Abdullah bin Zayed, further agreed to launch a "Muslim Wise Men Council" based in Abu Dhabi to bring together Islamic scholars at annual meetings aimed at promoting peace, according to their communique issued on Tuesday. No further details were immediately available.
About 250 scholars from around the Islamic world attended the meeting, including the Grand Imam of Al Azhar Sheikh Ahmed el-Tayeb, Egypt's Grand Mufti Shawki Ibrahim Abdel-Karim Allam and Sheikh Abdallalh bin Bayyah, head of the Global Centre for Renewal and Guidance.
"This rise of extremism and terrorism that is trying to legitimise itself through Muslim discourse is alarming," said Aref Ali Nayed, a leading Libyan scholar and his country's ambassador to the UAE. "This conference brings together the top Muslim scholars living today. These are the most respected scholars coming together to say the essence of Islam is peace, compassion and blessings. They are here to say no to violence and terrorism."
"We hope to end up with permanent institutions of cooperation that can be umbrella organisations that can enhance the networking of scholars across the Muslim world, educational programs and outreach that can trickle down to the various communities through mosque preaching and in schools," Nayed said.
"A lot of this is about ideas. A lot of the scholars need to have their ideas changed about where the problems lie, and that takes time because the intellectual community in the Muslim world has been battered down," said Hamza Yusuf, president of Zaytuna College in Berkeley, California. "It's hard to get ideas out. People aren't thinking creatively about the problems they're confronting. We're not doing it in America, we're not doing it in Russia or Ukraine, we're certainly not doing it in Egypt or Syria."
Sheikh Abdallah bin Bayyah said: "Now we want to start the journey of peace in the Muslim world. The starting point is to dialogue, by inviting al the scholars to meet. There is a culture of peace in the Islamic heritage."