Beating rural poverty with Agarwood
View(s):

Three towns belonging to Panawela Secretariat, Avissawella, Dehiowita and Eheliyagoda have formed a farming society for Agarwood cultivation with the aim of beating rural poverty.

This initiative will remarkably reduce the misuse of Wallapatta plant for commercial purposes, allowing instead for farmers to cultivate Agarwood under professional guidance and earn good revenue. The tree species used to produce Agarwood is known as Aquilaria.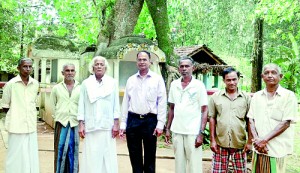 Agarwood, a valuable compound highly in demand in the Middle East and the main suppliers include countries such as Malaysia, Laos, Cambodia, Vietnam and Thailand. Agarwood, whcih is used to produce premium fragrances and as medication for certain aliments, fetches between USD 2000-10,000 per kilogram in international markets.
The society was formed last November under the guidance of Sadaharitha Plantations Ltd by its President Mr. P. A. Gunasinghe, Secretary Jagath Madagammana and with the blessings of the Chief Prelate of the Panawela Sri Shakyamuni Temple Venerable Rangevata Wimalasiri Thera. Currently the society has 74 permanent members, with around 150 people awaiting membership. The society was launched last year in the presence of Senior Minister Mr. Athauda Seneviratne.
On the day it was established the society donated one Agarwood plant to all government institutions and places of worship in the area. The Panawela area, known for its tea and small export crops, has many poverty-stricken families and farmers with small holdings. The society has devised a quota system to distribute Agarwood plants depending on the investment capacity of the customer. Under this plan, tea planters get the opportunity to cultivate Agarwood as an intermediate crop and customers who have limited funds could even obtain a single plant for a start. So far the society has distributed 250 plants.
"The workshop held by Sadaharitha Plantations Ltd at Panawela temple about Agarwood plantation really opened our eyes to the possibilities ahead of us," said Secretary Jagath Madagammana.
"Sadaharitha Plantations Ltd adopts a very stringent and planned process from the moment the seeds are brought down to the country and to the moment the plant is handed over to the customer, therefore the company takes responsibility for all plants issued from its nursery in Ingiriya," said the Chief Executive Officer of the company Mr. H.K Rohana. Taking a cue from the success story of the Panawela Farming Society several farming societies in Ratnapura and Kegalle districts also have requested for assistance from the company, he added.